Every year we see hidden gems and sleeper picks and everyone loves to have their 'guys' and pick those prospects who aren't getting a ton of love from the media and draft reporters and scouts, with 7 rounds of the NFL draft so many draft eligible players there are bound to be some sleeper picks with good potential. Let's talk about some sleeper picks with potential
Wide Receiver – Princeton – Senior – Andrei Iosvias
Andrei Iosivas is an all American track star for Princeton he finished 4th in the nation in the Heptathlon and ran a 60 time of 6.71, he is the FULL package of an athlete! Oh and by the way he also recorded a 39 inch vertical jump! He is a 6ft 3 200lbs wide receiver who has pretty much flown under the radar up until the senior bowl where he really did show out. I still don't think Iosvias is getting enough love. We are so focused on JSN or Johnston or Addison, even Zay and Downs! We are forgetting about Iosvias a 6ft 3 outside wide receiver, Iosvias has not played against competition as strong as the ones Johnston and Boutte and JSN faced however the talent and skills he displayed were amazing. A strong physical receiver with fantastic speed and acceleration has shown ability to create separation and break his route without losing speed. In 2022 Iosvias totaled 924 yards and 7 touchdowns on 85 targets and 64 receptions, his PFF receiving grade is 85.7 on a min. Attempts of 80 he ranks 10th in receiving grade according to PFF. He mostly played as the X receiver 303 snaps (84.6%) 3 drops in 2022 and caught 11/16 contested catches (68.8%) Iosvias is great after the catch and has great speed but he is also good on deep catches, catching 10 of his 21 targets on passes more than 20+ yards. 
Wide Receiver – Cincinnati – Junior – Tyler Scott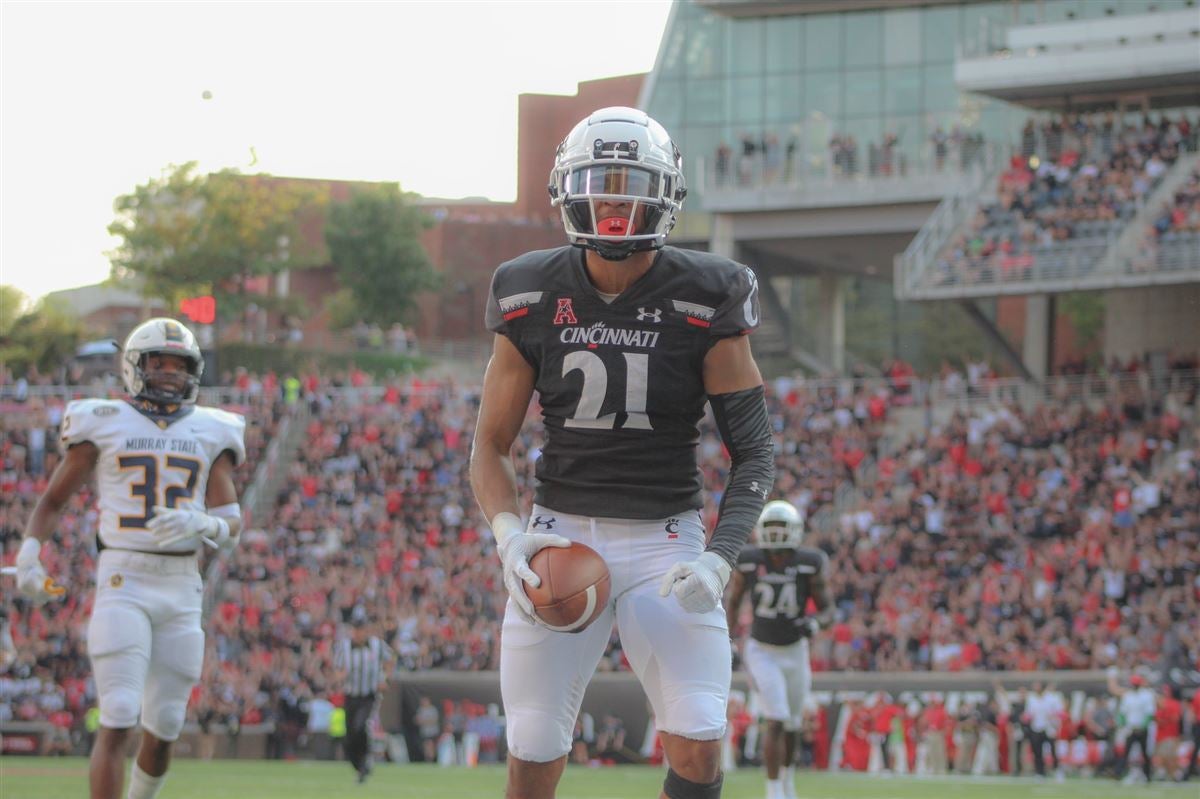 Tyler Scott is a 5ft 11 wide receiver who has elite speed and acceleration and is a very explosive athlete, he became the Bearcats WR1 after Alec Pierce was drafted, he put up 904 yards and 9 touchdowns on 88 targets and 55 receptions. While Scott may not be a massive wide receiver he more than makes up for it with his incredible WR play he is a twitchy and elusive runner combine this with his speed he is an incredible receiver after the catch, Scott can use his great footspeed/footwork forcing defenders to miss in the open field or his long speed to breakaway from defenders. Tyler Scott established himself as the WR1 and was the outside receiver with 359 snaps (96.5%) he only had 12 snaps in the slot. One thing that makes Tyler Scott such a dynamic wide receiver is his ball catching and tracking ability, he has excellent hand eye coordination, has a great eye for tracking the ball down the field Scott and shows great adjustments on bad balls thrown. While Scott catch radius is not massive he still does well at extending his body extending that catch radius and making great contested plays. On contested catches he was 20/11 (55%). Tyler Scott does have some drop issues as he dropped 7 passes in 2022 he also has a lean frame which may lead some physicality problems at the next level
Cornerback – South Alabama – Senior – Darrell Luter Jr
Luter Jr is a 6ft CB for South Alabama while only playing for a small school Luter Jr has a great impact on defense playing over 700 (494 in coverage) snaps in 2022 and over 500 (274 in coverage) snaps in 2021. Luter Jr brings good size and great length along with the great physical profile he has great defensive instinct and ball skills, the awareness with the defensive instinct and footwork he's able to read his assignment and make a play and can often read the route. On top of this his length makes some tight windows for passes he can also be a problem on jump balls using that length to his advantage to swat the ball down or come in with an INT. He had 6 pass breakups in 2022 which would be tied with 4 other players and only 11 players had more than 6 pass breakups min of 443 snaps. Of the players that had more than 443 snaps Darrell Luter Jr ranks 17th in PFF coverage grade 70.4, Luter Jr was targeted 65 times only allowing 33 receptions ranking him joint 11th in receptions allowed he would also be 11th in reception% he also had 27 tackles only missing 2 putting him tied 16th considering he played 494 snaps in coverage there were only 8 other players who played more than 490 snaps, this is pretty impressive. While there is a lot to love, there is some concerns with speed long distance and in recovery, as well as his ability to play man coverage (Stats are filtered by 443 minimum stats and guys who are draft eligible in 2023)
Cornerback – Marshall – Senior – Steven Gilmore
Younger brother of Stephon Gilmore, Steven Gilmore is absolutely incredible and opted to play for Marshall rather than the other schools who had sent him an offer such as Georgia, Clemson, Duke, UNC and many more. Steven Gilmore is a 6ft cornerback with great fundamentals and athleticism he has shown great ball skills and tracking ability and possesses a good ability in off coverage and in press, his footwork combined with speed and the flexible hips makes him good in change of direction all these traits can make him a valuable and underrated corner. Gilmore played mostly as the outside corner but he did have 38 snaps as the slot corner, playing a total of 504 snaps in coverage. PFF gave him a grade of 86.7 which ranks 7th in all corners that have played a min. Of 443 snaps, Gilmore reception% was 41.8% which ranks 5th among all corners who played a min. Of 443 snaps allowing 23 receptions on 55 targets. 23 Receptions puts him in 2nd to last in receptions allowed amongst guys who played min. 443 snaps, 7 pass breakups in 2022 tied with 4 other players only 5 more players are ahead of him he also had 3 INTs. Gilmore also had 30 tackles and 3 missed tackles, those 30 tackles would put him 13th tied with one other player. Gilmore is 1 of 5 draft eligible corners to play more than 500 snaps in 2022. It is clear Steven Gilmore has a lot of potential and showcased a lot at Marshall. You can only hope that he will be able to be physical at the next level especially in press coverage and hopefully he can be stronger on downhill tackles and really secure bigger receivers at the next level. (Stats are filtered by 443 minimum stats and guys who are draft eligible in 2023)
Running Back – East Carolina – Junior – Keaton Mitchell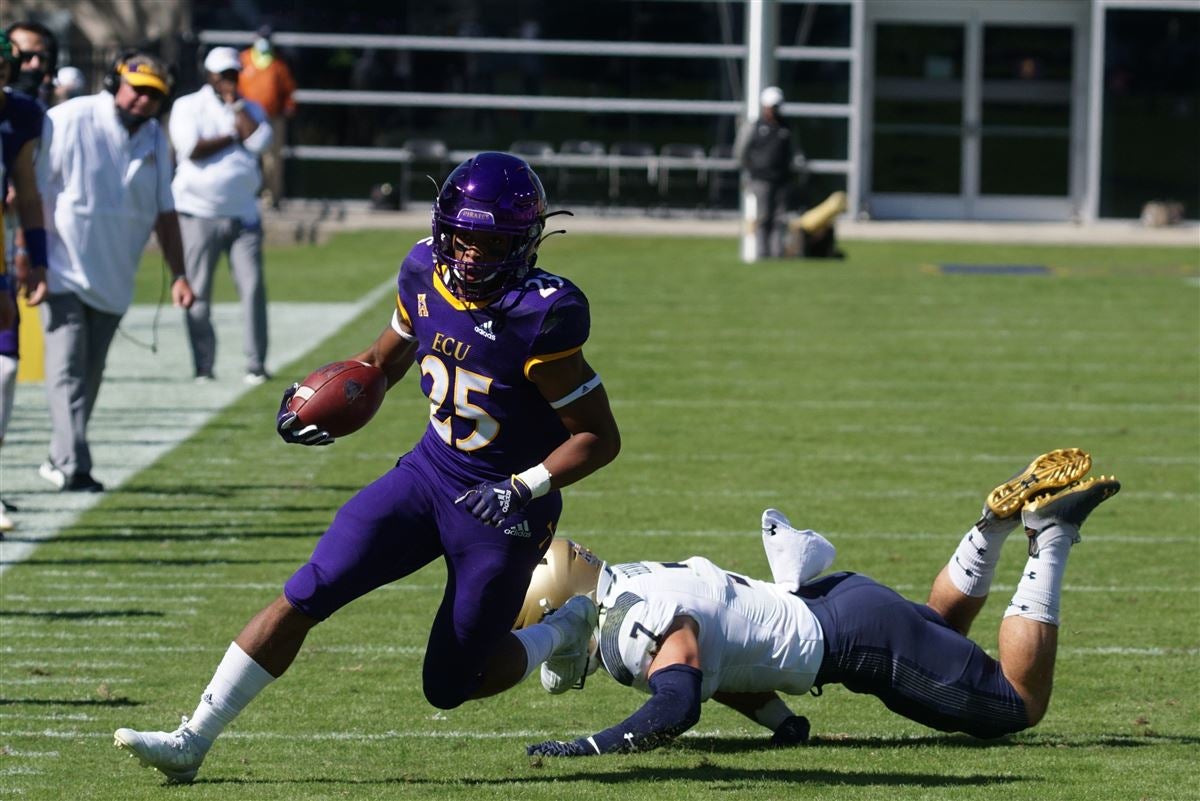 Keaton Mitchell is a 5ft 9 running back who rushed for 1.4k yards and 14 TDs in 2022 and 1.1k yards and 9 TDs in 2021, in 2022 Keaton Mitchell had an impressive game vs Temple where he rushed for 222 yards gained 3 touchdowns on 27 carries even had 2 receptions for 78 yards and 1 touchdown. Mitchell's name is not often mentioned when talking about great running backs this year however he can bring to the table great suddenness and elusiveness, he has shown the ability to be a good route runner and can be utilized in the passing game. Mitchell is explosive and has a great burst, his speed is great and his top end speed can really take the top off of defenses. His PFF grade is 93.9 this would rank 3rd amongst all draft eligible RBs in 2023, his 1452 yards would rank 11th, his 14 touchdowns rank 17th tied with 1 other player, Mitchell YPA (yards per attempt) is 7.2 this is ranks 2nd and is tied with one other player the played ahead only averages .1 yard more than Mitchell. One of the glaring negatives would be his size, he is 5ft 9 184lbs and did not offer much when blocking, he will also need to expand on his receiving as this could help him get a role at the next level as he did have 4 drops when receiving. Teams looking for a great runner in designed runs in the outside zone Keaton Mitchell is your guy.
Linebacker – Tulane- Senior – Dorian Williams
Dorian Williams is a 6ft 2 linebacker out of Tulane for the past 3 seasons he has played over 500 total snaps, 527 in 2020, 577 in 2021 and 849 in 2022. Breaking down those 849 snaps he played 387 in a run defense position, 367 in pass coverage and 95 in pass rush position. An experienced linebacker and defender is always something to buy into, he also has a great frame and great size being 6ft2 228lbs he has a muscular build with great length too, he plays physical and has an above average athleticism making him a very solid athlete, he plays with a hot relentless motor always hustling every play. Run defense he has shown his ability to sniff out the run and process blocks pretty well, when it comes to pass coverage he excels in zone coverages best. Williams is a reliable tackler in 2022 had 97 tackles 36 assisted tackles and 12 missed tackles, a missed tackle % of 8.3% as per his PFF grades he was given 87.0 in coverage, 76.0 in pass rush and 69.0 in run defense. Out of all draft eligible linebackers in 2023 that have played over 600 snaps, Dorian Williams coverage defense rating of 87.0 ranks 8th, his 97 tackles in 2022 rank 2nd out of all draft eligible LBs, and out of all LBs in 2022 season he is tied 7th for most tackles, this just shows how much of a secure and reliable tackler he is. Williams also had 6 sacks and 9 hurriers as well as 7 hits. While Dorian shows experience and great tackling, He may only be valued as a depth LB but there is potential to be a starter if he can get stronger and become better at shedding blocks, he lacks elite athleticism at the next level, is not big enough to rush the QB and does not have the footwork and speed and while he is good at reading blocks and shooting the gaps he still struggles with block shedding.
OT – Clemson- Senior – Jordan McFadden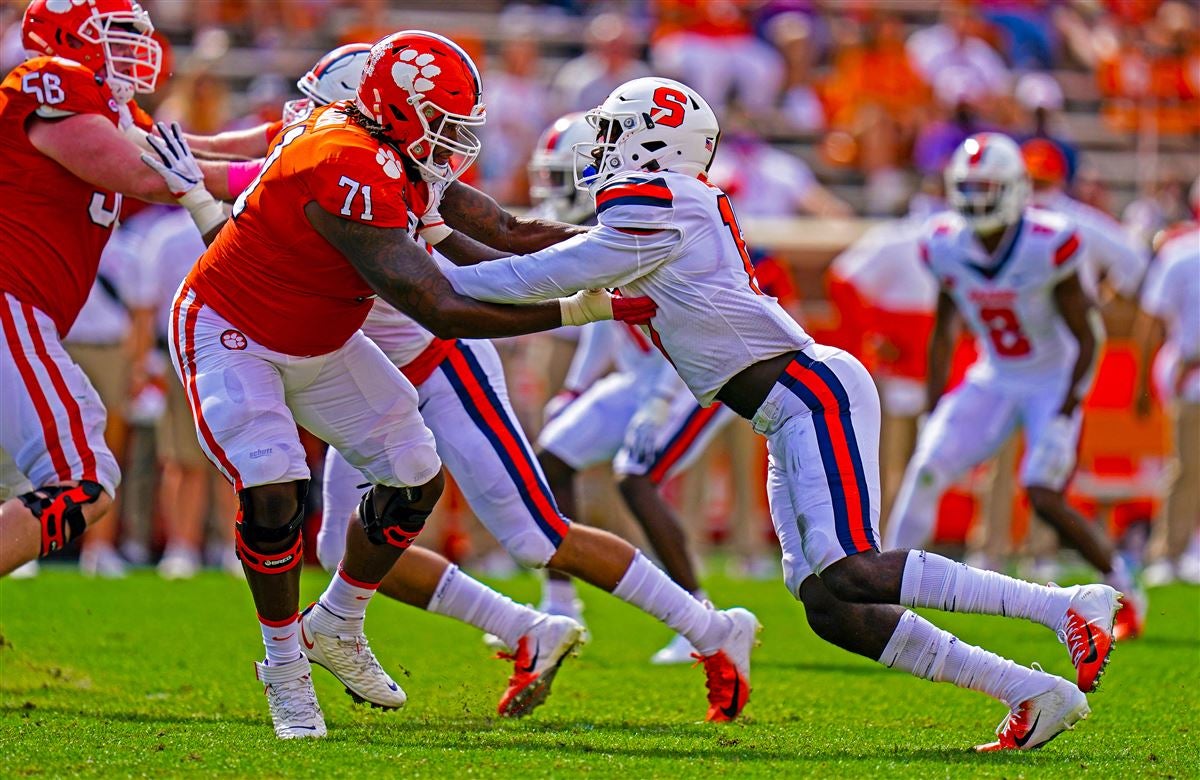 6ft 2 Tackle for Clemson Jordan McFadden does not have a lot of draft buzz but I think he is a VERY underrated player, now Jordan McFadden is 6ft2 295lbs tackle who has played both left and right tackle. I can see him being an undersized tackle in the NFL but I do wonder if he can be moved inside. McFadden has GREAT footspeed and quickness however it is not elite he will be challenged by fast pass rushers especially at the next level. His footwork is excellent and very tidy, McFadden will be very good for teams looking for zone blockers he most excels in zone blocking, his versatility will allow him to play either tackle and even move inside. McFadden has great hands that are quick and he has smart hand placement, the hand usage is excellent. He has shown flexibility in the lower body, able to guard the backside and can maintain good hips throughout every rep. McFadden in 5 years at Clemson has played a total of 2956 snaps in 2022 playing 993 and in 2021 866 an experienced linesman. Out of all 2023 draft eligible LTs his 993 snap count in 2022 ranks 5th, he had a PFF grade of 78.7 in pass blocking and 67.0 in run blocking, he only allowed 4 sacks, 1 hit and 8 hurries. Out of all LTs draft eligible who played more than 700 snaps his 8 hurries ranks 12th, and out of all LTs in 2022 he would rank 16th tied with a number of players. The tape matches up a lot, decent pass pro and good run blocking, I am most impressed with his foot speed and footwork despite being an undersized tackle he is talented and I look forward to seeing how an NFL team utilizes him.
EDGE – Bowling Green- Senior – Karl Brooks
Karl Brooks a 6ft 4 pass rusher from Bowling Green, Brooks is a hybrid versatile EDGE that can play as the EDGE and DT, he has had some very productive seasons in 5 seasons at bowling green he has played over 2437 snaps, 672 in 2022 and 555 in 2021. Karl Brooks brings experience and production to the table, 12 sacks, 8 hits and 49 QB hurries in 2022, 8 sacks, 3 hits and 25 QB hurries in 2021. 32 Tackles in 2022 and 24 in 2021. Brooks has great size and athleticism he shows great power and strength in his lower body posses good footwork and incredibly physical, for a guy of his size he does have an array of moves but is particularly scary with the bull rush move you can see the power he generates in his lower body with a strong explosive first step. Brooks hand usage and placement is amazing, very powerful heavy hands and can reposition his hands to win the rep. High effort and high motor very relentless and very strong in pursuit too. PFF gave Karl Brooks a pass rush grade of 91.9, of those who are eligible in 2023 and played more than 200 pass rush snaps Karl Brooks ranks 2nd. 12 Sacks in 2022 is tied 4th most sacks amongst those draft eligible ( would still be tied 4th out of all EDGE players in 2022 season) Brooks 49 QB Hurriers also ranks 2nd in the 2022 season, he even had 7 more hurries than Will Anderson… WOW. Karl Brooks will be interesting to follow and will need to do better at leverage off the snap especially when lineman drive and attack him, Brooks could also work on developing his ability to stack blocks and being the defender handling the POA.