June, 2022 the forsaken "Forbidden Door" was slammed down by Tony Khan and NJPW. This event was one of few co-branded events in wrestling history and today we're gonna produce a Forbidden Door event with AEW and WWE.
WWE since being taken over by Triple H has already shown signs of them willing to work with companies like NOAH and NJPW which would have never happened under former CEO Vince McMahon. Triple H lended NOAH Shinsuke Nakamura for a match against The Great Muta. And more recently WWE sent over Karl Anderson the former NEVER Openweight Champion for Wrestle Kingdom 17.
Triple H looks willing and ready to work with other wrestling companies but will he work with his biggest competitor? Well in this scenario he does and this card is filled with dream matches yet realistic ones.
Venue: Madison Square Garden
Preshow:
Bandido vs Rey Fenix vs Rey Mysterio vs Ricochet
What a great way to start off a STACKED card with a fun high flying sprint between 4 of the best aerial wrestlers in the world.
Kris Statlander vs Rhea Ripley
The comparisons between Statlander and Ripley have been obvious. Two of the brightest young stars in womens wrestling going head to head. Statlander has still yet to show her full potential while Ripley is starting to hit her stride as part of the Judgement Day. This match will be hard hitting and will give womens wrestling the justice it deserves.
Eddie Kingston vs Sheamus
This match will be filled with a bunch of combat moves and will not be a wrestling match but a FIGHT. Both men are known respectively as the hardest hitting guys in their respective companies. Eddie Kingston with the Uraken (Spinning Backfist) and Sheamus with the Brogue Kick this match could finish out of nowhere and will be the match that gets the crowd ready for the main card.
Main Card
Young Bucks vs The Usos
This is THE tag team match everyone in wrestling wants and is exactly how you should open the show. The Young Bucks have revolutionized the Tag Team scene while the Usos have benefited from that with WWE not prioritizing Tag Team wrestling up to very recently.
The storyline is here between these two teams and it's as simple as who really is the "Best in the World" And both teams have a case for that title and that's exactly why the belts aren't on the line because the people really want to know the answer to that question.
MJF vs The Miz
Another story that writes itself with both men being mentioned by each other in their companies with CM Punk calling MJF basically a Walmart Miz and Edge telling Miz how good he is that he's getting brought up in other companies.
The promos that these two can have to build up this match would be special and both can still be heels while doing this feud. The Miz has and always will be one of the most underrated wrestlers according to WWE fans and getting him in the ring with someone who's on the top of the food chain would give both a great spotlight and should be a good match.
Retirement Match: No Holds Barred
Edge vs Christian Cage
This…this is what would buy the PPV for the casuals and the older demographic. Edge since coming back in 2020 hasn't been able to string together runs with a bunch of injuries and truly do think it's time to hang it up on his own terms. Edge recently on a podcast when asked who he'd want to have his last match to be with his answer was quickly his long time friend Christian Cage. And what better way to end your career than putting over your best friend and basically brother so he can finally get out of that shadow.
The promos heel Christian Cage can put on Edge would be the best of the year. Cage and Edge haven't really been given the opportunity to get a proper feud and heel Christian Cage is one of the best in the business. Edge and Christian Cage the storytelling they could tell in a No Holds Barred match with retirement looming will make the people in MSG feel something and will be a great way to end a Hall of Fame career.
Chris Jericho Segment
Somehow Jericho has to get on this show because he's basically the reason AEW even exists and has had the success it has obtained. This segment can just be him talking and have some guys from WWE interrupt him.
Jamie Hayter vs Bianca Belair
The two women champions of their companies going at it would be such a pleasure to watch. Jamie Hayter is currently at the top of her game with slamming matches against Toni Storm and Hikaru Shida while Bianca Belair has been having some of the best matches of the year with Sasha Banks and more recently Becky Lynch at Wrestlemania which was regarded as the best womens match in 2022.
Give this match some time and you'll experience a multitude of grapples and hard hitting moves that would forsure be the women's match of the year and given the right storyline could steal the show.
Cody Rhodes vs Bryan Danielson
Scrolling through both rosters and trying to find guys Danielson didn't wrestle in WWE and trying to find guys Cody Rhodes didn't wrestle in AEW was difficult. But landed on this match and let's be honest these two don't ever fail and would deliver a banger.
This story can be built on Danielson "betrayed" WWE to become a professional wrestler again while Cody Rhodes "betrayed" AEW to become someone who wasn't hated by the fans and somewhere he would be appreciated.
Intercontinental Championship Ladder Match
Gunther vs Samoa Joe vs PAC vs Keith Lee vs Jungle Boy vs Darby Allin
Gunther has been having a historic run as IC Champion bringing the title back to the light and seems like a top title again and could compete with Roman as the top belt. This match has a nice mix of beefy boys and lunatics.
Gunther, Samoa Joe and Keith Lee sounds like a very fun beefy battle by itself and now add the all around underrated PAC into that along with Jungle Boy who likes to do wild stuff but that high risk stuff will be saved for Darby Allin and just the thought of Darby Allin and a ladder match will sell seats. A good fun scramble that'll keep the crowd on their toes.
AEW Trio Championship Match
BCC (Moxley, Claudio, Yuta) vs The OC (Styles, Jay White, Balor)
A one time only match between Blackpool Combat Club and 3 of the leaders of the Bullet Club going at it for trio belts. Styles, White and Balor are all guys that have that ego as leader of BC and you'll have the founder in Balor, the former leader AJ Styles and now current leader Jay White.
The story again writes itself and since we're doing a joint event we can have The OC come out to the Bullet Club theme song with Bullet Club gear and that just gives everyone goosebumps. Honestly Jay White looks like he's WWE bound so this match will make sense and has great talent all around.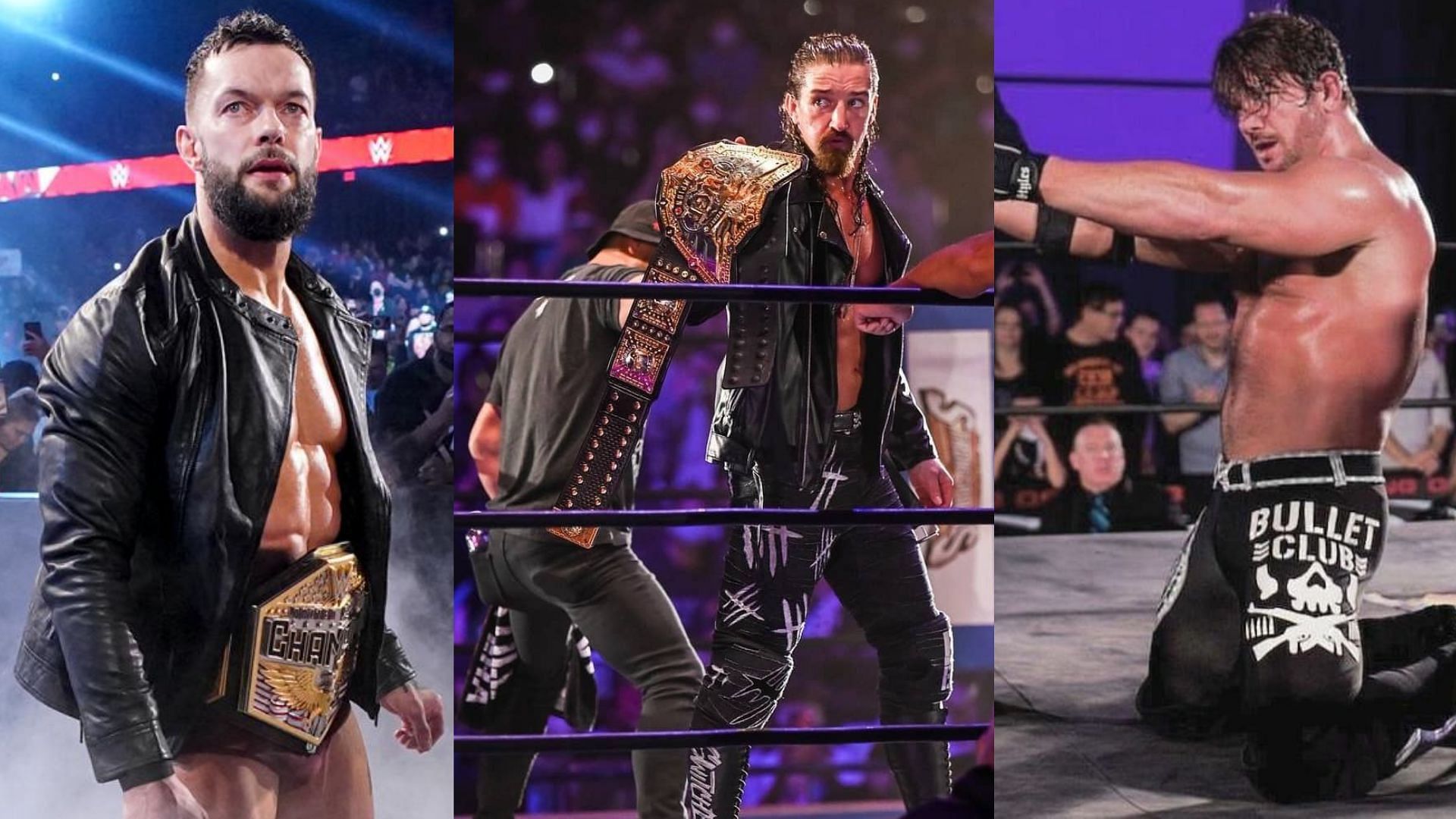 Co-Main Event: Will Ospreay vs Seth Rollins
The match every purist and mark wants, it's the combination of real beef and the ability of both men that'll create most likely the match of the year. Ospreay and Rollins have had history with each other on Twitter going back and forth about bank accounts and this is the match we've always wanted since.
Ospreay and Rollins are both top 10 wrestlers in the world right now with Ospreay being at his peak and Rollins continually getting himself over just because he's just that good. But if we're being honest WWE hasn't let Seth Rollins GO in a match and they let him GO in this one it'll unlock another level like best wrestler in the world level if he goes against Ospreay.
Match of the Year written all over it and that's why it's the co main event of this PPV because THIS will sell seats and both men are known for certain things like Ospreay is "known" in casuals minds as a high flier but this match will show he's one of the best all around and Rollins being this crazy grapple moves that he can string together this could be a fast pace 25 minute match where you see the flips, you see the crazy grapples from both men and see the false finishes would be insane with a American crowd.
WWE Undisputed Universal Championship Match
Roman Reigns vs Kenny Omega
The casuals best in the world Roman Reigns against the marks best in the world Kenny Omega has been a long lived argument since Kenny Omega got on the map. Both bring a certain ora around them that drags eyes around. 
This story can be built around the Elite vs Bloodline that expands off to this singles match. Roman Reigns has been having one of the longest title reigns in recent history and has really turned into the face of WWE by himself this time around. Kenny Omega has been the face of the "wrestler" since his stuff with Okada got him known nationally.
The Battle of the Superman Punch and V-Trigger can be something that can be spammed and go back and fourth and create this masterpiece for both the Dave Meltzers and Jim Cornette's of the world. A match that will tell a story of Roman Reigns thinking Kenny Omega isn't the real deal and he's in the minor leagues but Kenny Omega comes out the gates hot and Reigns tries to keep up with Omega in the wrestling ring and Roman has to resort to certain things to help him get back to that level. This match will get Roman the respect he deserves as a wrestler and give Kenny Omega the respect he deserves as a storyteller.