Holy cow.
Words may not be sufficient to describe what we all witnessed in Qatar on Sunday, December 18th, 2022 for some time. Mbappé and Messi duking it out. 3 penalties. 6 goals. 2 blown leads. Extra time. Penalty shootout. One of the best team goals of the tournament. Mbappé's ludicrous volley to level it. Messi, starting break after break with inch-perfect passes and then getting the go-ahead goal in extra time. Mbappé scoring all 3 penalties he took. Insanity.
This will go down as one of the greatest World Cups ever played. It had it all – but the one thing it's missing is some Dyspatch awards. So here we go.
Golden Ball:
Lionel Messi, FW, Argentina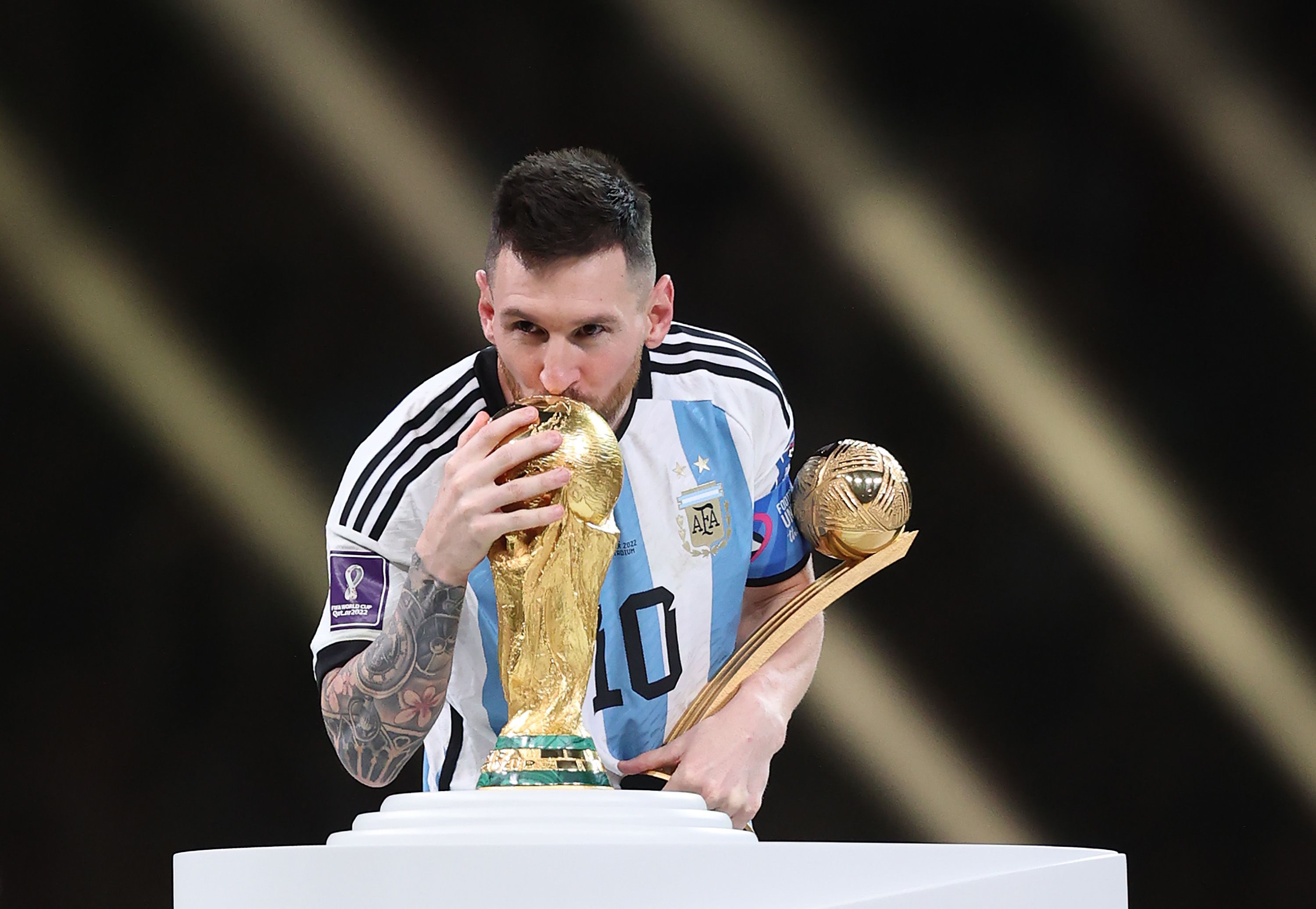 FIFA got this one right. The man who now has more World Cup G+A than anyone is also now the only man to ever win the Golden Ball twice. He's been the greatest to ever play for some time – this World Cup just finally confirmed it for many. He tied Mbappé for the most G+A, but part of this Golden Ball was the special moments he produced. He had a big moment in every knockout match – the jaw-dropping assists vs the Netherlands and Croatia, the opener against Australia, and the go-ahead goal in extra time in the final. Lionel Messi ranked among tournament leaders in every single creation and ball progression stat, and will now undoubtedly retire as the greatest to ever play the sport. Mbappé's 2nd-placed finish was well deserved.
Best Young Player:
Enzo Fernández, MF, Argentina
Enzo Fernández won this award and deservingly so. He wasn't perfect, but Argentina were a completely different team as soon as he was placed into the lineup. Messi was of course brilliant all tournament long, but it was the additions of Julián Álvarez and Enzo Fernández that won Argentina the tournament. Fernández was a monster in the midfield, making key tackles and getting involved in several important goals.
Best Keeper (Golden Glove):
Dominik Livaković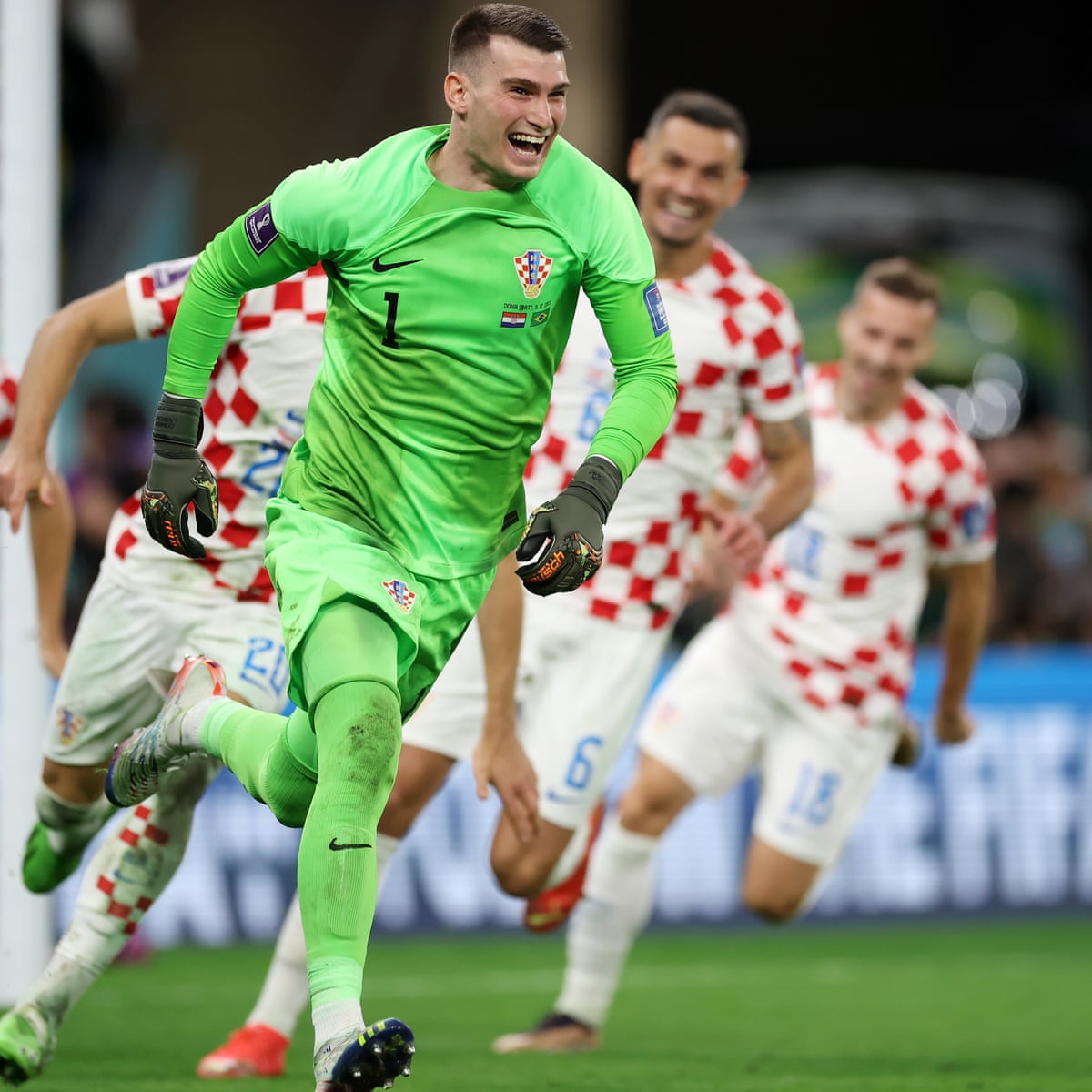 Emi Martinez won this award for his performance in the two penalty shootouts and his miraculous save on Kolo Muani in the 123rd minute of the final that sent the match to the penalty shootout in the first place, but this award belongs to the man who dragged Croatia into the semifinals. Martinez struggled early on in the tournament, and ended up conceding 2.6 goals MORE than his xGOT (expected goals on target). Livaković, on the other hand, also won 2 penalty shootouts, but he ended up finishing with 3.5 goals prevented. His superb play took Croatia into the semi-final after defeating maybe the best team in the tournament (Brazil). He couldn't squeeze them past a dominant Argentina side, but he fully deserves his recognition.
Breakout Star
Joško Gvardiol, CB, Croatia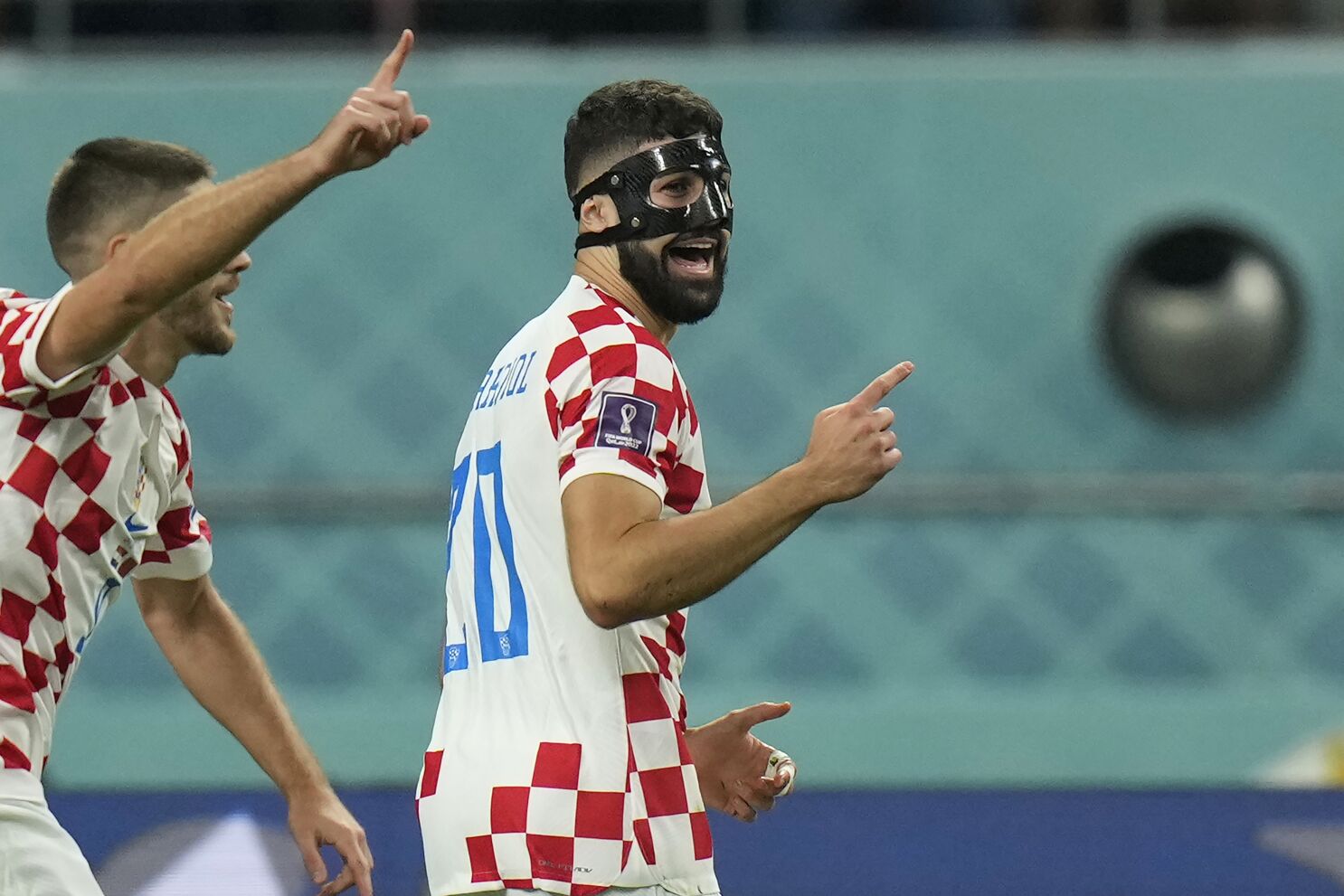 Several players could go here. Jude Bellingham was already a rising star. Julián Álvarez was massive for Argentina, and even scored a brace against Gvardiol's Croatia. Gonçalo Ramos had that monster hat-trick against Switzerland. But in the end, no one did as much for their stock at the World Cup as Gvardiol, even though his most memorable moment will probably be "allowing" Messi's amazing assist in the semifinal (allowing is in quotes because Gvardiol really couldn't have done much better). Just 20 years old, the Leipzig CB certainly appears primed for a big move this summer.
Best Manager
Walid Regragui, Morocco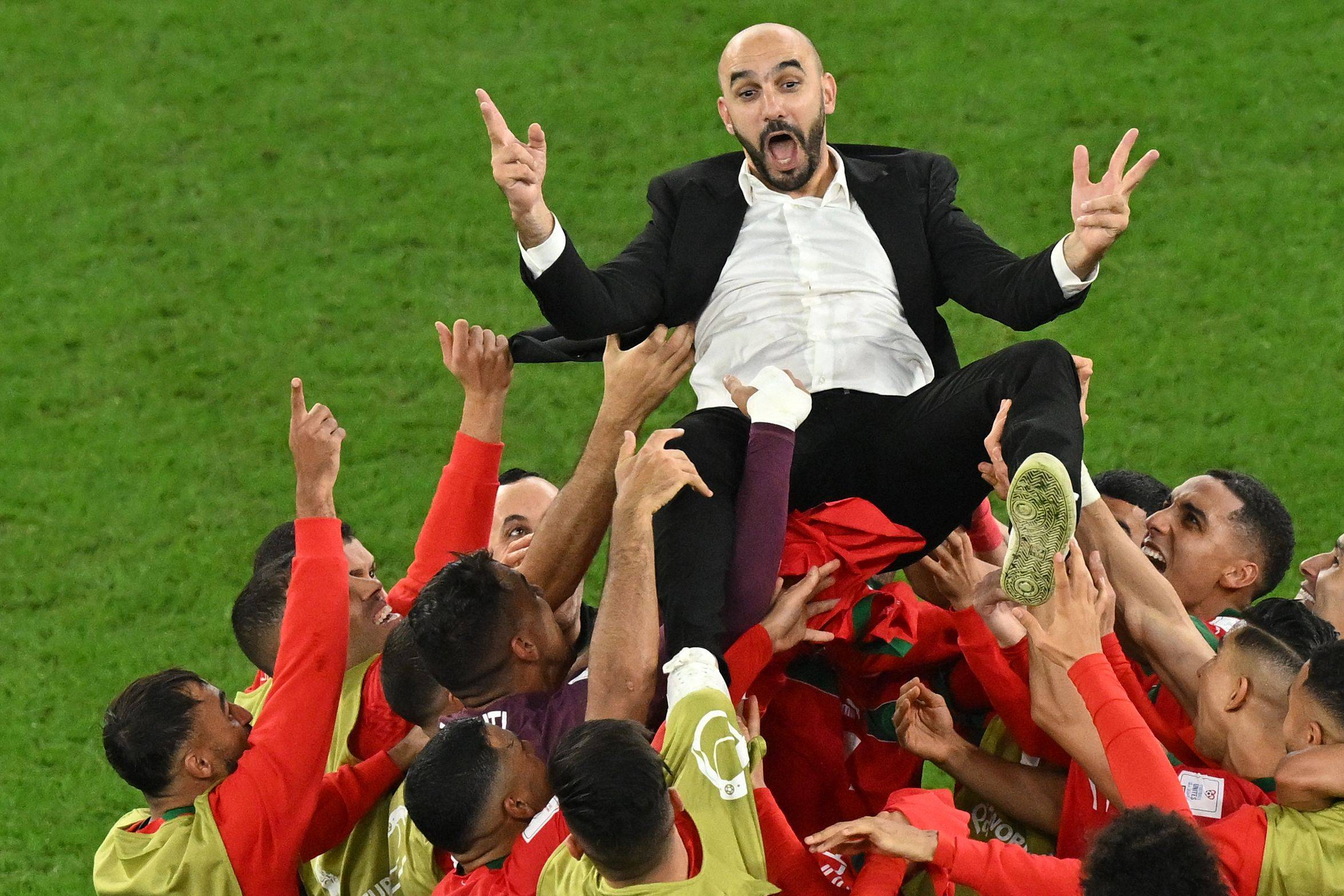 Easy choice. Morocco were obviously talented and a good pick to make it out of their group for anyone who saw them before the tournament, but the removal of Vahid Halilhodžić for Regragui was the change that took them to the next level. Regragui was coming off winning a CAF Champions League with Moroccan club Wydad AC, and he immediately set to work getting Hakim Ziyech and Noussair Mazraoui back into the team. With that accomplished, he proceeded to turn Morocco into the side nobody wanted to face – sure, maybe they got a bit lucky against Spain, but they fully outplayed Portugal in the quarterfinal and looked good against France in the semis. Their defense was absolutely spectacular and their counterattack was lethal at times. There's a lot of talent on that Morocco side, but there's also no argument that they didn't exceed the sum of their parts. Regragui was absolutely masterful.
Biggest Flop
Lautaro Martinez, ST, Argentina
There were a few high-profile flops at the tournament – Lukaku, De Bruyne, and Ronaldo, just to name a few – but Lautaro Martinez, despite getting a winner's medal and netting the winning penalty against the Netherlands, stands head and shoulders above the crowd. Had Argentina not won in the shootout, Martinez would have spent the rest of his life thinking about the three (yes, three) huge chances he botched in the final. But that wasn't the only reason Martinez was selected here – he had a big Copa América in 2021, playing a crucial role in the Argentina victory. He was the starting 9 for a World Cup contender. By the 3rd match, he was on the bench in favor of Julián Álvarez. Against Australia in the round of 16, Martinez missed several key chances to put the match away, and the Socceroos nearly equalized. His only half-decent chance off the bench in extra time against the Netherlands went to waste, and of course he was abhorrent in the final (although Messi's second goal was off of his rebound). For a player of his stature, and what was expected of him, ending the tournament with 0 goals and on the bench is rough.
Most Surprising Team
Croatia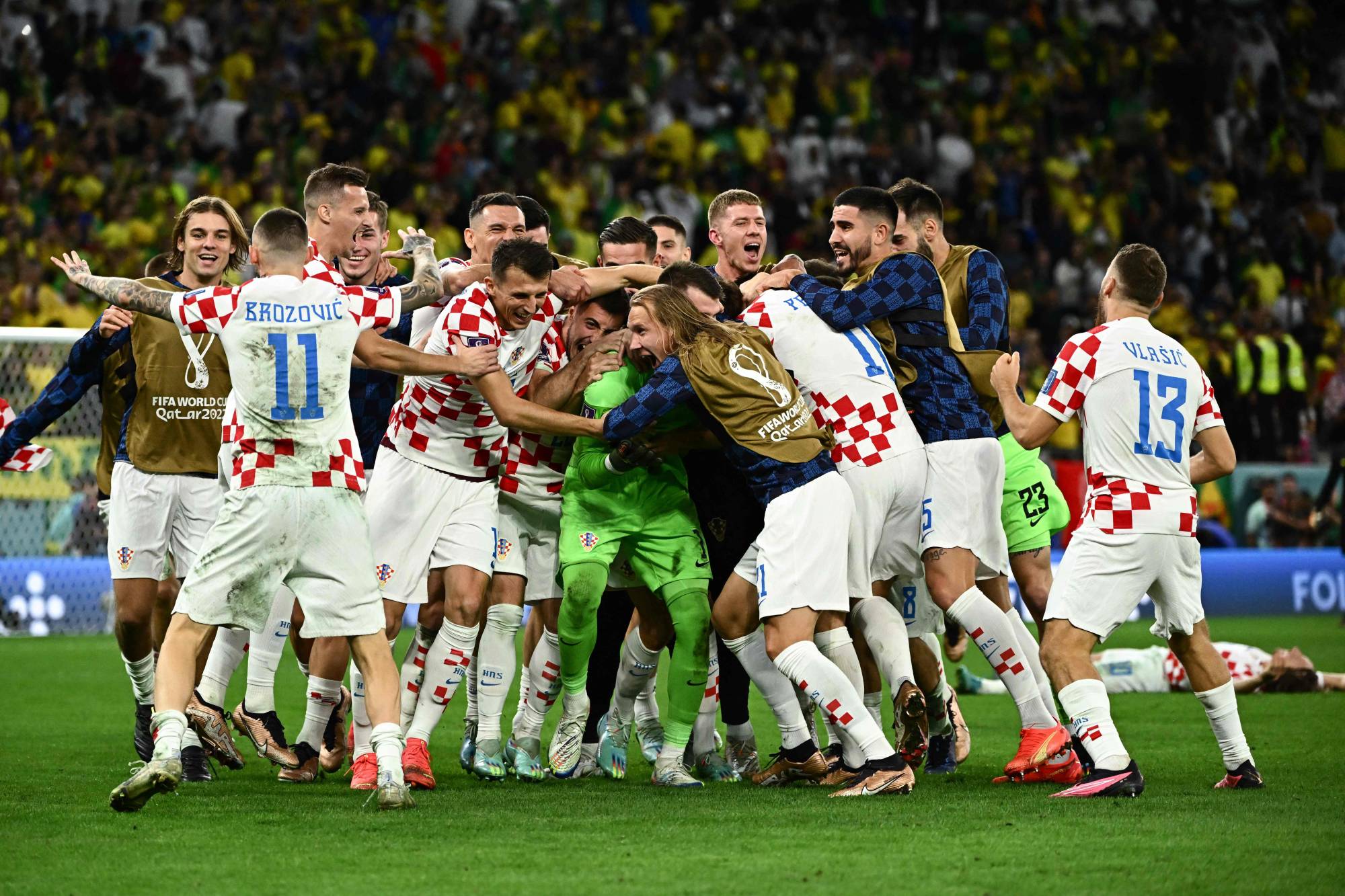 Morocco absolutely deserved to be here, but the thing is – their performance shouldn't have been a surprise. There's a reason TheDyspatch had Morocco in the quarterfinals last April: they're really good. Croatia, meanwhile, had an aging roster and a tough group, yet somehow beat a monstrous Brazil team and finished in 3rd place. If you're talking about a team that truly surprised and ended up somewhere they weren't supposed to be, it's Croatia. Their fantastic Brozović-Kovačić-Modrić midfield, along with superb goalkeeping and some excellent defending, took them deeper than just about anybody could have possibly imagined.
Most Disappointing Team
Belgium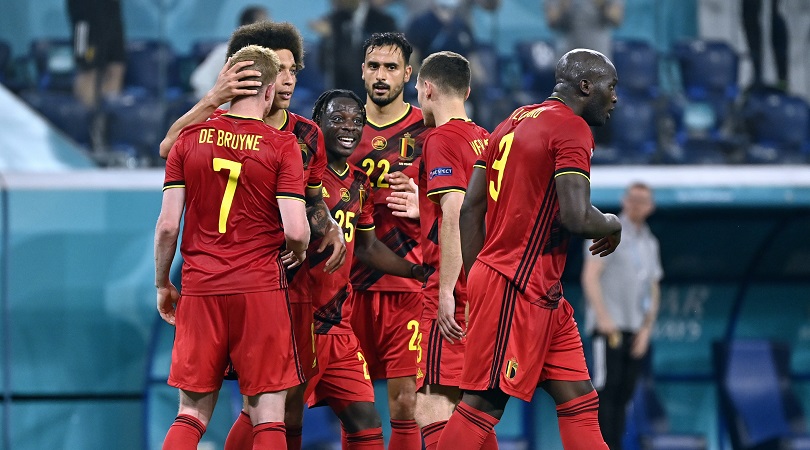 Belgium had a tough group, but they had no excuse to be crashing out as early as they did. There was just too much talent on this side to go out in the group stages. Some of it was luck – they dominated Croatia – but it must be said that Kevin De Bruyne and Romelu Lukaku were extremely disappointing. Lukaku, in particular, missed several massive chances in the match against Croatia, accruing 1.73 xG in just 45 minutes of play and yet scoring 0. De Bruyne was nowhere near his usual imperious self. This was the last World Cup for Belgium's golden generation, and they themselves must be bitterly disappointed to have never broken through.
Team of the Tournament (4-3-1-2):
GK: Dominik Livaković, Croatia/Dinamo Zagreb
Given that he won the best keeper award – yeah, he has to be here. He was unbelievable and almost single handedly dragged Croatia into the semifinals. It's doubtful he stays at Dinamo Zagreb for long after his impressive performances.
LB: Theo Hernández, France/AC Milan
Besides that silly penalty against England, Hernández had an unbelievable tournament. He was monstrous in attack despite being forced to take on a big load defensively, with Mbappé nominally playing on the left wing.
CB: Joško Gvardiol, Croatia/RB Leipzig
Gvardiol was monstrous. He stabilized a Croatia back line that somehow found its way into a World Cup semifinal, despite being placed in a tough group and then running into Brazil in the quarters. His tremendous play had everyone raving – he will be a force for quite some time.
CB: Romain Saïss, Morocco/Beşiktaş
Many might have picked Otamendi here, who was deserving, but Saïss was crucial in Morocco's run to the semifinals. The captain was forced off against France with injury, but the Morocco back line was special, allowing just a singular goal before the semifinal – and that goal was an own goal. Saïss may not have a big move coming at 32, but he was absolutely spectacular in this tournament and deserves this spot, even over players like Otamendi, Varane, and Stones.
RB: Achraf Hakimi, Morocco/PSG
This one isn't a surprise – if you'll recall, Hakimi was in the original Dyspatch TOTT. If Morocco made an upset run, it was going to be in no small part because of Hakimi – and he was fantastic as usual. Defensively, it was as brilliant as you'll ever see him, and of course he was his usual self pushing the ball forward. An incredible player.
CM: Enzo Fernández, Argentina/Benfica
Enzo Fernández didn't even start Argentina's first two matches, and yet he ended up winning the YPOTT award. That says a lot about how well he played, and he was involved in crucial goal after crucial goal this tournament while playing out of his mind in the middle. Alexis Mac Allister gets an honorable mention, but it was Enzo who was the shining star of the Argentine midfield. With Messi retiring soon, Argentina will need some new talent to compete at the top again, but one thing is for sure – Enzo Fernández will be in the middle of the park.
CM: Sofyan Amrabat, Morocco/Fiorentina
Amrabat was absolutely incredible in the middle for Morocco, winning possession north of 50 times and helping the buildup with some incredible technical ability. Amrabat is a solid player for Fiorentina, but in this World Cup he played like a man possessed. Every single time Morocco got the ball back and flowed into attack, Amrabat was the key making it all happen. Fellow Moroccan midfielder Azzedine Ounahi gets an honorable mention for his impressive performances as well.
CM: Bruno Fernandes, Portugal/Manchester United
Bruno looked like the potential story of the tournament in Portugal's first two matches, assisting twice against Ghana before getting a brace against Uruguay. He then assisted again against Switzerland in the last 16. Although he couldn't help Portugal past a tough Morocco side, he was one of their better players once again, and spent the tournament carrying a heavy creative load for a very dangerous side. 
CAM: Antoine Griezmann, France/Atlético Madrid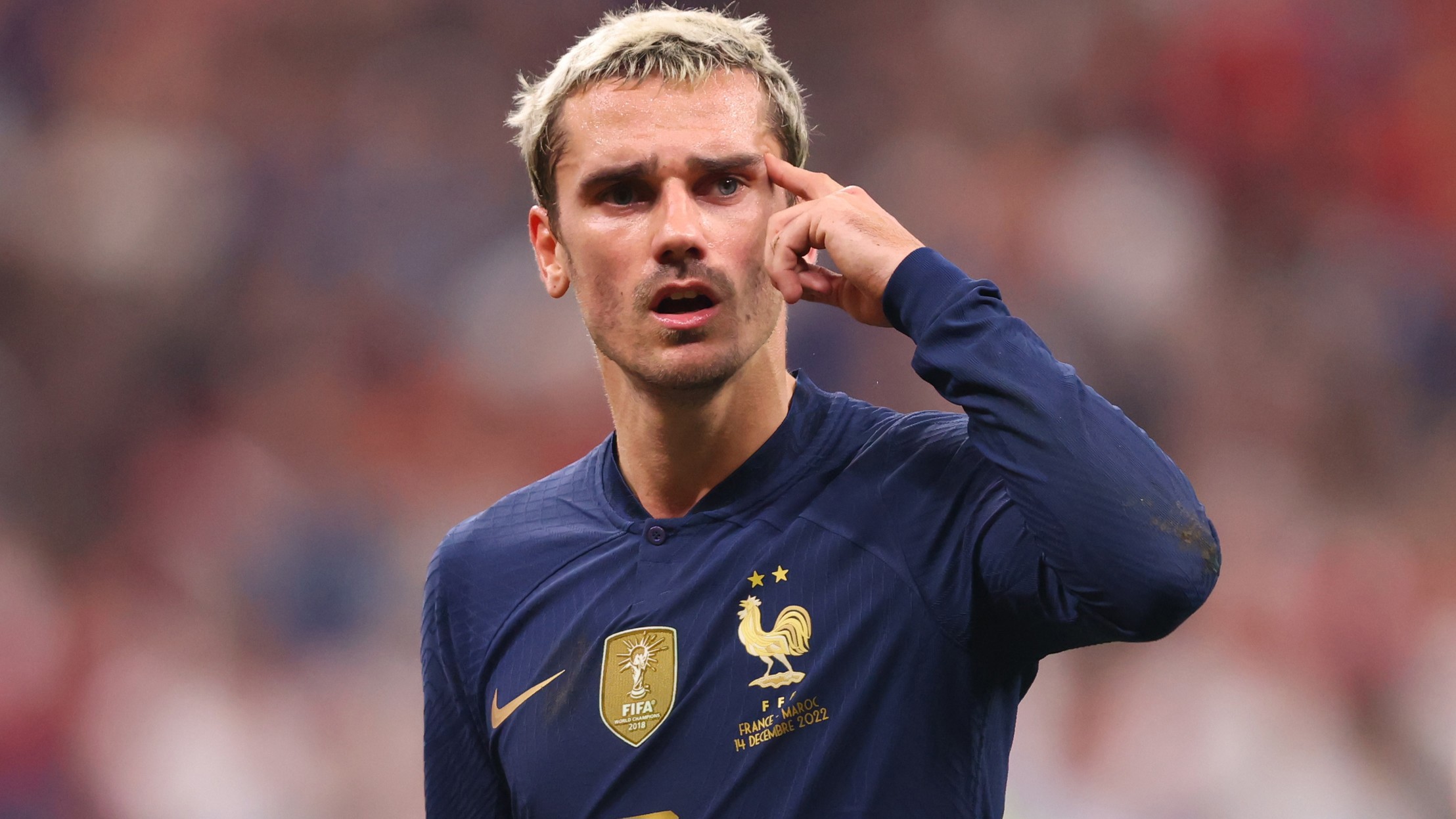 One of the surprises of the tournament, Griezmann had some Golden Ball talk before the final, and deservingly so. Playing in a midfield role instead of as a forward, Griezmann turned back the years and was absolutely masterful, pulling the strings creatively and defending like a madman. Messi was of course brilliant, but Griezmann actually compared favorably in several key creative categories. An unbelievable tournament for him.
FW: Kylian Mbappé, France/PSG
Mbappé's World Cup resume is a joke. He's never won a Golden Ball, but he now has 12 goals in 2 tournaments, along with 3 assists, and has 4 goals in 2 finals, including a monstrous hat trick. And he's just turning 24. He wasn't great in the quarterfinals or the semifinals, but clearly demonstrated why he's the best on the planet across the tournament. He might not win the Ballon D'or he deserves, but if it isn't this year, it's coming. And soon.
FW: Lionel Messi, Argentina/PSG
Who could have seen that one coming? Messi was masterful in every knockout match and brought Argentina the title. The amazing thing was that he didn't really dribble like Messi – sure, he completed 15 dribbles, but 15 dribbles in 7 matches is not Messi-esque. Instead, he dominated matches with his passing, vision, decision-making, and feel. The 2nd Argentina goal in the final is a great example. Messi didn't score or assist the goal, but he created it with a deft pass to a surging Julián Álvarez on the right wing after drawing French defenders up, giving Argentina the break that would be driven home by Ángel Di María. This isn't the insane dribbler Messi we saw for more than a decade, but make no mistake – he's still deadly, and possibly just won himself yet another Ballon D'or.