It's about that time to start looking at the superstars of tomorrow with the "My Guys", a yearly tradition where the players on this list have just that feeling that they'll turn out. This list will be comprised of four players who have caught the nations eye early and could be turning heads in an NBA team's front office not even a full month into the season. The 2020 NBA Draft coverage here on TheDyspatch was pretty spot on with the analysis so without further ado "My Guys". 
GG Jackson (Forward, 6'9, South Carolina)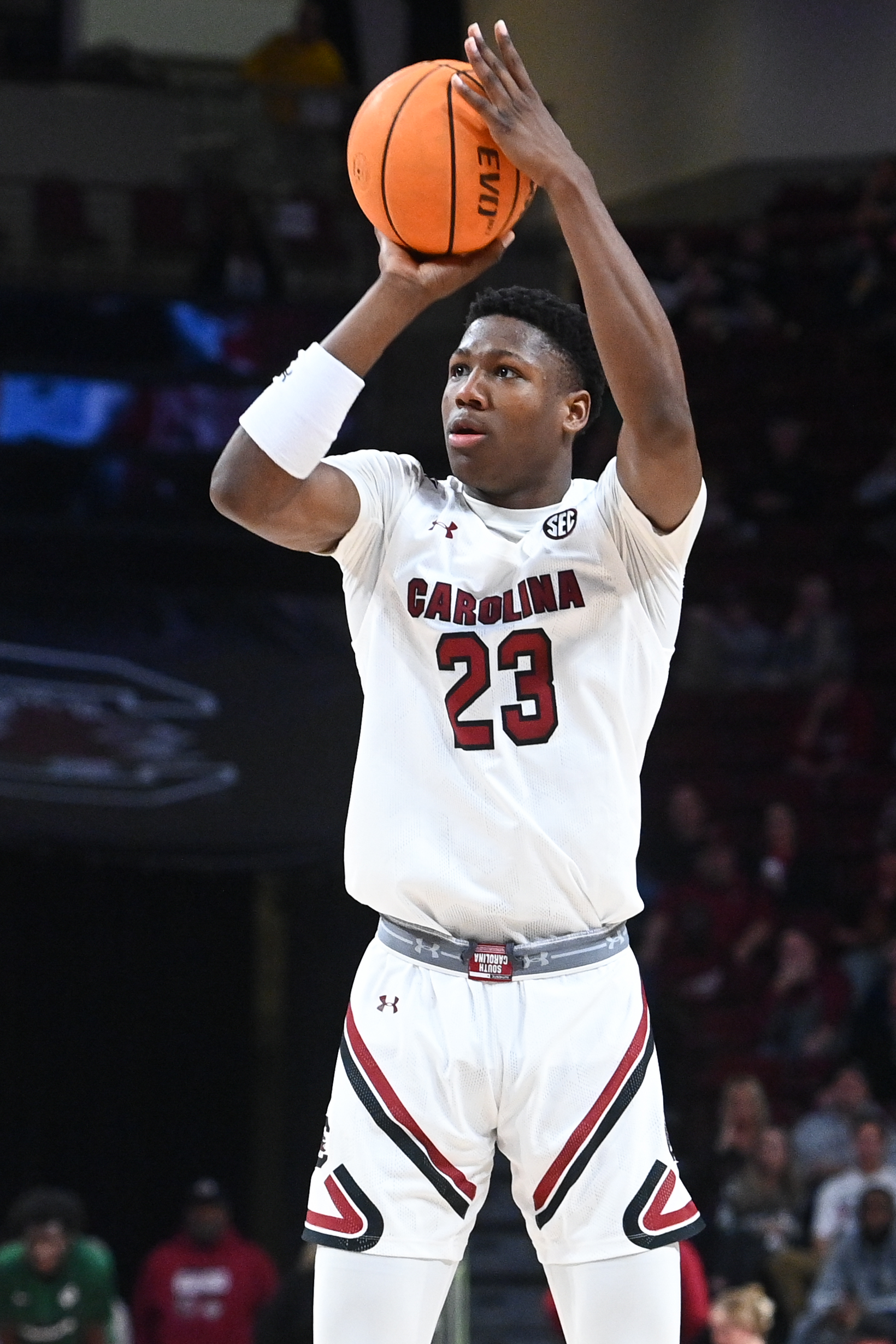 The 6th ranked prospect in the 2022 class according to 24/7 Sports, GG Jackson has the tools to change around a team's bad fortune. At 6'9 GG Jackson does things guys at that height shouldn't with a deep bag of tricks up his sleeve in terms of dribble packages and the way he gets his shot up.
Currently posting 16.4 PPG/7.4 REB/1.3 BLK the Gamecocks have benefited from having a talent like this. With offers from North Carolina, Auburn and Duke, Jackson took a chance on himself to prove himself and he's currently displaying that.
Jackson has an NBA frame who's an uber athletic athlete who can change directions and create his own with that. Observing Jackson in his play so far he's able to be a dominant force down low grabbing rebounds and then slamming it home while able to have these insane dribble packages and create his own shot. The shot creation is still a work in progress but has limitless potential.
GG isn't a slouch on defense being ahead of the curve as a 17 year old and has shown great rim protection ability and is able to switch on smaller players and keep up with them. The kid coming into the NBA might have his growing pains but if given the right development team he could be a force to be wrecking with.
Gradey Dick (Guard, 6'8, Kansas)
Who likes elite 3PT shooting and seeing a white man jump super high? Well if you answered yes to both those you've found your guy and Gradey Dick is more than meets the eye. The freshman guard came into Kansas as one of the country's best long range shooters averaging 17 PPG at Sunrise Christian shooting 47% from behind the arch.
The Gatorade National Player of the Year came into Kansas with not as much hype as a player who just won one of the country's best awards. But so far Dick is impressing and turning a lot of heads. Averaging 15 PPG on 48% FG and 45% from 3, Dick's ability to pull the quick trigger has a lot of teams on their heels.
You're looking for a player who can shoot off his dribble and catch and shoot, rarely you find guys that you know if they get their feet set it's over and that's how it feels with Gradey. But don't let that fool you because this guy has some hops as well. Multiple times this season Kansas runs this backdoor lob play to Dick that really shows how athletic he is.
The defense can and will develop over time and Gradey could really turn into one of the better 3nD guards in the world. The early comparisons so far are gonna see names such as Klay Thompson and J.J Redick and those are both warranted. Thompson at Washington State and Redick from Duke both had a role of being that safety blanket and getting a bucket and Dick is exactly like that.
Dick is a "My Guy" because every team could really use a kid with his skill set. Someone who's gonna knock down big time shots who has the upside of being more than a three point shooter. Dick should have lottery potential in the upcoming draft and on a Kansas program bound for another March Madness run could have Dick nearing the top 10 pick range with a bunch of high leverage games to come.
Terrence Shannon Jr. (Guard, 6'6, Illinois)
Just finished watching Illinois vs Maryland on Friday night helped push the agenda of "My Guy" Terrence Shannon Jr. The Texas Tech transfer was one of the better transfers in all of college basketball and has already made the difference for the Fighting Irish.
While at Texas Tech you heard of the name TSJ but seemed like he was never the main focus of the offense on teams that made the NCAA Tournament. Well TSJ took a flier on himself and it's paying off averaging a near 20 PPG clip along with 6 rebounds and 4 assists. With a 5-15 3PT performance against Syracuse TSJ still is shooting 43% from 3 and against another zone defense Friday night against Maryland he just couldn't find the looks.
But so far what you can see from TSJ is he's a guy who doesn't demand the ball to get the baskets he wants. A guy who has a spot up shot shooting 35% from 3 and the ability to shoot off the dribble shooting 46%. But he can jump out of any gym with his athleticism at the rim and in transition that gets him to the line quite a bit.
Currently projected in the back half of the 1st Round, Shannon still has room to grow as a well rounded scorer and really becoming that number 1 guy because right now he looks like a guy who stands in spot and waits for the ball to find him to do his thing. Big time upside in the back half of the draft and you just have to trust from what you've seen so far.
Emoni Bates (Guard, 6'10, Eastern Michigan)
We know why he's here and everyone knows the skill Emoni Bates possesses because that's what got him to this spot of fame. Declaring early and going to Memphis, Emoni just looked out of place being so young and trying to adapt but you could just see the talent. Compared to Kevin Durant in High School is not a small task to hold up to and maybe that's what got in his head.
But transferring to Eastern Michigan that's closer to home might have been the change of scenery that Emoni needed to get himself back into that 1st Round conversation. The 5th ranked prospect according to 24/7 Sports got his hype from being THE best tough shot maker in the country with his ability to pull up over anyone and make shots 30+ feet out.
People were in awe of Emoni Bates in High School and now those eyes should go back to Emoni now in Eastern Michigan back to averaging 20 PPG and 6.6 REB on 34% FG and 41% from downtown. NBA scouts surely have to see the talent because it's still there dropping a 30 piece on 22nd ranked Michigan.
The mindset for the NBA team that selects him has to be "there's no way a top 5 player in the country and someone who everyone was drooling over talent just disappeared" and the team that realizes talent just doesn't go away at 18 years old is gonna find a game changer.