After dozens of matches, the 2022 World Cup group stage has come to an end. Frankly, this ranked among the best group stages in recent memory, with upsets, thrilling matches, and remarkable goals. Cristiano Ronaldo became the first man to score a goal in 5 World Cups with a (ridiculously soft) penalty against Ghana, and Lionel Messi became the first man to assist in 5 World Cups with a simple pass to Enzo Fernandez (who did all the work). There were great individual performances: we got Messi magic against Mexico, Mbappé mastery against Denmark, and a Bruno Fernandes brace against Uruguay. We also saw top teams such as England and Spain demolish lesser opponents in impressive displays, and a ridiculous final day in Group E, as it came down to the wire. Let's break it down.
Group A:
TheDyspatch picked Senegal to top the group initially, but that was before Sadio Mané went down. With Mané out, 6 points is a quality result, especially with how well Ecuador played. The Netherlands looked shaky at times, but managed to top the group, setting up a winnable matchup against the United States (although a potential quarterfinal-semifinal gauntlet of Argentina and Brazil is rather daunting). Ecuador were very impressive against hosts Qatar, but failed to win a match that they probably should have vs an unimpressive Dutch side, despite Enner Valencia banging in his third goal of the tournament. Qatar were simply outmatched, turning in the worst host country performance in history. One bright spot was PSV Eindhoven's Cody Gakpo, who scored in all three matches and now looks primed for a big move to a top club, regardless of how the knockouts go.
Group B:
Yes, England topped the group – but it was the United States who probably impressed the most. Sure, they bottled a win against Wales thanks to some questionable Berhalter substitutions and failed to win a very winnable match against England, but they dominated the larger part of all three matches with one of the youngest squads in the tournament. The clutch win over Iran to finish second in the group, despite some more atrocious Berhalter decisions late, sent a message to the footballing world: we're here to stay. They'll have a chance to prove it further against the Netherlands in the next round. And, to be clear, Berhalter deserves some flowers: his adjustments and substitutions were a disgrace (Shaq Moore???), but he nailed the starting lineups and tactics for all three matches, and most wouldn't have expected the US to control their matches. Yunus Musah was the group's breakout star, looking fantastic in all three matches for the US and proving he belongs at a top-tier club. England, meanwhile, get a tough Senegal team in the next round.
Group C:
Messi and Argentina got this group off to a shocking start with a brutal loss against Saudi Arabia, but managed to turn it around in the last two matches, with Messi spearheading a massive win over Mexico and the Argentines overcoming Messi's penalty miss to beat Poland and top the group. This one came down to the wire – before Saudi Arabia's stoppage time goal against Mexico, Poland and Mexico were only separated by 2 yellow cards in the Fair Play tiebreaker. Had Argentina scored another (and they really, really should have), Mexico were through.
Saudi Arabia pulled off the upset of the tournament vs. Argentina, despite a Messi goal, but couldn't find the magic in their last two matches and will be going home disappointed. Mexico, meanwhile, failed to make the knockouts for the first time since 1990, when they were banned from the tournament. Poland gets a tough Round of 16 matchup vs. France, while Messi and Argentina have been given an absolute gift with Australia. Despite a penalty miss against Poland, it was Messi's best match of the lot – which is saying something, because he scored a critical goal to break the ice against Mexico and then assisted Enzo Fernandez's wonder goal. It doesn't beat his 2014 group stage, but other than that, this is about as good as Messi has looked at a World Cup – which is good news for Argentina fans.
Group D:
Most predicted France cruising before the tournament, and they did just that, shaking off the champions' curse to win their first two matches before resting starters vs Tunisia. Elsewhere, though, this group killed brackets everywhere, as trendy upset pick Denmark were upset by an Australia team that many (read: this guy) thought wouldn't even beat Peru to make it into this group. Instead, the Socceroos were rewarded for their efforts with a brutal matchup against an Argentina side that appears to be rounding into form after a tough start. Still, though, the main takeaway from this group has to be France and Kylian Mbappé, who's looked every bit the best player in the world thus far. Some questions lingered about France after a rough Euros and an injury to Karim Benzema, but they currently look like deserving favorites, especially if Neymar doesn't return for Brazil.
Group E:
Holy. Crap.
If you're talking about the most insane final match days of a World Cup group stage, this absolutely has to be up there. First off, Japan shocked Germany in the first game, and then Germany managed a draw vs. Spain, who killed Costa Rica in the first match. Of course, to make things interesting, Costa Rica beat Japan, meaning all 4 teams had a real chance at the knockouts going into the final day.
Early on, both Germany and Spain went ahead against Costa Rica and Japan respectively, as was expected, and it looked like they would cruise into the knockouts. Both games were 1-0 at the half, and then all hell broke loose.
First, Japan scored in the 48th minute off a rocket from Ritsu Doan of SC Freiburg, reviving Japanese hopes of making the knockouts. Still, though, with Germany up a goal, the Germans were poised to go through off of goals scored. Then, just 3 minutes later, Japan scored again, after a ball that looked to possibly go out of bounds got dinked back into the center and kneed (yes, kneed) home by Ao Tanaka of Fortuna Düsseldorf. Suddenly, Germany were heading out, and Japan would now top the group – shocking, given how good Spain looked for much of the first two matches.
To compound matters for Germany, Costa Rica proceeded to score in the 58th minute – and now Spain needed to be on alert, because if both Costa Rica and Japan won, Spain were heading out as well.
Costa Rica found a second in the 70th minute, and for a glorious three minutes, it looked like we'd have the most shocking final day for one group maybe ever. Instead, Germany scored through Kai Havertz in the 73rd minute and again in the 85th minute, before Niclas Füllkrug of Werder Bremen bagged another. Spain were through, Germany were out, and Japan somehow topped the group.
Japan get Croatia in the Round of 16, and Spain get Morocco – both winnable matchups. It will certainly be interesting to see if the chaos continues.
Group F:
One of the most interesting, wide-open groups in the tournament lived up to its promise, as Morocco ended up "surprising" Belgium and Canada and topping the group. Croatia's aging stars showed out, as they were able to hold off a Belgium charge to top the group (with some help from a brutal Lukaku finishing performance). Belgium should have gone through, but weren't able to finish their chances in what is likely the final major tournament for their aged "golden generation." Morocco did get somewhat lucky based on the underlying numbers, but played well and deserve their spot in the knockouts. Spain will be a tough matchup, but Morocco's fullbacks give them a chance to wreak havoc on the counter. Croatia, meanwhile, gets Japan next, but a potential quarter-final clash with Brazil looms large.
Group G:
The simultaneous final matchday delivered once again. Brazil-Cameroon was a snoozefest for a while, but Serbia-Switzerland was a crazy match with several lead changes. Suddenly, after Cameroon scored in stoppage time, Brazil were just a goal away from finishing 2nd in the group. Luckily, both Cameroon and Switzerland failed to score another, meaning Brazil still topped the group (saving the world from the easiest Argentina path to the final in history). Brazil get an easier matchup against South Korea as a thanks for their troubles, and Switzerland get a tough task with Cristiano Ronaldo and Portugal.
Group H:
As everyone expected, Ronaldo and Portugal topped the group. Perhaps not as everyone expected (besides a certain TheDyspatch writer), South Korea finished above Uruguay and Ghana to make the knockouts. Uruguay, one of the top teams at the last few World Cups, are out in the group stage. This was a surprise, unless you knew literally anything about this Uruguayan team in advance (in which case, you knew they weren't going through). Ghana outperformed their ranking, but in the end it wasn't enough to see them through. The Portuguese get Switzerland in the next round, while South Korea have gotten a brutal matchup with favorites Brazil.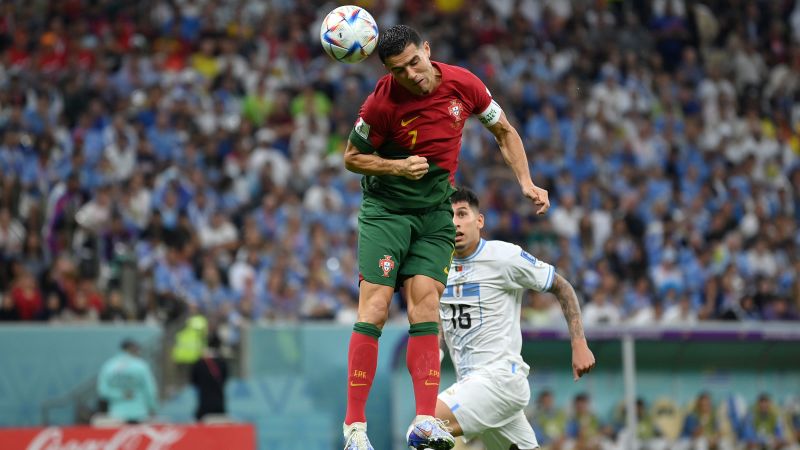 Knockout Stage Predictions
Top Half
Round of 16:
NETHERLANDS vs. United States
ARGENTINA vs. Australia
Japan vs. CROATIA
BRAZIL vs. South Korea
Quarterfinals:
NETHERLANDS vs. Argentina
Croatia vs. BRAZIL
Semifinal:
Netherlands vs. BRAZIL
Nothing crazy here on by far the weakest side of the bracket. Brazil-South Korea might be a bloodbath. Netherlands-USA is the most interesting game, as the Americans have controlled their matches but struggled to score, whereas the Dutch have looked shaky but found goals – but the Dutch are still the favorites here, especially considering the gulf in quality between the two managers. Croatia should be able to beat a spirited Japan team that's gotten very lucky to get here, but the two sides aren't that far apart (besides in the midfield) – and, of course, Argentina is supposed to beat Australia. Then again, the Socceroos are having an impressive run and Argentina lost to Saudi Arabia, so who knows.
Argentina just don't look strong enough to make a deep run, so a loss in the quarters or semis seems bound to happen. If it doesn't happen vs. the USA or the Dutch, it'll happen against Brazil, who are clearly the favorites on this side of the bracket. Either way, the odds of Lionel Messi lifting the World Cup trophy are close to zero with how Argentina have played thus far.
Bottom Half
Round of 16:
ENGLAND vs. Senegal
FRANCE vs. Poland
Morocco vs. SPAIN
PORTUGAL vs. Switzerland
Quarterfinals:
England vs. FRANCE
Spain vs. PORTUGAL
Semifinal:
FRANCE vs. Portugal
This side of the bracket is significantly stronger than the other, with 4 top teams landing down here. Interestingly, the 4 best European teams ended up in the bottom half of the bracket, and the 2 best South American teams ended up on the top. France have looked the best team of these 8 thus far by some distance, but if Spain finish, they're going to be really tough to beat. It's hard to pick against Portugal's quality as well, but France are just incredible. It is possible that Ronaldo could pull one last bit of knockout stage magic out of the old hat, and that does seem to be Portugal's only path to victory, as talented as they are.
Final:
Brazil vs. FRANCE
France has proven all of the doubters wrong after the Euros. This team is stacked, their attack is vicious, and it really seems like only finishing variance can stop them.
AWARDS:
Golden Ball: Mbappé
Golden Boot: Mbappé
Golden Glove: Hugo Lloris
Best Young Player: Pedri