The Royal Rumble every single year is the most anticipated wrestling event of the year with the pent up anticipation of surprise returns on the horizon like the return of the Rated-R Superstar two years ago after nine long years of being on the shelf. This Rumble is booked very differently then normal and the explanation will make you very intrigued with the card assembled here.
So for the sake of this article after Crown Jewel the next Friday, Reigns comes out to do a promo with the Bloodline and then a theme song we haven't heard in a while hits… "The King of Kings" is being played as Head of Creative Triple H comes out and gives Roman an ultimatum. "You defend your belts on Raw because you don't defend them at all or there will be a harsh outcome." Roman doesn't take this threat seriously and doesn't defend his title for the rest of the year. Day 1 is here and Roman defends his belt successfully and then appears on Monday Night Raw where Triple H strips him of the Universal Championship for the lack of defenses. So this is a way to get one of the belts off Roman without actually having to get pinned and keeps the ora around him.
So now Triple H says now the winner of the Royal Rumble will be crowned the NEW Universal Champion, this gives it time to build up guys for the Rumble and give everyone a chance and makes this PPV feel 110% more important.
30-Man Royal Rumble Match for the WWE Universal Championship
For the 3rd time in history the main prize in WWE will be on the line in the Royal Rumble and with time to build this thing up there's no excuses for this to be bad.
Drawing number one is none other than the returning American Nightmare Cody Rhodes coming back from a torn pec but doesn't get the benefit of the doubt with his entry. Then number two is Johnny Wrestling making his second rumble appearance and right away you get two of the best wrestlers in the world facing off in a dream match we never thought we'd be able to see.
Some notable names in the Rumble but aren't returns will be Carmelo Hayes finally getting the call up like he deserves and can be a real superstar in the making. The return of Dominik Dijakovic and hopefully Triple H pushes him the way he should because he's a stud in the making.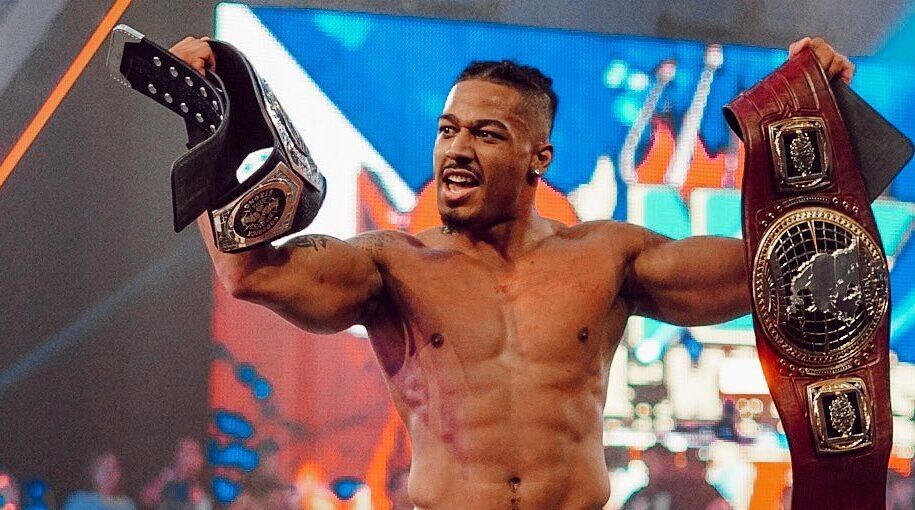 The first return is at 13 and after 10 months recovering Big E the former WWE Champion coming off an injury some thought would have been career ending. This is gonna be a great moment for everyone and especially for the big man himself because he had his long awaited title reign but during the pandemic so he deserves this moment.
As the field continues to fill up with names like the U.S Champion Bobby Lashley, The Miz and plenty more fill the ring as the prestige of the championship keeps growing with the names filling the ring.
At 18, the FORBIDDEN Door has been stomped down with the IMPACT World Champion Josh Alexander the Walking Weapon runs to ring and start wreaking havoc as the crowd tries to contemplate what just happened. Last year we saw the IMPACT Women's Champion show up in Mickey James so this isn't out of the realm of possibility.
19 entrants have gone by and the field looks like Cody Rhodes, Johnny Gargano, Bobby Lashley, Josh Alexander, Big E and Sheamus.
But wait number 20 is someone we expect back very soon in the form of the "White Rabbit" Bray Wyatt who isn't coming out in Fiend form but instead in his Firefly Funhouse form. Wyatt steps in and starts going on a rampage throwing out Gargano and Sheamus.
Number 22 is going to be Matt Riddle who's been built up hopefully over the last couple months as a legitimate threat to win this thing but as Superman has his Kryptonite, Riddle has Seth Rollins. Rollins comes in at 23 and picks up right where they left off and throws Riddle into the stairs, and just a constant assault with chairs and kendo sticks.
3…2…1 "I hear voices in my head they talk to me they understand" it's none other than the Viper Randy Orton returning after being out of action for months helping out his teammate Riddle.
The field is winding down and here comes number 30… IT'S JOHN CENA!!! But wait he's not coming out to the theme song…then after a couple of seconds of nothing, "A-Town Down" yep Austin Theory comes out to one of the biggest reigns of boo's we've heard. Theory enters the ring and gets in the middle of Cody, Seth, Wyatt, Riddle and Orton. The beatdown is brutal with everyone hitting a finisher on Theory and tossing him over the top rope.
The final five, Rhodes, Rollins, Wyatt, Riddle and Orton. All standing in a circle then out of nowhere Orton RKO's Riddle and throws him out of the ring turning on Riddle setting up their Wrestlemania match.
You have Wyatt and Cody in one corner and Rollins and Orton in another. Wyatt who hasn't brought out the Fiend persona since coming back struggles to focus as the lights flicker and the stadium turns red as Wyatt looks terrified for his life and then BOOM Cody tosses Wyatt out the ring.
While Orton is down, Rollins and Cody finally come face to face for the first time in this match where they exchange blows back and forth and then again out of nowhere CROSS RHODES but Cody is so blown up for being in there since number one and couldn't get Rollins out because he rolls out the ring.
Orton tries to take advantage of this and drags Cody near the ropes where they both find themselves over the top and on the apron both hanging on and exchanging blows. Orton then hits BRUTAL RKO on the apron but Cody stays on while both are still laying there. Rollins comes back in the ring and sees this and baseball slides both to the floor and NEW WWE UNIVERSAL CHAMPION SETH "FREAKIN" ROLLINS!!! Rollins after consistently being the best in the company finally got his title run as a tweener and this sets up Cody vs Rollins Night 1 of Wrestlemania.
Raw Women's Championship Match: Bayley (C) vs Asuka
After beating Bianca Belair at Extreme Rules, Bayley has returned to a dominant form where she seems unstoppable and nobody is on her level. So here is a fun match where these two can just go there and put on a show after the Rumble.
Bayley and Asuka had a title match at SummerSlam but that was during the "Thunderdome" era so that doesn't really count. Both women are at the top of their games and definitely two of the best in the world.
But at the end of the day Bayley's hand will be raised with outside help from Sky and Dakota Kai.
Intercontinental Championship Match: Gunther (C) vs AJ Styles
Everyone and their grandma wants to see this match happen and it's happening here on this version of the 2023 Royal Rumble. Gunther having one of the most dominant runs we've seen from a mid card championship and finally making this title feel important for the first time since the Miz's run in 2016.
This match should come to forwishen by Gunther coming out and saying there's legitimately nobody else to beat and he's becoming very bored and threatens the locker room to challenge him or else nobody is gonna see this title ever again. And that's where AJ steps up to the plate and goes over the storyline of I've taken people like you down, you're not the holy grail. And over the next weeks AJ exploits the weaknesses of Gunther with attacks to the neck. Playing with the neck will set up the impact of the Styles Clash.
This match will be a David vs Goliath matchup but AJ usually does good in these types of matches (Brock vs Styles). This match should be a banger between AJ's styles of technical and high flying against Gunther's otherworldly strikes.
This match will be back and forth given a lot of time but all I ask is the finish to be Gunther chopping the flesh of the skin of AJ going for the Phenomenal Forearm and then Gunther heading to the top rope and ending it with a splash. Gunther another 5 Star performance as he continues to build into one of the best big man's of all time.
Undisputed Tag Team Championship Match: The Usos (C) vs Mustache Mountain
The Brawlin Brutes can't win the big one and Butch just keeps eating the pins and costing them wins with how crazy and uncontrolable he is. So Sheamus and Ridge has had enough and beat the ever living crap out of Butch and this assult keeps happening for weeks but on a random Friday Night Smackdown, Sheamus and Ridge surround the ring when Tyler Bate comes in for the save and saving his friend now PETE DUNNE. They hug it out and Mustache Mountain is BACK!!
Dunne and Bate go on a winning spree and beat Sheamus and Ridge to qualify to become number one contenders for the Undisputed Tag Team Championships.
This match has the potential to steal the show if you ever saw Tyler Bate work a match before, especially against Pete Dunne. Coming in as the obvious underdogs the Usos take this matchup lightly not having any warm up matches and just playing it off.
This shows in the match where Dunne and Bate are controlling the pace and fighting with that chip on their shoulder. The Usos use underhand tactics with Solo on the outside. Near falls back and forth in a very fun contest. Bate putting everyone on notice with his insane ability. But the lack of experience will be the demise of Mustache Mountain when Bate goes out and tries to eliminate Solo when the Usos out of nowhere double superkick and then another one to Dunne who's already out. Double UCE splash 1…2…3 The Usos barely escape this match. This should set up The Usos vs Mustache Mountain vs Street Profits vs New Day 4-Way Ladder match at Wrestlemania.
30-Women Royal Rumble Match
There's been a lot of writing on this article and giving another Rumble summary isn't in the best interest of my time and your time so I'll give key points.
Mandy Rose, Blair Davenport and Cora Jade all make an appearance in this match with Blair having a Bianca Belair type of performance making a statement.
Beth Phoenix makes an appearance. And still looks impressive and looks like she can still go.
A new signing appears here that has a really good chance at coming back to the company under Triple H. Tenille Dashwood (fka Emma) coming back signing a contract and instantly improves the quality of in ring work for the women's division.
Dakota Kai, Shayna Baszler and Rhea Ripley all look very impressive in this match, just creating a brighter future for the division.
Another woman is coming back on a full time deal and that is gonna be Tegan Nox, another great talent that's just phenomenal in the ring. Nox and Kai have a storied history in NXT so it makes sense they take each other out.
Heading into #30 the field is looking like Blair Davenport, Rhea Ripley, Bianca Belair, Charlotte Flair and Shayna Baszler.
3…2…1 "who's number 30?" IT'S BOSS TIME!!! Sasha Banks makes her long awaited return to the ring and goes onto winning the Royal Rumble for the first time and now awaits Bayley for Wrestlemania where hopefully they can replicate NXT Takeover Brooklyn.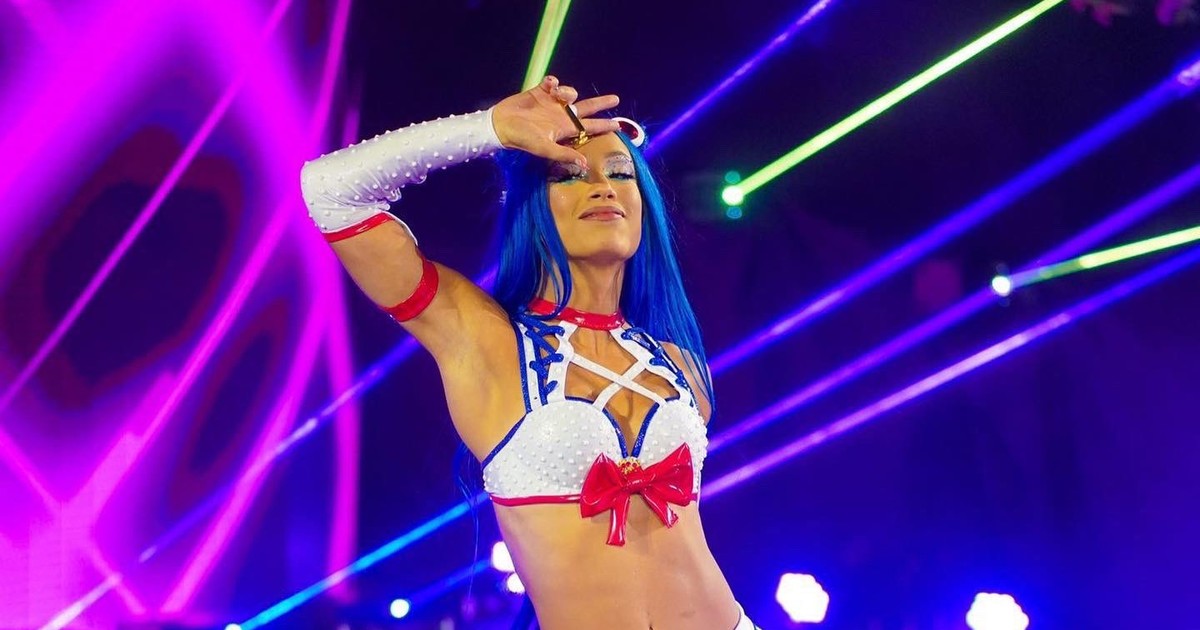 WWE Championship Match: Roman Reigns (C) vs Sami Zayn
Recently on Friday Night Smackdown, Roman handed Sami Zayn his own Bloodline shirt while at the same time teasing turning on him. Jey Uso was very mad at this happening and I still think Jey is the reason why Roman eventually turns on Sami. After War Games the Bloodline is stronger than ever. But still Jey isn't on board so yet again now Jey Uso gives Roman his own ultimatum alongside the one Triple H has given him. "Your own blood or that clown Sami Zayn, you have 2 hours." Sami Zayn has a match in the main event with Shinsuke Nakamura in a barn burner of a match. Roman's music hits and comes out with The Usos, clapping his hands on the way down and saying you're the man Sami. Roman enters the ring and Roman offers a handshake and Sami takes it, they embrace in a hug and as soon as Roman exits the ring Jimmy and Jey double superkick to Sami Zayn. Roman looks in shock while Solo and the Usos are on top of Sami beating him.
Roman comes back in and pulls all three family members off Sami and says "what's wrong with y'all he's our…" right before he says family Roman kicks Sami in the face with a crowd full of boo's. Roman tells the Bloodline to pick him up and hits a brutal spear signaling the end of Sami in the Bloodline.
Sami the next week is obviously in shambles crying in the ring and then the Usos from behind attack Sami Zayn and the beatdown continues until KO IS HERE!! Long time friend and arch rival Kevin Owens comes to the save of Sami Zayn as they embrace to a loud ovation.
This sets up The Usos vs Sami and Owens at Day 1 where Roman comes out and costs Sami the titles. The next night of Raw it's announced that on Friday Night Smackdown there will be a Gauntlet Match to determine the Number One contender for Roman Reigns Universal Championship.
Sami Zayn, Sheamus, AJ Styles, Shinsuke Nakamura, Ricochet and a mystery opponent. Sami Zayn draws the #1 and beats Sheamus on a roll up but Sheamus isn't happy about that and he and Ridge beat Sami out on the outside and leave him for dead for the next opponent AJ Styles. Styles lets Sami regroup himself and that will cost him as well as Sami rolls AJ up as well for the 1..2..3. This is building up Sami Zayn as his "Underdog from the Underground" persona again with him looking clean cut again finally embracing the crowd again. Nakamura steps in and he and Sami have another great match where Sami barely escapes with a Helluva Kick. Next, the One and Only Ricochet, as soon as he steps into the ring, explodes the suplex that sets up the Helluva Kick 1…2…3!! Sami Zayn was so excited in the ring until from behind Solo and Usos attacked Sami again and put him through the announce table and threw him back into the ring for the mystery opponent… BRAUNNNNN, welp here comes the monster among men to end it right? Well Sami is trying to fight him off with any last resort he can. Sami is in the corner and when Braun runs at him Sami pulls the referee in front of him and moves out the way. Sami still has that dawg in him hitting a low blow on Braun and stuns the Monster into the corner for a HELLUVA KICK, 1…2…3 OMG SAMI ZAYN HAS DONE THE IMPOSSIBLE, one hour of wrestling and Sami Zayn has a date with his former boss the Tribal Chief Roman Reigns.
People forget just how good Sami Zayn really is, at one point he was one of the best in the world and now he has the chance to prove to everyone he still has it. Sami Zayn is now the most over babyface in WWE and everyone is behind him like he was in NXT.
Sami Zayn's entrance hits and usually the theme cuts out but not this time!! Sami Zayn's original theme is back!! As the crowd sings along then here comes the Tribal Chief with a chorus of boos.
The match goes as you expect, Roman in full control, trash talking Sami while he's down. Very slow and methodical right in Reigns' wheelhouse, the crowd cheering for Sami is barely doing anything. Once Sami builds the momentum and yet again distracts the ref and gets the low blow on Sami and sizes up Roman in the corner as the crowd goes wild hits the Helluva Kick 1…2… Solo pulls the ref from the ring as the Usos and Solo now surround the ring. Owens comes again for the save chasing away the Bloodline, Sami while distracted with Owens and the Bloodline Roman hits a Spear off the ropes 1…2… KICKOUT Sami Zayn is HIM as Roman is in disbelief. Roman gets Sami up by holding him by his neck telling him "you've always been a joke and forever be a joke" Sami spits in the face of his former Tribal Chief. Roman is furious so he goes to clobber Roman while Sami ducks hits a brainbuster that sends Roman in the corner. Again the crowd going insane, Michael Cole going insane, everyone on the edge of their seats. Sami running for a second Helluva Kick is intercepted by a raging spear and Roman just baited Sami in for the 1…2…3. Roman reigns supreme in one of the best matches of his career while building Sami as a real main event start again.
Roman gets on the microphone, "San Antonio, Acknowledge me." IF YOU CAN SMELL, WHAT THE ROCK IS COOKING!! OMG!! OMG!! OMG!! Michael Cole screams as Dwayne "The Rock" Johnson returns to confront his cousin. The Rock steps into the ring and stares down his cousin and points to the Wrestlemania sign as the PPV goes off air.