Heading into Week 2 the New York Jets have some major holes to fill in after getting bulldozed by Lamar and company. Going into the "Dawg Pound" won't be an easy task for Gang Green even with their starting QB out. After rewatching the film, the glaring issues with this team is evident but there is a path to victory and it's what the film showed.
Defending the Trenches
The offensive line for the Jets was straight up awful and most literally almost killed Joe Flacco. George Fant who was very solid last season and recently asked for a new contract, he contained the edges very mediocre but did get beat very easily with simple swim and dive moves.
After signing a 3 year/$40 M contract coming from San Francisco, Laken Tomlinson played as if Robert Salah inserted a toddler at Left Guard. Granted PFF grades aren't the end all be all but it's good for confirmation on how you thought someone played, Laken graded out at a staggering 38.6 overall grade… Laken couldn't pass or run block for his life either letting someone kill Flacco or letting someone blow up Breece Hall he just couldn't block and I don't expect this again with his track record.
Vera-Tucker was the highest graded Jet Offensive Lineman in Week 1 and he still flashes that Pro Bowl type level of play just needs to put it all together.
Max Mitchell the 2022 4th round draft pick had to step in for recently signed Duane Brown who's on the IR for at least the first 4 weeks did alright for what you expect from a 4th round pick is all I'll say.
Going against THE best EDGE rusher in Football Myles Garrett will probably be the Jets demise so just try to minimize the damage as much as possible if they can. George Fant was resting in practice this week with an injury and will be ready to go.
PLAY YOUR PICKS!!
Was there a reason why Corey Davis and Braxton Berrios were getting more snaps and opportunities then their 10th overall pick? Yes we know they want to ease Garrett into the offense but he's such a playmaker that you just have to have him on the field for fans' confidence and more importantly Garrett's confidence. On his 1st reception he made 3 guys miss turning a 3rd and long to a 4th and very short in which I'll get into later. You saw the ability this kid possesses and we can all agree that he has more talent then most of the WR core combined.
4 receptions for 52 yards is very good for the amount of snaps he played in which case he would be on pace for nearly 900 yards so what this is trying to get at is…PLAY THE KID!!
Another guy I wanna see more of is Defensive Lineman Michael Clemons the 7th round pick out of Texas A&M has been a beast so far in preseason and really showed flashes of greatness. You just gotta love the way he plays the game, constant motor 24/7 and never gives up on any plays, if he has lined up shots on you he might break a couple of ribs because that's just how hard he hits. Yet again PFF not the make or break but it backs up the claim that he deserves more snaps because he graded in at 62.3 which was 5th out of the 10 rookie DLineman that played. PLAY HIM!!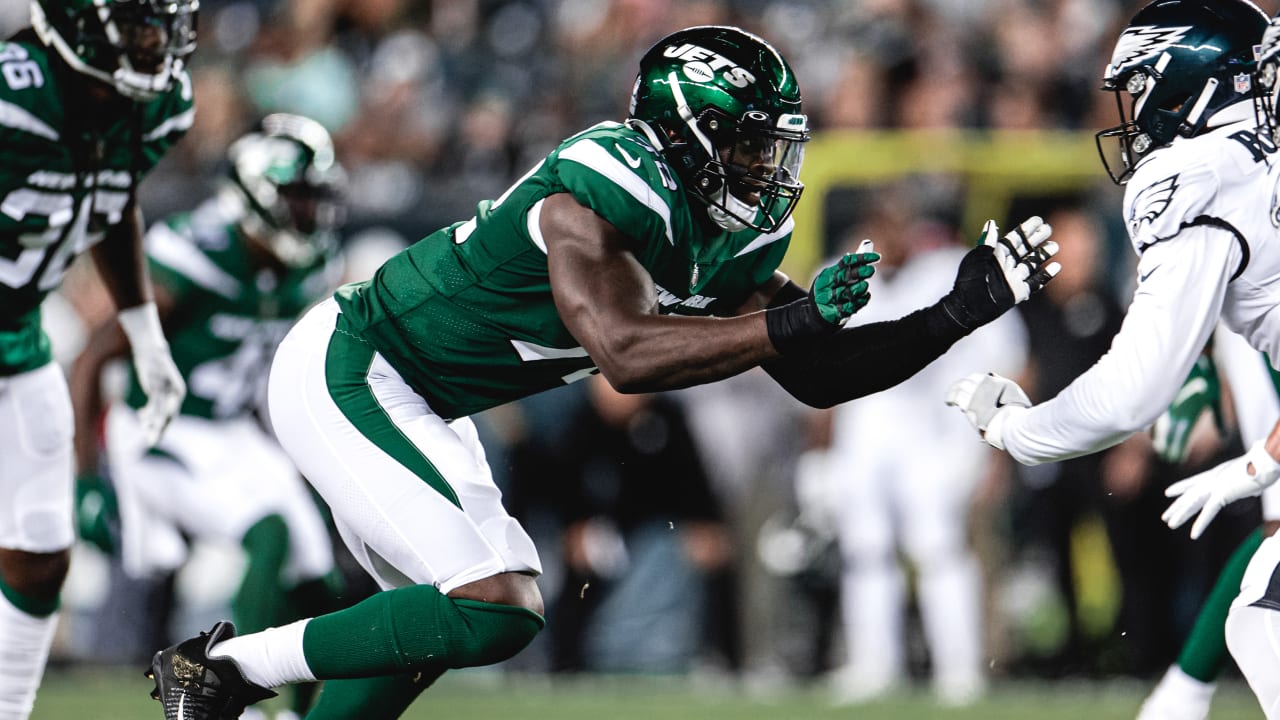 Cook up something better Salah and Staff
A 37 year old Joe Flacco not prime Joe Flacco attempted 60 PASS ATTEMPTS!! I understand the run blocking was awful but man you just can't be having Flacco throw that much and they still put up one touchdown. LaFleur had some sketchy play calling last year even with his primary QB and he yet again didn't have his QB that the playbook is made around but there's just no excuse. With Flacco you can't rely on the deep pass or even medium level type passes so what would would be short passes to guys like Elijah Moore and Garrett Wilson guys that can make people miss and create after the catch and win off stuff like that. The Browns have a great secondary and you'll probably not see a lot of winning off the line but you just have to trust the capital you put into these young pieces.
The last point that's gonna be made is the fact that Robert Salah really needs to step it up and start backing up his talk. The one thing that really stood this point out was what was referenced before in the fact that Garrett Wilson 1st catch of his career made 3 guys miss and got them in 4th and inches at their own 35 yard line. If you're Salah you need to go for it for the sake of confidence, they had the stadium rocking, you had everyone rocking and you decided to punt… the combination of Salah's decisions to go for it or not and LaFleur's play calls on 4th down is something unusual.
Summing it Up
Very winnable game here for the Jets going up against an offense that didn't look good passing the ball. The Browns gave Nick Chubb nearly 20 touches and I feel confident that the Jets defense can contain him to an extent. Containing Myles Garrett is the game plan that everyone knows but they really need to throw the kitchen sink at him to give Flacco time to go through more in just one progression. Offensive line don't look like toddlers, playing your capital, and don't be boneheaded is the path to victory here and hopefully Jet nation doesn't another 0-2 start.