Did you see this type of season forthcoming for the Baltimore Orioles this season? Well I definitely didn't and it's been a joy every night to see what these kids have up their sleeve of tricks to pull off win after win and insert themselves into playoff contention.
At the start of the season Vegasinsider had the Orioles at 62.5 wins coming off a 52 win season. Granted this is what experts and the casual fanbase expected with the expectation of them being another couple years away from contending but as of September 6th the Birds find themselves 4.5 games back from the 3rd and final Wild Card spot in which case they pull it off would be their 1st playoff appearance in 6 years.
So you're probably wondering what was the flip that turned this thing around? And that answer is one player and that player's name is Adley Rutschman. The Orioles started the season off to a staggering record of 16-25 coming off losing 7 of their last 9 within the division so they did what most thought should have happened in the start of the season in which to bring up top prospect Adley Rutschman who was ranked the number 2nd overall prospect in all of baseball.
What makes Adley Rutschman so special you might add? Well it's the fact he can literally do it all from being able to catch games behind the plate and be a gamechanger with the glove as well as being just as effective with the bat. So far in 359 PA Rutschman is slashing .257(6th)/.362(2nd) /.451(5th) which adds up to an .813 OPS (3rd) so as you can see Adley is already one of the best offensive catchers in the league and to tag that along with his 135 wRC+ (Weighted Runs Created) which is one point lower than the AL All Star Starter Toronto's Slugger Alejandro Kirk. Wins Above Replacement (WAR) is a commonly used stat to compare players value and with FanGraphs they measure WAR with the importance of each position so Catchers will be rewarded a higher WAR because they play the most important position on the diamond. Adley clocks in with a 4.0 WAR which is above guys like Kyle Tucker, Will Smith, Shohei Ohtani, Juan Soto, and plenty more notable names out there and Adley hasn't even been playing the whole season. The last thing I'll note about this special talent is his ability to frame and framing has become a very crucial part of the game because of how much movement we're seeing from pitchers now so it becomes harder for umpires to call balls and strikes and now it's easier than ever to steal strikes. BaseballSavant has a framing metric and Adley ranks in the top 90th percentile in that and currently has a 16 DRS (Defensive Runs Saved). Even though the clear cut AL MVP is Aaron Judge the fact that you can even put an argument for this kid speaks volume of how special he is and with a 51-36 record with Adley the Birds are riding his coattail to a possible Wild Card birth.
Another reason for the Birds current and future success is the involvement of the roll players who've stepped up to the plate and have made a difference. Yet again it starts from the top, All Star Outfielder Cedric Mullins who most are saying is having a "down year" is stil 7% above league average hitter according to wRC+ and is still creating havoc on the basepaths with 29 Stolen Bases AND playing Gold Glove defense in Center being in the 94th percentile in OAA.
 Then from a "down year" to someone who's regained his ability to hit the ball with that being Anthony Santander who after reaching a career low 93 wRC+ in the 2021 campaign has rejuvenated himself and his team with an Elite bat in the middle of the order with a team leading 27 HR and now a 130 wRC+.
Next will be someone who has a great story after being the number one prospect for the New York Yankees and was the piece that couldn't make the Manny Machado deal go through (very ironic now) with that being SS Jorge Mateo. There was so much hype for this kid around the Bronx because of his ability to just spray the ball with his top tier speed. And personally as a Yankee fan I don't have any ill feeling towards the guy but this was the man who could have gotten us a Hall of Fame talent at the hot corner. 
Mateo was dealt to Oakland that sent Ace Sonny Gray to the Bronx and ever since then he bounced to San Diego and now to Baltimore in which case he can gladly call his home. The Birds know they aren't gonna get that offensive production from Mateo with him being below the 20th percentile in every single hitting category but what they know is that Mateo is gonna be giving them a electric spark in the clubhouse to combine with his 99th percentile speed and 92nd percentile in OAA (Outs Above Average). I'm currently projecting the Orioles to make a SS move during the Offseason but I feel Mateo has earned his spot on this team for the foreseeable future.
There's still plenty of other role players I could blab about like Ramon Urias who's having a solid season (2.2 WAR) or even guys like Austin Hays (106 wRC+). But the thing I really want to point out is they're all doing this without a true Ace or to be real a good pitching staff at all I mean the lowest qualified ERA leader is Dean Kremer who has 3.22 ERA in 16 starts. I guess you can point to the Ace being Jordan Lyles who's pitching to a 4.25 ERA with an xFIP (Expected Fielding Independent Pitching) of 4.50. I brought this whole thing up to bring my past and future point up in which their offense is really molding into something the league should fear and to combat that with my next bullet point is lethal.
 The Orioles bullpen is special. Yes that's all I'm gonna say because they're currently ranked 9th in WAR while trading away their All Star Closer Jorge Lopez to Minnesota. The Orioles pen is pitching to a 3.20 ERA (5th), 3.72 FIP (10th), 3.67 xFIP (5th), 48.2% GB% (2nd). So by the stats I just showed you the Birds pen generates the 2nd highest Ground Ball rate which is the best result you can ask for and their xFIP is higher ranked then their actual FIP which means they're unlucky and their fielding doesn't help them.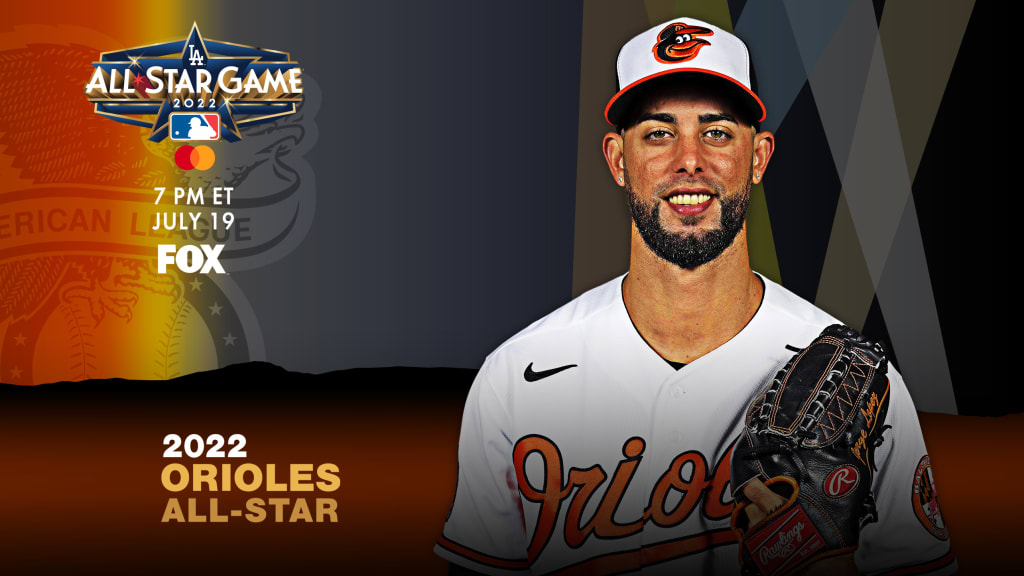 And this can all be attributed to 5 men, Keegan Akin (2.86 ERA) who currently is graded out on PitchingBot as 60/80 grade which is really good with his command having a grade of 65. Just a solid lefty who pounds the zone and doesn't give up to many walks.
Next is another lefty in Cionel Pérez who currently has a 1.53 ERA in 47 innings of work, Pérez is primarily a two pitch mix guy with his higher 90's fastball with grades out at 60 and has a -8 Run Value against. And he combines that with a wipeout slider. Another Orioles lefty that grades out at an overall 60 that generates a good amount of swings and misses from his filthy stuff. 
Who's next? Well that'll be one of my personal favorite pitchers in baseball because he's a close amigo to me and that'll be right hander Dillon Tate. Tate is pitching to a 2.64 ERA with a 21.6% K% and a near 60% GB% which are THE two best outcomes a pitcher can have. Dillon doesn't have that top tier stuff that most have but what he does have is the ability to get into the zone and avoid walks. 93rd percentile in xBB which is top tier and to combine that with his ability to keep the ball in the ballpark and him keeping the ball on the ground gives him a nod as one of the league's best and I'm not saying that because we know each other I'm saying that as a baseball spectator.
Bryan Baker is a weird case of him having the 2nd highest WAR on the Birds current relief staff but when you deep dive into his stats I really don't comprehend it. Baker has 4.15 ERA with a FIP of 2.99 yeah so he's getting pretty unlucky and that's gonna happen when he's in the 25th percentile of HardHit%. Baker has two really good pitches in terms of stuff but they really don't create Swings and Misses so I don't know what more to say then just try and pound the zone more with your best stuff in which Baker's case is his Cutter and Changeup.
Last but certainly not least is gonna be one of the breakout relief pitchers of the year and one of the league's best closers in Félix Bautista. You wanna talk about absolute filth? Then you should be talking about not only one the nastiest relief pitchers but one of the nastiest pitchers in all of baseball. Pitching to a 1.53 ERA and a 35.5% K% Baustista after finally taking so long to get to the show has finally broken out and won't be looking back anytime soon. Another two pitch mix guy with primarily a 4 Seam Fastball which sits at 99 and peaks at 103 and has over 2300 RPM (Revolutions Per Minute). And to combine that with a Splitter is unfair because of the fact the Splitter works off Fastballs so when the batter sees it coming out the hand it looks like a fastball and comes in like a fastball then it suddenly drops making you look silly. I'm just gonna put his BaseballSavant Page below here so you can see for yourself just how freakish this guy is.
Now the whole point of this article is to persuade you or even just to inform you about how special this team is gonna be in the next coming years and to say that it would be wrong of me not to bring up some of the top prospects in the Birds farm that are gonna make that much of a difference.
I wanna bring up recently called up prospect Gunnar Henderson who's the top prospect and is also currently listed as the 2nd overall prospect in baseball, sounds familiar right? Henderson was brought up for the Wild Card boost and you can see why slashing .296/.321/.481 in AAA and is truly one of the best hitters in the minor leagues. Graded as a 65 overall prospect on MLB.com with all 5 tools, 60 hit, 60 power, 55 Run, 65 Arm, 50 Field. Just another case of the Orioles just having special talent after special talent. They have Adley who's gonna be the best catcher in baseball for the foreseeable future and now they have a SS prospect who'll most likely convert to 2nd who I could see put up a 25 HR/ 20 SB season and is so far playing well in the bigs with 128 wRC+ and 0.3 WAR in 28 PA.
Let me introduce to you the future Ace of this ballclub and that's the 4th ranked prospect Grayson Rodriguez and let me tell you something about this kid. Grayson Rodriguez can reach 100 mph consistently which means he'll most likely dominate and to combine that with his wipeout slider and nasty changeup is similar to another Ace in the same division *COUGH Gerrit Cole COUGH*. In a small sample of 56 innings pitched in AAA with him coming off injury Rodriguez has pitched to a 2.09 ERA, 1.68 FIP, and a 2.72 xFIP. Did I mention his 12.86 K/9 or even his INSANE 2.25 BB/9 yeah if he somewhat does that in the Major's there's nothing stopping him from being top 5 instantly and having that Spencer Strider type start.
Jackson Holliday was the 1st overall pick in 2022 MLB Draft the son of 7x All Star Matt Holliday is another SS prospect who has that 5 tool potential if the power comes along and he's only 18 so I don't think that'll be a problem plus his dad had 316 HR so I don't think he'll let that slide.
Colton Cowser the 5th overall pick in the 2021 MLB Draft Outfielder out of Sam Houston State was raking through the minors and was looking at an early arrival until now where he's currently struggling in AAA but he's 22 so give him the time. Colton, when he's on, is a kid who gets on base at an Elite rate with a .444 OBP through all levels including his struggle in AAA. You're looking at someone who's gonna be at the top of the order to do damage and give Adley a lot of RBI opportunities. I'm excited to see this kid play because to be fair there aren't a lot of these guys left. 
One last thing I wanna add is the Orioles currently have a $44 M Payroll and I believe they'll be making a big splash this offseason with the money they can spend. Could they drag deGrom away from New York with a contract he can't resist? Can they bring in one of the big SS like a Carlos Correa, Xander Bogaerts, or Trea Turner? If they can't drag away deGrom can they add a front line starter like a Carlos Rodon? They have room to strike and with a young clubhouse and a good overall vibe to be around and they are on route to start winning is an intriguing offer for any star to land in Baltimore, Maryland
I could get into way more prospects and Free Agents but I think I've written enough here to inform you guys that the Birds are coming and this stuff is exciting to me as a Yankee fan because it's truly fun seeing a young team be this successful and have a lot of fun talent to watch. Every night I always find an excuse to watch the Orioles on a second screen and you should too. If you're in the area go see a game at one of the most beautiful stadiums in all of sports in Camden Yards…do it and sit back and enjoy the Birds takeoff.