As the Football season progresses closer and closer so do football fans' fantasy drafts. One of the greatest creations a man has ever made in fantasy football is one of the most stressful and one of the biggest roller coasters a sports fan can have which is why everyone loves it. My job here is to provide the casual or experienced fantasy football player some knowledge of who I think could be league winners "My Guys" and this list has been made with countless hours of studying film and looking at the same stats over and over again so let's get into it!!
D'Andre Swift
Before getting sidelined with an A/C Joint Strain in Week 12, Swift was ranked 8th in full PPR formats and was even ranked as high as 2nd through Week 7 averaging near 20 FPPG (Fantasy Points Per Game). Going through the film you see the raw talent this man possessed, the LITE Alvin Kamara comparisons are real. This guy is one of the best after the catch which is top notch for fantasy needs.
Averaging 6 targets a game Swift alongside Leonard Fournette led the league in targets per game so you know the receiving upside is there. Swift possessed a 18.3% Target Share which is ranked 2nd amongst all RB. The league winning up to Swift is RB1 but people are shying away from that because of the point that Jamaal Williams is in that backfield with him. But if anyone has watched Hard Knocks on HBO you know how important Swift is and how much they'll be using him in both the run game and passing scheme.
UnderDog Fantasy has Swift at RB9 behind guys like Saquon Barkley and Joe Mixon which I think is ludicrous. Saquon is gonna be the number one option on the Giants but he didn't show anything last year that makes me believe that he can end up being a top 10 fantasy RB, his OLine is still sketchy, Daniel Jones is still a question mark there, and it's a new system so you always can't guarantee the best from that.
Joe Mixon is a VERY good Running Back don't get me wrong but he's not the main focal point of the offense and if I'm picking a RB1 for my team I'd love for my RB to be the main focus. Mixon is the 3rd option behind Ja'Marr Chase and Tee Higgins which scares me and the receiving upside isn't that high and in a full PPR I'm looking for a receiving workhorse.
I'm currently in a 10 man league and I'm at the 10 spot right now and as of this moment D'Andre Swift will be one of my picks unless someone better drops but I personally think Swift's ADP is low and ranking him below where he was last season where he missed 4 GAMES is really unbelievable and YOU should take Swift if given the opportunity.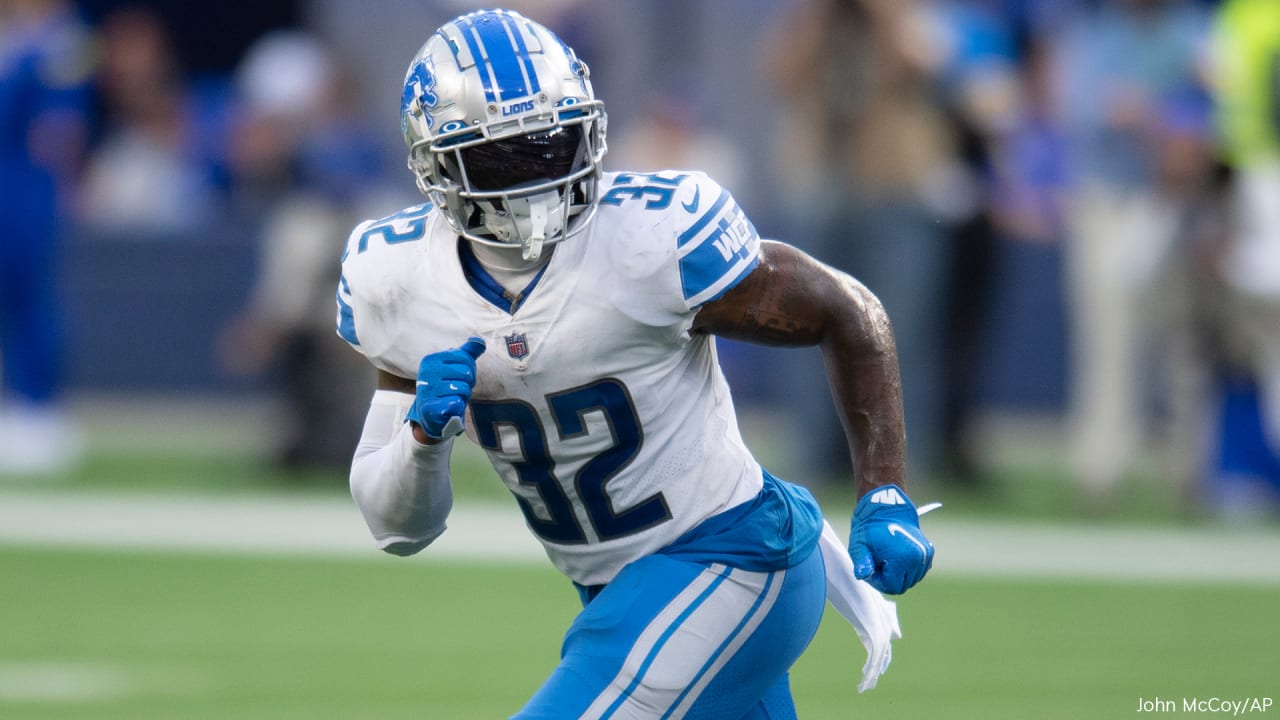 Gabe Davis
The things I'd do to have this man on my team are endless. Gabe Davis is about to have a monster fantasy season with the Bills losing Cole Beasley and a couple other assets there's around 180 targets up for grabs in the Bills offense. Gabe Davis was 14th in the league with 17 Red Zone Targets which means Josh Allen is comfortable throwing him the ball which clearly was the case in his 4 TD game in the Divisional Round.
Currently WR19 on UnderDog Davis is being picked as a WR2 which is very risky because we haven't seen the production yet but you can just see the upside of this kid. Diggs is gonna get his remarkable amount of targets but there's still a bunch of targets still there for Davis to make an impact and become a top 15 fantasy WR. There's not a lot of QB's in this league who could produce 2 Top 15 Fantasy WR but Allen is definitely one of them with the volume he throws the ball.
Going into his 3rd season there's the big chance of the breakout to happen like it did for Michael Thomas, Tyreek Hill, Chris Godwin and plenty more. Davis has the tools and QB play and scheme to become a very high upside WR2 who gets consistent targets in the most important area of a football field.
Marquise Brown
In my own opinion Hollywood Brown is one of the most underrated WR in fantasy and in real life football. Brown is in the 99th percentile in Sprint Speed and has true potential to become one of the league's best with a significant arm upgrade in Kyler Murray. With Lamar Jackson one of the more inaccurate QB's in the league, Brown still possessed over 1000 yards with the 59th Catchable Target Rate.
"Unrealized Air Yards represent the total depths of uncaught passes. Receptions never made, balls never squeezed, fantasy points never amassed. An Unrealized Air Yard is the ultimate "what might have been" in the modern NFL passing game." – Playerprofile.com
Hollywood had 888 Unrealized Air Yards last season which was ranked 6th amongst all WR because of the facts that Lamar is so inaccurate to Kyler Murray who's one of if not the most accurate deep ball passers in the league which is one of the least separated WR group there was. Murray was making magic happen with the amount of tight spaces he can fit it in and now he's gonna have a speedster who gets separation could make a lethal combo. Not to mention these guys already have the connection from college so there'll be no setting into stage.
Getting back to last season Hollywood was the 6th ranked WR going into Week 10 then dropped off the face of the earth to WR22 so you know when the QB play is good he'll get his points and you just have to see the upside in Hollywood this season you'd be stupid not to. He has that Tyreek Hill win you a week type of games with his game breaking speed and with a flamethrower like Kyler we could be seeing a lot of bombs in Arizona and that is why Hollywood is a MUST for me.
Trey Lance
This is a fantasy breaking type player if he reaches his ceiling this season and the risk is your whole season. Feeling risky this season? Take the chance on a guy who could throw over 1000 yards and rush over 700 yards. In the small sample we've seen Lance he's shown the flashes of rushing and throwing upside fantasy owners dream of. Even if Lance isn't as good of a passer as we think then he'll just turn into a Jalen Hurts type of QB where he'll be great for fantasy while being mediocre at passing but has that running aspect.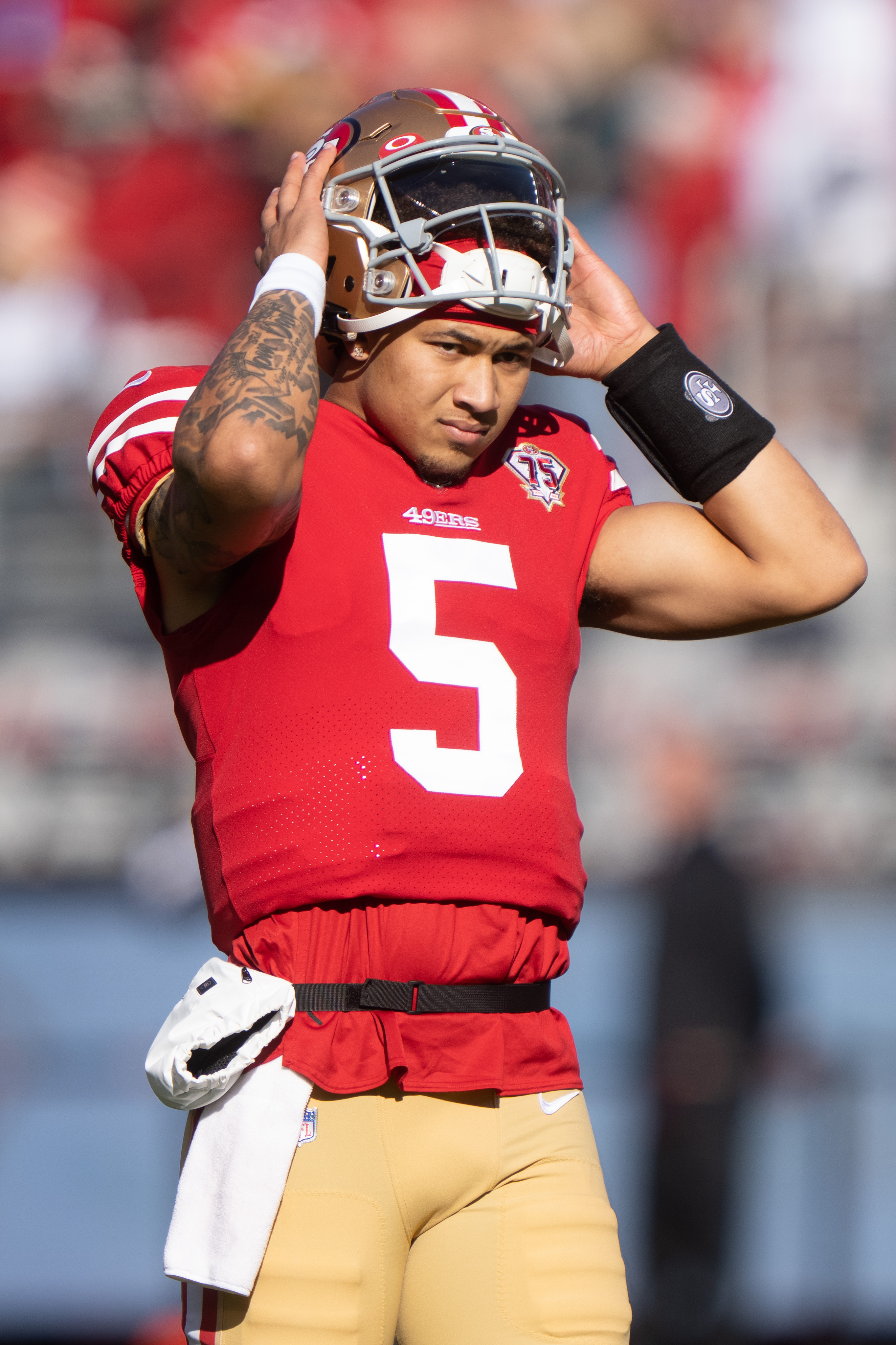 The ADP on Lance is high right now as the QB7 above Russell Wilson, Tom Brady, Matt Stafford, and Aaron Rodgers who have all proven themselves in fantasy as guys you can trust.
But that's on UnderDog where all the competitive fantasy players play so they're picking him high because they know the upside to Lance and if that hits he's gonna win you weeks. On the other hand if you're in a casual league you'll probably see Lance go after the names I mentioned because Lance isn't as known amongst the casuals so if you want him in a home league the value will be great at which you get him.
Personally I'm taking him in a lot of mock drafts right now because of how much I'm hearing about Lance and how they're gonna use him as this multi purpose weapon that will be terrorizing teams on the ground and in the air. Plus it doesn't hurt having a top 10 WR who'll YAC anything and having a top 3 TE and also having one of the best head coaches in football who put his neck on the line to pick this kid over a guy like Justin Fields. I trust Kyle Shanahan, I trust the 49ers organization to turn this kid into the next coming of christ for fantasy owners.

Chase Edmonds
You gotta follow the money here in Miami. When you pay a man the amount that the Dolphins did for Edmonds and Edmonds turned down offers for more money and better teams you know it's gonna work out. Edmonds really wasn't able to thrive once James Conner started getting moving in Arizona so Edmonds took a back seat to which now he's the starting Running Back on a team that's most likely gonna be passing a lot.
Looking at the advanced stats, Edmonds is really not as bad as I thought and really has made his case to be a "My Guy' for this upcoming season. 9th in the league in True Yards Per Carry, 7th in Yards Per Touch, and 11th in Breakaway Run Rate. On the ground Edmonds is very underrated for what I just showed you and he was an RB2 on his own team and mix that in with 53 targets last season which will see an increase this year is a major green flag for owners.
If everything goes well there shouldn't be a reason Chase doesn't finish as a top 15-20 RB and at his current ADP as RB27 right now coming off the board that's pretty solid value for a flex or even a RB2.
Cole Kmet
Here's a guy who's gained a lot of traction as of late in the fantasy realm because people are finally realizing this guy should have been very solid last season with the amount of volume he saw. Kmet is Justin Fields' safety blanket and you saw that later in the year where he was consistently getting over 5 targets a game. Kmet finished with 93 targets which was 8th amongst TE's and had 12 Red Zone Targets with 0 TD's so he's due for a solid season.
Now I'm not saying wait out to the later rounds to grab this man and start him and I'd rather you just grab an early TE if you can because having that advantage every week at TE is a good thing to have and could easily win you weeks. Kmet should be a late round flier you take to hopefully maybe start or even trade him for a piece or two to someone who didn't pick in that TE premium.