For the 1st time in Las Vegas there was no let down in one of the premier events during the sports calendar year. In such a deep prospect pool it's no surprise a lot of teams got very good value out of their picks. We saw teams make franchise altering picks and some make very questionable decisions but all in all a very entertaining night with lots of surprises. Today I'll be dishing out Draft Grades for each selection and my reasoning for them. Here..We..Go!!
1. Jacksonville Jaguars: Travon Walker (B+)
You can see the potential in Travon Walker but how much can you judge based on just that? Watching Travon's film you can tell he's one of the most freakish athletes we've seen at EDGE so if the Jaguars can get him right he'll be a problem. Not the best player available on my board but still a very solid pick.
2. Detroit Lions: Aiden Hutchinson (A-)
Hutchinson is debatably the best EDGE in this draft and there were concerns of him dropping because of his arm length but that shouldn't take away what this man could bring to the Detroit Lions. One of the highest floors we've seen in a prospect and automatically will be a problem in the league. The question just lies, what is his ceiling? Guys like Walker, Kayvon, and Jermaine all have higher ceilings then Hutch and that's why this isn't an A or A+ is because of that ceiling.
3. Houston Texans: Derek Stingley Jr (B+)
Stingley before going down with injury was a consensus top 5 lock coming out of his FRESHMAN season and with all the ups and downs with injuries I really didn't think a team would take a chance on him in the top 3, welp I'm very wrong about that. The Texans are getting a very ELITE Corner who has some ridiculous measurables and god given athleticism. Stingley, if healthy, could have run a low 4.3 and that's just the type of player he is. A risky pick for the Texans but it's well worth the risk.
4. New York Jets: Ahmed "Sauce" Gardner (A)
We officially calling him just Sauce now since he was announced at that? On a real note at the time some fans really wanted an EDGE rusher but looking back now this is a very good draft pick. The Jets haven't had a lockdown corner since Revis and Garnder could be that guy. Incredible measurements at the combine and ran an impressive 40. Yeah people will bring up his 0 touchdowns in his college career but he's really more than that. When you watch Sauce you see how fluid he is and how he locks down legit anyone and in a division that contains Tyreek Hill, Stefon Diggs, Jaylen Waddle, and DeVonte Parker the Jets will need someone to take that task and he's up for that challenge.
5. New York Giants: Kayvon Thibodeaux (A+)
My 1st A+ will be going to the Big Blue because this is a Homerun pick. Thibs in my eyes has the highest ceiling in this EDGE class and has shown on tape that he can be a guy. A guy who could dominate tackles with his speed or power he's gonna be talked about with the greatest that the Giants have ever had. Having LT, Strahan and plenty more in his back pocket to hit up could be a really underrated part of this pick. In a scheme where they run a ton of blitzes and Cover 0, Thibs is gonna get a lot of opportunities to get to the QB and this is a perfect fit.
6. Carolina Panthers: Ikem Ekwonu (A-)
Most scouts have had Ikem at OT1 and you can see why, Ickey is a very tenacious run blocker who doesn't stop going until the whistle is blown. Matt Rhule has made it evident that he wants to pound the rock and what better way to do that then get one of the best run blockers in the country and will add the necessary fire that offense needs.
7. New York Giants: Evan Neal (A-)
Like Evan Neal, Neal is the best all around tackle and will play very well at RT alongside Andrew Thomas. If they touch up Neal like they did with Thomas we could be looking at the best tackle group in the league. With this pick you're really on the last straw with Daniel Jones and protection should not be an issue for him. An athletic freak again and hopefully will keep Saquon healthy and hopefully pull something out of Jones that they hope to see.
8. Atlanta Falcons: Drake London (B)
Let it be known that I LOVE Drake London as a prospect but he's WR3 and he was taken 1st? I really like the dynamic of having him and Pitts two guys that Marcus can just chuck it up to and they'll come down with the ball. Clearly this is the Falcons formula and it works and hopefully people will shut up about London and realize how good this guy really is because he's about to fill in some big ass shoes there in Atlanta.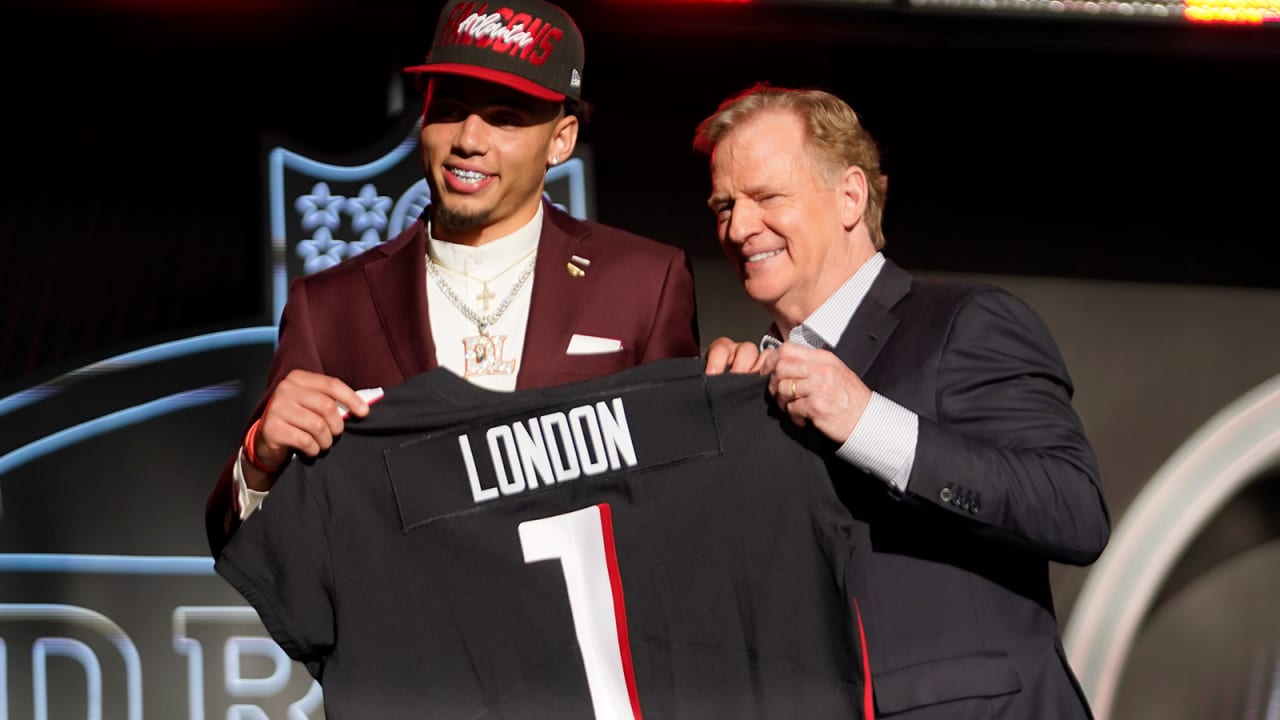 9. Seattle Seahawks: Charles Cross (A-)
This was one of the hardest picks to do on mock drafts because they legit could have gone in any direction. Cross is the best pass blocking OT in this draft and will be giving Drew Lock a lot of time in that pocket to hopefully make the right decision. They got my OT2 at 9 and that's a steal in my books.
10. New York Jets: Garrett Wilson (A)
I wouldn't have thought Wilson would be here at 10 be here we are. Wilson is the best WR in this class and can be the playmaker the Jets haven't had since Santonio Holmes. Wilson plays bigger than his size and when you watch highlights you can see the amazing leaping ability and his incredible body control. Wilson also fits the LeFleur system very well and he will line up everywhere and could be a big threat for years to come.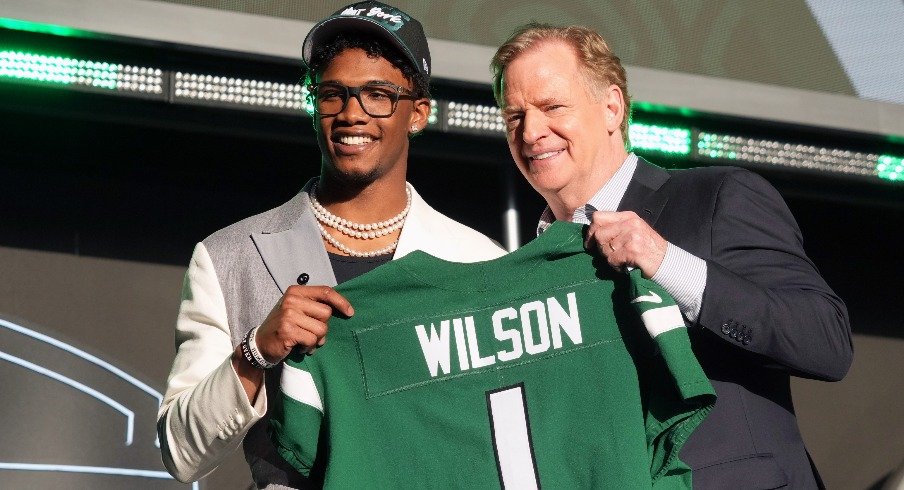 11. New Orleans Saints: Chris Olave (C)
Why just why? You trade all the way up in the draft to draft a guy who probably would have been there if you just stayed. I'm not a big Olave guy because people overrate his route running and to be honest he's just overall mediocre and a certified WR2 at best for his career. I just don't understand this pick
12. Detroit Lions: Jameson Williams (B)
Adding more weapons for Goff or the future QB to be in the next coming years. Williams before going down with the ACL tear was the consensus WR1 with his game changing speed. Williams is just Henry Ruggs on cocaine and if he returns to full health and plays like he did this will boost up to an A. Williams will be changing the dynamic of that Lions offense who hasn't had a guy the caliber of Williams speed since god knows when probably never.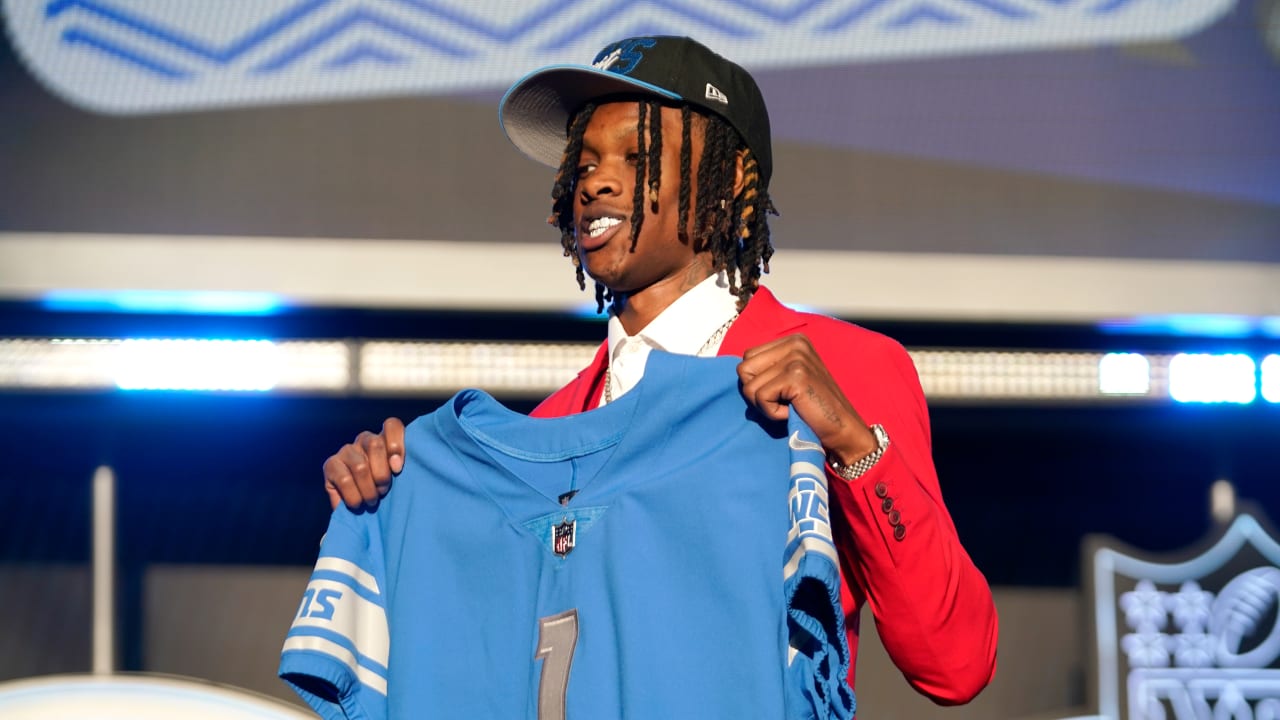 13. Philadelphia Eagles: Jordan Davis (A+)
What a night for the Philadelphia Eagles man. Talking about franchise changing moves the Eagles made 2. AJ Brown in a shocking trade will finally give Jalen Hurts a WR1 and it's really time to see if Hurts is the guy there. On the other side the Eagles got a STUD for the defensive line and will be stuffing the ever living crap out of every run play. Especially in a division with Zeke, Antonio Gibson, and Saquon Barkely, Davis can easily lock down the middle and will be a game changing DT. Top 10 prospect on my board.
14. Baltimore Ravens: Kyle Hamilton (A+)
Back to Back A+'s and this is gonna be scary. The Ravens got someone who they can plug in Day 1 and will be a disrupter on defense. A top 3 prospect in this draft for a reason, Hamilton can take the Ravens to new heights on defense. When you watch him you can just see greatness waiting to break out and with that team that had Ed Reed they know how to get the best out of Hamilton.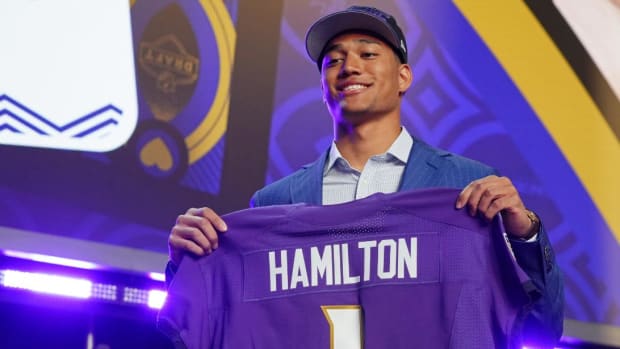 15. Houston Texans: Kenyon Green (B+)
The Texans need every position possible and building the trenches is never a bad thing. I projected Green later in the 1st but I'm very happy he went this early because he's really really good at what he does. Another tenacious blocker and hopefully building protection for Davis Mills will be priority number 1 now.
16. Washington Commanders: Jahan Dotson (D+)
I mean I love Dotson as a 2nd round prospect, he's just not worth top 20 when Treylon Burks is on the board as well as George Pickens. Dotson for his size you would think is fast right? Well no he's still an above average athlete he's just not what you want for a guy that size. This is just an awful pick and we don't know the target share yet with McLaurin, Brown, and Gibson I really just don't get it.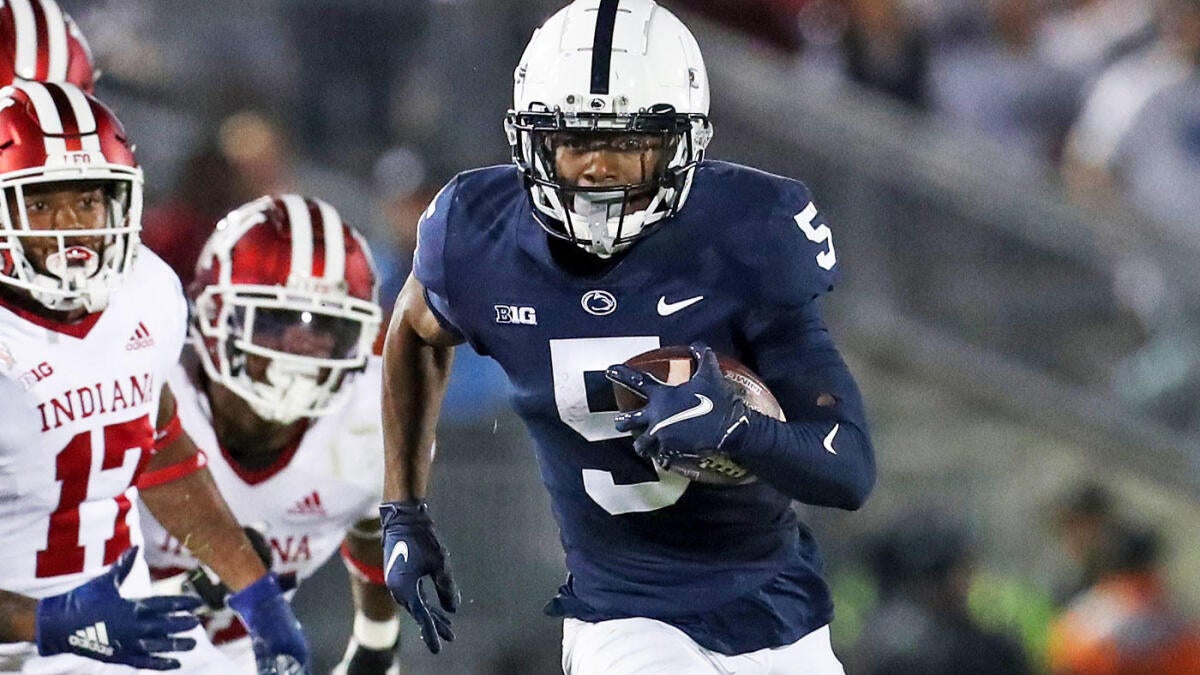 17. Los Angeles Chargers: Zion Johnson (B)
I've never wanted a prospect to go to a team more than Kaiir Elam to the Chargers but I still get the pick. Protecting Herbert should ALWAYS be the number 1 thing and you can't blame them here for taking one of the better tackle prospects.
18. Tennessee Titans: Treylon Burks (B-)
Treylon Burks is my guy and I think he's a direct clone of AJ Brown but like why did you just give AJ Brown away for basically nothing will have a team that could have made a run at a Super Bowl? This could end up being a Win-Win Trade for both teams because the Titans save around $40 M for not re-signing Brown and replacing him with a clone that's cheaper is really solid. Exactly like Brown, Burks isn't the fastest player off the line but the way he gains speed and his ability to YAC will give the Titans the same options as with Brown.
19. New Orleans Saints: Trevor Penning (D+)
Another head scratching pick here. Penning isn't even that good when you watch him. He gives off a fake tough guy act when you watch him play and I just don't see it. Gets blown by easily around the corner sometimes and isn't very polished at the tackle. But yet again he's one of these guys that are freakishly athletic that the Saints are just hoping they can develop him.
20. Pittsburgh Steelers: Kenny Pickett (C+)
They got a need but wasn't the right QB. Pickett is QB4 on my board and there's reasoning for that. Yes he had a breakout year in his final season but there's still flaws in his game. Reading the field and making smart decisions, arm strength concerns, and accuracy concerns at times. Willis under Tomlin would have made way more sense and has the way higher ceiling. I guess the Steelers just wanted the most NFL ready QB and here he is.
21. Kansas City Chiefs: Trent McDuffie (A-)
McDuffie is a dog man. His ability to get on top of routes and use of his athleticism to recover is on the level of Stingley. McDuffie isn't the biggest corner and isn't the best in man coverage but overall will be a Day 1 upgrade for the Chiefs and will fit very well in that scheme.
22. Green Bay Packers: Quay Walker (B)
Really like Quay Walker, he's a super athletic LB who can get sideline to sideline very quickly. Very good at tracking where the ball is and finds holes very easily. Packers fans will hate the pick at the time but he's a very good LB and I saw some people put him over guys like Dean and Lloyd. And here he is above both of them.
23. Buffalo Bills: Kaiir Elam (A)
MY GUY BUT WHY BUFFALO!! As a Jet fan I'm honestly so pissed off that the Bills got one of my favorite prospects in this draft. Elam is the best man coverage CB in the country and will be one of the best in the league. He's almost like JC Jackson and could be a lethal pairing with Tre White. I was so ready to buy myself an Elam jersey but I just can't know. The Steal of the Draft so far in my eyes.
24. Dallas Cowboys: Tyler Smith (B-)
It was a position of need but Tyler Smith is a very raw prospect. With guys like Linderbaum still on the board I don't know why they went with a guy who'll need a lot of attention.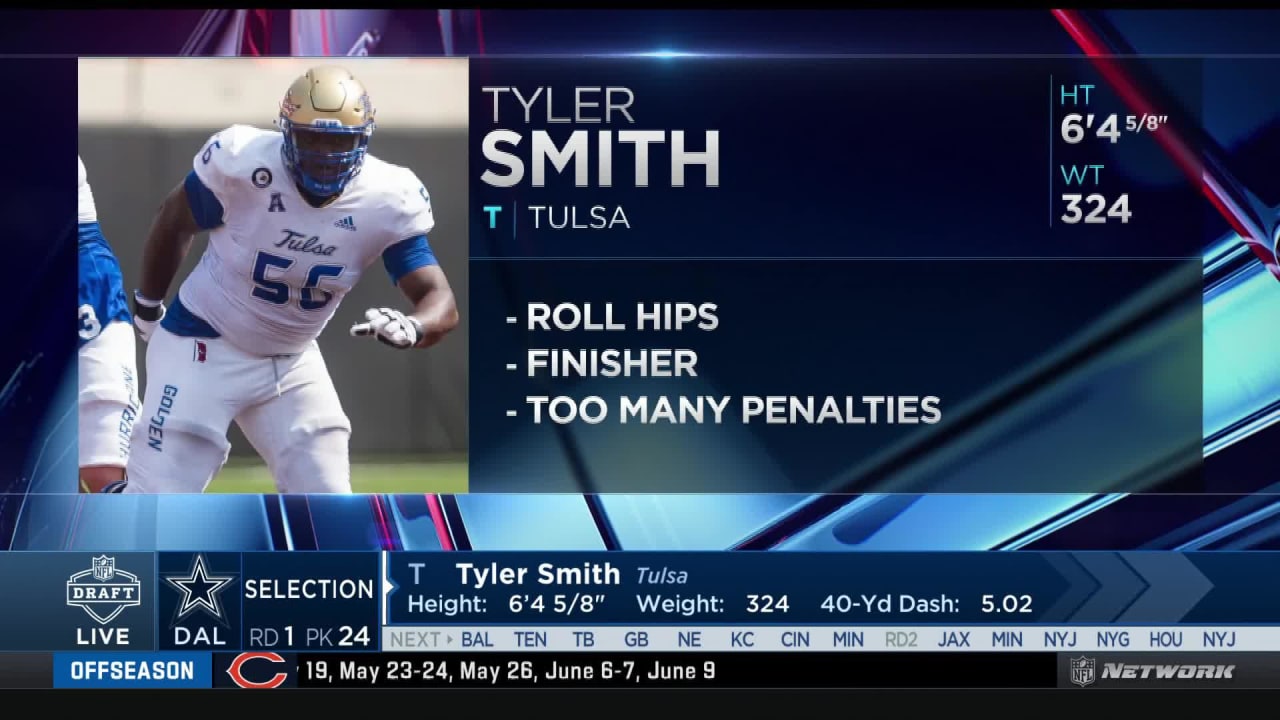 25. Baltimore Ravens: Tyler Linderbaum (A+)
WHAT A DRAFT for the Baltimore Ravens because they just got the best Center prospect in recent memory. Linderbaum was ranked the 2nd highest run blocker according to PFF last season and he can get down field. It's actually scary as hell. You'll be having JK Dobbins running behind this man down the field and nobody will stop them. I absolutely love this pick but I just wish the Ravens would give Lamar an actual WR1.
26. New York Jets: Jermaine Johnson II (A)
The Jets just got their pass rusher they wanted at number 4 at number 26. Joe Douglas has done miracles on me and this was the cherry on top. EDGE3 in my books, Jermaine gives off a swag vibe the Jets defense needs and pair that with Sauce the Jets will have a new look defense. Jermainne fits right into the Salah defense and will be given the opportunity to thrive with Lawson on the other side.
27. Jacksonville Jaguars: Devin Lloyd (B+)
Lloyd is a very good LB prospect and with Myles Jack could be a really good duo. Lloyd is really good at getting to the QB but still has coverage concerns because we haven't seen him take that man reps in coverage. I'm fully confident that Doug Pederson and his crew will get him right and will be the main patrolling the middle for years to come.
28. Green Bay Packers: Devonte Wyatt (C)
The Packers really need to step it up man because now Rodgers has no WR whatsoever and you still had George Pickens on the board for him. I just don't know why you pass on a desperate need for the team for a mediocre DT that just got unblocked because he had Jordan Davis right next to him.
29. New England Patriots: Cole Strange (F)
Bill could have easily snagged him in the 2nd or 3rd round and he decided to pick him here. He can't do this with Nakobe Dean, and Karlaftis on the board. Really can't say more because I haven't watched anything on him and would have never thought that I would.
30. Kansas City Chiefs: George Karlaftis (C+)
Not really a big fan of Karlaftis because he really doesn't have a real floor or real ceiling and nobody knows what they could be. Having the 2nd highest pressure rate in the BIG10 means something but George just doesn't have it when watching film and could be one of the biggest hit or miss prospects in this draft.
31. Cincinnati Bengals: Daxton Hill (B)
A good pairing with Bates but I still think O Line is the main concern for this team and it showed in the Super Bowl because Burrow was throwing under pressure and was throwing off his back foot a lot so I like the player I just don't like the spot or team.
32. Minnesota Vikings: Lewis Cine (A-)
Another steal for the Vikings, getting one of the most energetic players in this draft and showed flashes of being great. Cine is all over the field and could really develop well under Harrison Smith.