1. Alek Manoah (TOR) +10000
This will be my main bet for this upcoming season. Manoah is actually filthy and as a Yankee fan I'm very scared of what this man will bring upon my team. Manoah has one of the most filthy pitches in all of baseball with his Slider that has 16 inches of horizontal movement and has a nearly 40% Whiff%. He does not get hit hard whatsoever and is really good at getting the ball on the ground. With a 136 ERA+, Manoah is projected to be a very solid SP for the Jays this season but I really do believe this kid is special and will take that step this season and could be one of the most dominant pitchers in baseball.
2. Shane McClanahan (TB) +1600
There's a lot of exciting young pitching in Tampa Bay this season with Shane Baz, Luis Patino, and the guy who I think takes the step to becoming very good in Shane McClanahan. The major fix for McClanahan is limiting the hard hits but I think he'll figure it out when he's on 24. Last season Shane posted a 115 ERA+ with a 3.31 FIP and I think he'll improve upon that. With a high 90's fastball and a potentially devastating Curveball I think it's time for people to finally start realizing that a high 90's lefty is probably gonna end up being nasty and that could end up being this season.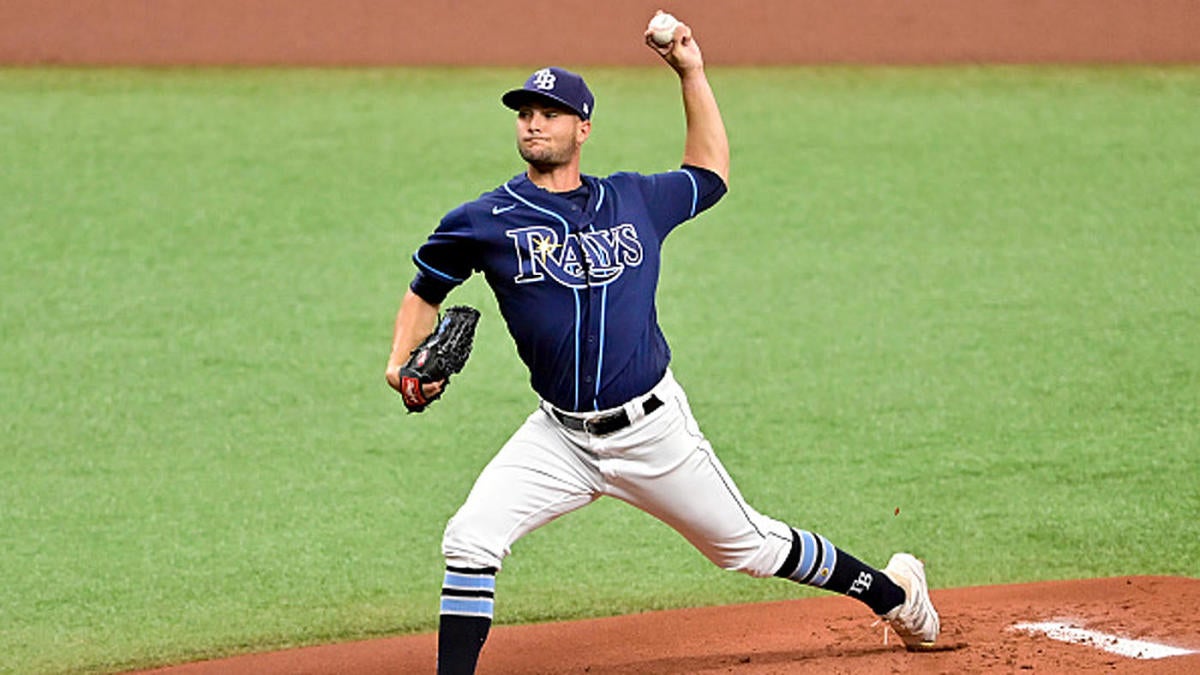 3. Noah Syndergaard (LAA) +4500
The return of Thor will be felt this season as Noah Syndergaard is gonna be headlining the Angels rotation and hopefully will give the Angels a fighting chance every 5 days. Besides Patrick Sandoval the Angels rotation is pretty awful to say the least. In his last full season in 2019, Thor posted a 3.40 xERA, and a 3.60 FIP and if he can retain that high 90's fastball I wouldn't be able to give a reason why Thor couldn't slide himself into CY Young talks especially if the Angels are fighting for a Wild Card bid.
4. Logan Webb (SF) +1400
  The Penguin is gonna have a BIG season, with Kevin Gausman leaving for Toronto that slots Logan Webb in as the Ace of the Giants. And with that new badge to his name he's gonna perform because he steps it up in high situations as we saw in the playoffs. Posting a 3.03 ERA, 2.72 FIP, 135 ERA+, and a 4.1 WAR you can see somehow Webb was unlucky last season? There's a chance that Webb could become a top 15 pitcher in baseball by the end of the season if he continues to limit the Hard Hits which he's already done well by.
5. Sandy Alcantara (MIA) +1600
 One of the most electrifying pitchers in all of baseball is the 26 year old flamethrower down in Miami. Alcantara has one of the fastest fastballs in the league and one of the fastest sinkers in the league. The lethal 5 pitch mix of Sinker, Slider, Changeup, 4-Seam, and the Curveball is the dream mix for someone who throws hard. -15 run value against that sinker which ranks as one of the highest for a pitcher who features a sinker as one of his primary pitches. Last season Alcantara put it all together with a 3.19 ERA, 3.42 FIP, 131 ERA+, and a 4.2 WAR. Projections project a slight regression but I don't believe that, he's 26 and has electric stuff on a Marlins team that nobody knows what they are trying to do. 
6. Alex Cobb (SF) +9000
This might be the most outlandish take I'll have but Alex Cobb will be the next Kevin Gausman type breakout player and here's why. Cobb last season on a very mediocre Angels team posted a 2.92 FIP which was a .82 difference from his ERA which means he was terribly unlucky. Cobb is really good at limiting Hard Hits and yes he's 34 but somehow in Spring Training he's turning back the time? During his starts in Spring Training his fastball velocity was touching 97 mph consistently which could be very scary because he averaged only 93 mph last yeah. Cobb is a guy to look out for and as of right now on the same path right now as Kevin Gausman just a bit older.