As the years start to wind down for the "King" he's gonna have a big decision to make. Now there's a bunch of factors that'll be going into this but I'm here to break down something that will change the league and could be a controversial result.
The Bloodline: LeBron has publicly came out multiple times saying he wants to play with his son LeBron James Jr (Bronny) which would be the 1st Father-Son duo in NBA history. Bronny has been progressing well as a High School prospect so far being ranked 43rd on ESPN Top 60 for the Class of 2023. Flashes have been shown in scouting him so far but he's not completely there yet playing at such a talented school where he didn't even get to play a lot in his Freshman and Sophomore seasons. The court vision is by far his greatest strength which clearly comes from one of the best passers of all time in his father. Shooting wise he's not automatic but he's shown signs of some shot creating, now living up to the standards of his father were near impossible but I think he's doing pretty fine for himself and not letting this pressure get to him. Offers at such a young age from Duke, Kentucky, Kansas, UCLA, and North Carolina give Bronny the opportunity to play at a very high level at the next level, were these offers given because he's a good player is yet to be decided but all we know is all eyes are gonna be on the kid. Bronny as of now is projected to be in the 2024 NBA Draft and slotted in to be a late 1st round pick, but will he get enough playing time on such good teams to even get nominated to get picked. But here's the kicker, whoever lands Bronny in the draft is most likely gonna end up with LeBron James as well which begs the question, "Will teams value Bronny higher than other prospects that are better skill wise than him because of the package of getting LeBron as well?"
Coming Home Part 2: Since the King's 2nd departure the Cavs have obtained multiple high lottery picks and assembled a team that could be deadly in this upcoming postseason. Starting off with the 8th pick in the 2018 NBA Draft where they selected Collin Sexton PG out of Alabama, coming out of Bama Sexton was touted as a slashing quick guard who's playstyle drew comparisons from guys like Russell Westbrook, and Eric Bledsoe. So far Sexton has been a 20 PPG scorer who's been dynamic on both sides of the ball and would easily be an upgrade over Russell Westbrook on the Lakers who has fallen off the face of the earth. In the 2019 NBA Draft the Cavaliers at the number 5 spot took guard Darius Garland out of Vanderbilt. Garland ranked #16 on ESPN Top 100 in 2018 was really the only thing NBA scouts were really looking at because unfortunately Garland only played 5 games at Vandy but the way he looked in those 5 games were good enough to justify taking him that high. In the 2021 Season so far Garland was just given the nod as an All Star and the future is looking bright. Garland is a do-it- all guard, nearly averaging 20 PPG, and 8 APG and would be great around another playmaker in LBJ. At the 5 spot again in 2020 wasn't that big of a splash so far but still has time to grow, I'm talking about another guard Isaac Okoro out of Auburn. Now 2020 was the 1st time I personally did scouting for a draft class and I'll put it out there that I was high on Okoro. For me Okoro was by far the best defensive guard in the class and would have a class for the best on ball defender in that class, the constant motor this kid possessed in film was inspiring to see. Offensively I wasn't really impressed but I thought he could have had a playstyle close to a LITE Jimmy Butler but clearly not so far. And last but certainly not least is the 3rd overall pick in the latest draft PF/C from USC Even Mobley. Mobley honestly could have gone 1st and it wouldn't be that big of a problem, he's honestly one of the most complete Centers you'll see out of college. His raw atheism, size, and skill are all things that blend well, excellent shot blocker, great post threat, great lob threat, and has the potential to be an alright shooter.This team could really have a chance to make noise in the playoffs and shock some teams and most people think that being young is a major negative in the playoffs but I see it as a positive and that's what the Cavs could bring. They've also brought pieces in like Jarrett Allen from Brooklyn who's been one of the best Centers this season averaging 16 PPG, 11 RPG, on 67% from the field. They've also just recently brought in Caris LeVert for basically next to nothing, LeVert since joining the Pacers has been averaging near 20 PPG. LeVert before leaving with his heart condition was considered around the league as the next big star waiting to break out and so far he's taking strides towards that. Adding another guy that can create his own shot is gonna be deadly and the Cavs are very very scary moving forward. Plus they still have KLove…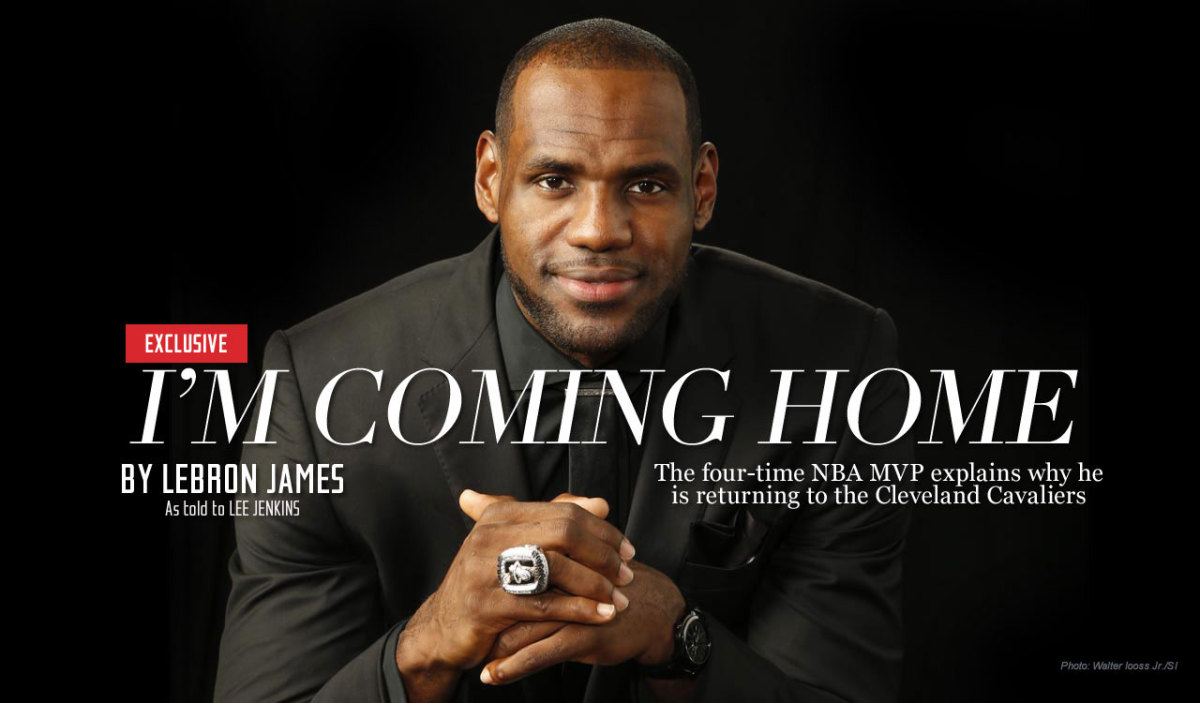 The Decision: Bron is gonna have a big choice in the approaching 2024 offseason where he possibly takes up on his words and plays with his son wherever he lands or will he go back home and possibly add another ring to his already illustrious career. By that time he should have passed Kareem All Time and be the All Time Leading Scorer so he'll have that out of the way. As of right now it's not looking good for another title in LA with how dysfunctional they look and the constant injuries over there. That's where Cleveland comes into play because they're one big name away from being contenders down the line, there's too much talent on that team to pass down on. LBJ playing alongside Garland and Mobley could be very scary for the East expectually if they both continue on the progression path they're both on. Now back to one of my questions, will teams value Bronny higher because of the potential package of Bron coming? I think teams will take that chance and take Bronny higher then he probably should so I'd project Bronny possibly mid to late lottery pick if he continues to play he is RIGHT NOW, because possibly by the time he's out of college he might have developed into a really good prospect but how it's looking it's not looking that way. So Bron what will it be? Bloodline or be the savior of Cleveland again?
My Take: My take is simple, take a one year deal with Cleveland in that offseason and see how it plays out and if it doesn't work the next season sign with Bronny at the age of 39 and call it quits afterwards. I think this is the best way to get what he wants and to try to add another ring to his collection.