Lionel Messi's summer move to PSG, following Barcelona president Joan Laporta's refusal to sign a CVC deal that would take 10% of the league's revenue for the next 50 years, was the subject of lots of attention and media scrutiny – which was a given, considering he's the best footballer to ever live and had spent his entire career at Barcelona. Messi, now 34, was coming off of a scorching-hot end of the season at Barcelona and a Copa America win in which he led the tournament in goals (4) and assists (5), and won the player of the tournament award, making him the clear favorite to receive the Ballon D'or. He had the most npG+A in 2021 by a mile. It wasn't a question of who would win the Ballon D'or – the only question was by how much Messi would win. But then Barcelona couldn't come up with the money required to keep Messi around, and he had to look elsewhere – to Paris Saint-Germain, to play with his good friends Angel Di María, Neymar, and Leandro Paredes.
Upon arrival, it was generally expected that Messi would dominate Ligue 1, currently rated by the UEFA Men's Association Coefficient as the 5th-best league on the planet (although it was briefly surpassed by Portugal's Primeira Liga at the beginning of this season). After all, he was coming off of scoring 28 goals and giving 9 assists in 29 matches in all competitions with Barcelona since the start of the 2021 calendar year, and that was in La Liga, generally considered the 2nd-best league on the planet and significantly stronger than Ligue 1. Instead, Messi's struggled dramatically – he has just 1 league goal in 9.9 90's. He has dished out 5 assists, but for a player who has scored .8 goals per match over his career, his lack of goals has been shocking. The Champions League has been slightly more fertile scoring ground for Messi, with 5 goals in 5 matches, but even then, 2 of those were penalties (1 of which Messi won himself). Overall, Messi has just 11 G/A in 14.9 90's for PSG so far – a dramatic dropoff from his career norms. He barely won a Ballon D'or that had once been a foregone conclusion, and lost out on the FIFA Player of the Year award to Lewandowski. So what's going on?
The first, and perhaps foremost, issue has been injuries. Messi was injured vs Colombia in the Copa America semifinals (an image taken from Messi's vacation after the final showed his ankle swollen in a grotesque fashion), and so he came into PSG lacking match fitness and needed to miss the first 2 matches before he could make an appearance. Then, he was injured again vs. Venezuela in Argentina's World Cup Qualifiers in September after a horror tackle from Luis Matinez that easily could have ended his career, an injury that seemed to bother him for weeks – although he missed only two matches at first. That knee injury, though, caused him to miss yet another match in November, indicating that it was more severe than what was previously thought (which makes sense, given how bad the tackle looked). Finally, Messi caught Covid-19 at New Years, leading to him missing two matches and starting on the bench for a third. It's clear that his issues with health, and therefore his inconsistent playing time, have been contributing factors in his form.
However, injuries can't be the only explanation. Messi turned in positively brilliant performances vs Bolivia (September 9th) and Uruguay (October 10th) for Argentina, both of which came after the Venezuela injury. He's had flashes of brilliance for PSG – his sensational goal vs Manchester City to open his PSG account in the UCL, his hat-trick of assists vs St. Etienne, and his first Ligue 1 goal vs Nantes come to mind – but overall, he hasn't been nearly the same player he was at Barcelona just a few months ago. At least, that's the general consensus.
The thing is, however, Messi's npxG+xA/90 minutes in Ligue 1 is at .81 this season. Last season at Barcelona, it was .90. His underlying metrics seem to indicate that not much has changed in that regard. Instead, the answer is a surprising one, given his track record – Messi's finishing has been abhorrent. He has 1 goal off of 4.6 xG in Ligue 1. Traditionally, Messi has always OVER-performed his xG by significant margins, making his poor finishing all the more shocking.
Last season, he managed 30 goals off of 23.6 xG. In his best season in terms of over-performance, 2012/13, Messi had a G/xG ratio of 2.39. That level of finishing is 4.85 standard deviations from the norm – or, in other words, you'd expect to see that level of finishing once every 1.6 million seasons. He's outperformed his xG in every season since 2005, and he's doubled it twice (2008/09, 2012/13). But with PSG, he's under-performing his xG. It's reasonable to expect that this will not hold for much longer, especially given the fact that he's hit the woodwork 6 times, but it's certainly a reason why his season has appeared underwhelming. On top of this, Messi didn't look like himself. He wasn't progressing the ball to the same extent, he wasn't dribbling, and he seemed generally uninterested in the matches.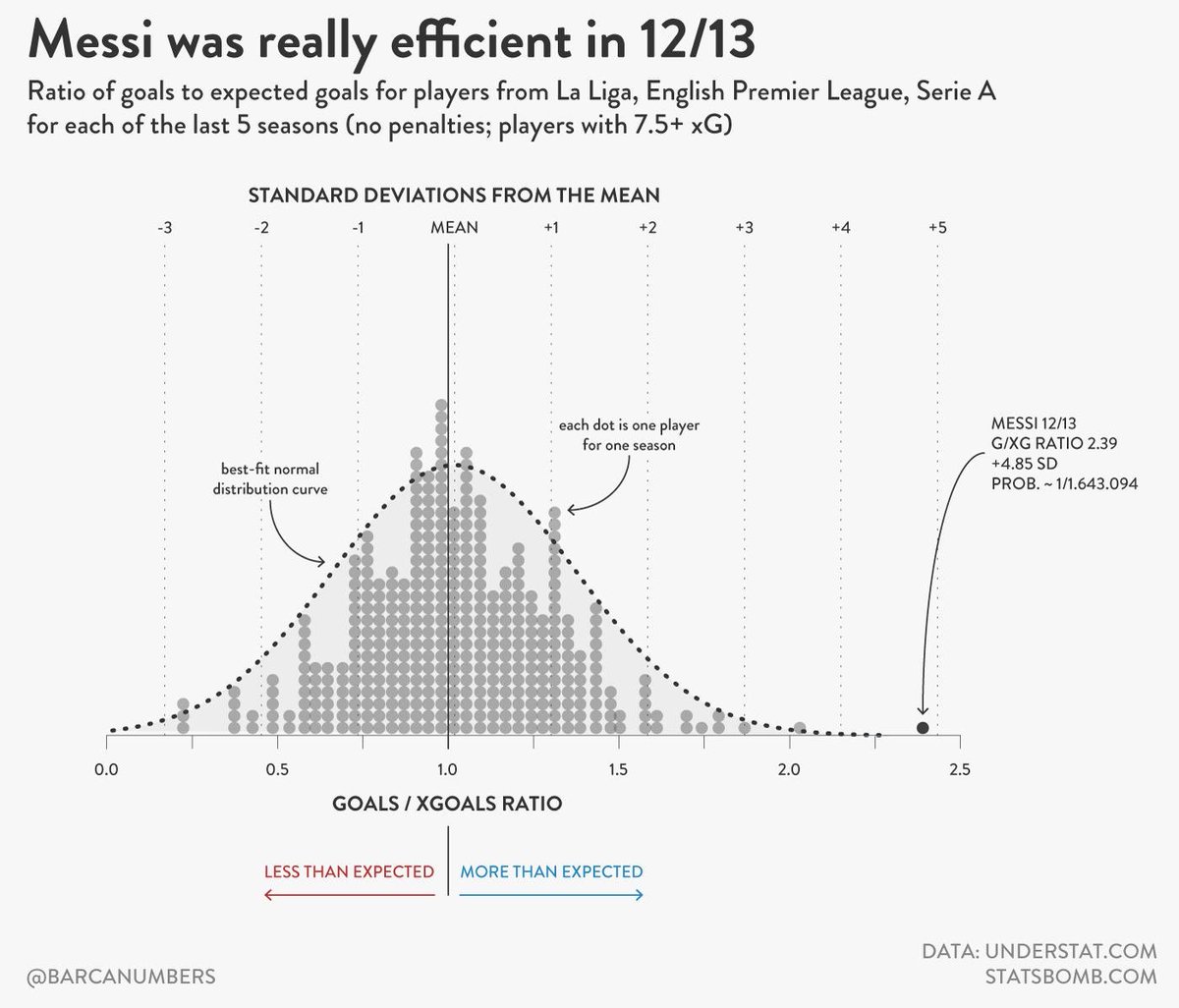 However, as the calendar neared 2022, something interesting happened – Messi found his form. After his hat-trick of assists vs St. Etienne, he followed it up with a strong performance vs Nice, dishing out 5 key passes and 1 big chance created. Against RC Lens the next week, Messi was once again the best player on the pitch, creating 2 big chances (with nothing to show for it). He then dropped a brace vs Club Brugge, and although he struggled vs Monaco, handed out another assist. Still, though, his dribbling was nowhere to be found – and then came Lorient. 13 dribble attempts, 11 successful, a key pass, 7/7 long balls – and he hit the woodwork for the 6th time in the season. His finishing wasn't there, but it was clear that Messi was finally finding himself – and then he caught Covid-19. It seemed like he might be falling right back into his struggles. However, upon his return as a sub vs Reims, the exact same way he started his time at PSG, he looked really good (albeit with a few rusty passes), notching an assist soon after entering the match. His last few performances have been a very positive indicator that his top form is back.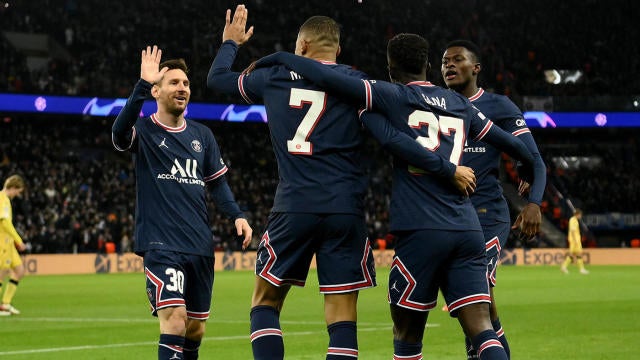 But Messi's early-season performance can't just be attributed to his poor finishing – his dribbling, ball progression, and creativity were down as well (although they've slowly ticked back up). Many attributed this to Neymar's presence, seeing as Neymar does a lot of the same things – but then Neymar went down and not much changed (at least initially). Then, it was attributed to the constant absence of Marco Verratti (who has also struggled with his health), but nothing really changed when Verratti came back. Plus, even when Messi plays really well, PSG tend to struggle. It must be said: PSG as a whole have dramatically under-performed their talent this season. They are simply too talented to be getting run off the pitch by RC Lens and Lorient, and too talented to be getting shut down by Nice. It almost leads one to believe that it isn't the fault of the players.
And thus, attention turns to Pochettino. With PSG, he has generally favored some form of a 4-3-3 or 4-2-3-1 formation. When Neymar was healthy, this meant Neymar on the left, Mbappe in the middle, and Messi on the right. Unfortunately for PSG, Pochettino's love affair with Angel Di María (who is still superb, to be clear) has caused some very interesting tactical setups. It's not that Di María isn't still a fantastic player, but he simply cannot be on the pitch with Messi and Mbappe at the same time and have the team maintain their structure – a truth that Pochettino has yet to grasp. On top of this, star right wing-back Achraf Hakimi has been severely underutilized, and left wing-back Nuno Mendes has seen a similar experience on the other side of the pitch. PSG are in first place simply on the sheer scale of their talent, but their overall performances have been dreadful. They are putrid in the final third, struggle at creating any real chances, and routinely get ripped apart by inferior teams. It's hard not to point to the man in charge.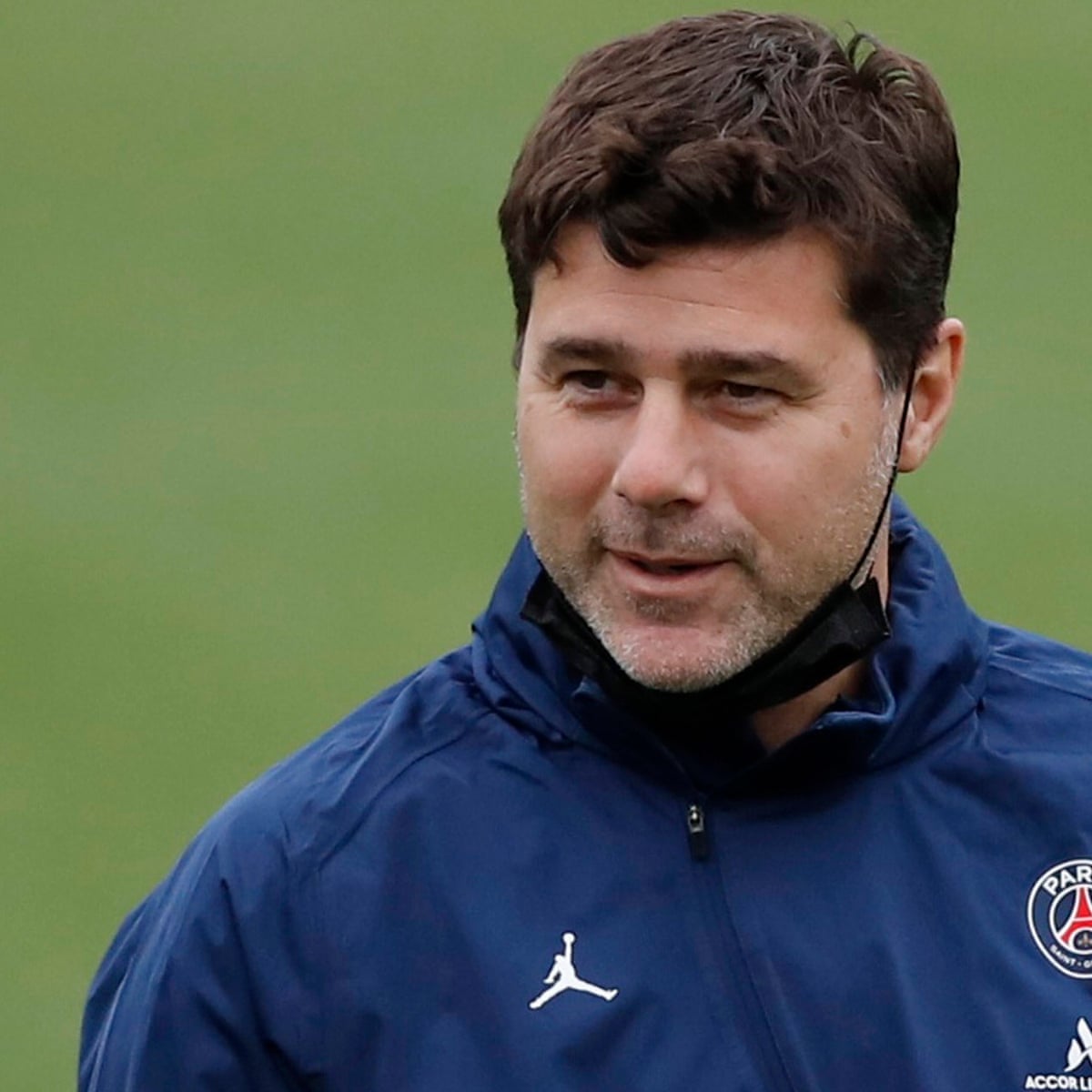 Pochettino's usage of Messi hasn't been great, either. Messi's best role has typically been when he can freely play behind a striker and cut in off the right side in a sort of false-RW position, or as a free-roaming SS. He found remarkable success as a false 9 under Pep Guardiola, but as his physical abilities have declined somewhat, he's drifted deeper into more of a CAM/playmaking role (a role he's essentially always played for Argentina). Under Pochettino, however, he's essentially been played as a pure RW at times, deprived of much of his freedom to float inside and make plays by connecting with a winger down the left flank or a striker cutting inside towards the right.
The overall solution for PSG is pretty obvious. Under Ronald Koeman, Messi was at his best in a formation with 3 at the back – typically a 3-5-2 or a similar variation. To unlock PSG's wing-backs AND allow for the best combinations between his brilliant front three, the solution for Pochettino seems pretty simple – a 3-4-3 with Marquinhos, Kimpembe, and Ramos at the back, Mendes and Hakimi on the flanks, Verratti and Gana Gueye in the middle, and a Neymar-Mbappe-Messi front line (or, when Neymar is out, Mbappe-Messi-Di María, with Messi as a de facto false 9). If Pochettino goes to a 3-4-3, however, he will have to relegate Di María to a super sub, coming on either for one of the wing-backs or for Neymar, and Pochettino loves Di María far too much to ever do that. Still, though, if PSG want to compete against the likes of Manchester City (who ran them off the pitch in their second UCL meeting) and Bayern Munich, they need to make the switch – and Messi needs to find his shooting boots again.
Messi's struggles at PSG really come down to one simple fact: they've been somewhat overstated. He hasn't been as bad as most people think he has. Outside of his poor finishing, he's basically been business as usual, despite his rash of injuries and being played out of his best position. He hasn't even played the equivalent of 10 full matches in Ligue 1 yet. He's still been PSG's best player at times, and his creative ability is still up there with the best in the world. His ball progression, shot creation, and goal creation still rank among the game's elite. Genuinely, if he had been scoring goals, pretty much no one would have a clue anything is wrong – but he hasn't been scoring, and thus the furor.
Still, though, it can't be denied that Messi hasn't been completely himself, and the evidence does demonstrate that there are a lot of reasons why. He's been injured a lot, and Pochettino's management has been abhorrent at best. He's under-performed his underlying numbers in a way that he's never done before. Despite all this, he's still been a great creator and playmaker. He's still managed to score 5 UCL goals, and he's still played a key role in a few big wins for PSG so far. It's safe to say that he's not been the player he was expected to be at PSG so far, but in his defense – nobody else on the planet ever has.