The New York Jets have always been a laughing stock when it comes to drafting promising players for the sole reason we can't use their talents to their full potential because we straight up suck. But over the course of the last 2 years under new GM Joe Douglas, the Jets have somewhat of a promising future with him going out and drafting Mecki Becton who's legit a Pro Bowl level tackle if he can stay healthy. Bryce Hall in the 5th round is developing pretty nice, and let's mention he had one of the most impressive drafts last year with the picks of promising QB Zach Wilson, a good guard in AVT, a stud WR for years to come in Eljiah Moore, one of the better duel threats in the backfield in Michael Carter, and a couple of other names. Joe Douglas has a chance to turn around this franchise with this upcoming draft with 2 Top 10 picks, and two 2nd round picks. This is my 1st year learning how to watch film and I think I'm at a point right now where I can make a base opinion of which direction the Jets should go in. Here are my 5 "Guys".
1. Derek Stingley Jr (CB, LSU, 6'1, 194 lbs unofficial)
Coming out of his freshman season it was the talk around town that Derek Stingley Jr would be a consensus top 3 pick. After two seasons of injury plagued seasons, scouts and people around the league still believe that Stingley has that top 5 pick talent. Stingley is an ELITE Man to Man defender and rarely gets beat, and when he does get beat he has GENERATIONAL recovery ability with his raw athleticism. In HS Stingley ran a 4.3 40 Yard Dash and that's in HIGH SCHOOL, usually when prospects get to college and they're with a trainer they'll get faster maybe run that in the Combine but not coming into college should a kid be that fast for his size. In his Freshman campaign, Stingley reeled in 6 INT and with those INT's people have also labeled his Ball Hawking skills ELITE, the way he can track down balls is just something scouts haven't seen before. Now some negatives, he's not the greatest in Zone Coverage you're better off putting him on an island one on one with someone. DON'T play him in the slot because in the snaps he did take in the slot he looked lost. And just like his comparison Deion Sanders (not mine), he just can't tackle efficiently. All in all having a lockdown corner is a very underappreciated role in today's game, when you have a lockdown corner you basically eliminate one side of the field for a QB for the game and makes everything easier to execute. Stingley if he can stay on the field will be that guy and could be in line to be the next CB great for the Green and White.
2. Kayvon Thibodaux ( EDGE, Oregon, 6'5, 260 lbs unofficial)
 The reason why Thibodaux is #2 is because the Jets will need a lot of moving pieces to get this menace of a football player to fall to them. The Jets will need the Jaguars to go LT which isn't out of the realm of possibility with the need of protecting Trevor Lawrence, then they'll need the Lions to go with the hometown kid in Aiden Hutchinson, and finally they'll need the Texans to go with Derek Stingley Jr. Then we'll end up with a guy who has the potential to disrupt NFL games for years to come. Thibs is an athletic freak with freak talent, when you see this guy come off the line when the ball snaps you see a flash of light rushing the quarterback. Thib is the definition of a speed rusher and will win every single pass rush if you don't commit to one side. He's been trying to add more moves to his bag like he attempted the "Ghost Rush" a couple of times and he tries to string together moves but it doesn't look as clean as Aiden Hutchinson. Nothing that Robert Salah can't fix , but remember Salah helped develop Nick Bosa one of the best pass rushers in the league plus Thibs is way more of an athletic freak than Bosa so imagine what Salah can do with him. Kayvon is a very special talent and will be building stone for any team that drafts him, and hopefully it can be our "beloved" Jets
3. Ikem Ekwonu ( OL, NC State, 6'4, 320 lbs unofficial)
Now it's always great to keep adding protection to a QB who was one of the highest pressured QB's in the league with Becton being absent. This big boy is one of the biggest bullies you'll see in the run game. Watch some highlights of this kid and see why it's any Running Backs dream of running behind this man. In my opinion I have Ikem over Even Neal who's regarded as one of better OL prospects in which he really isn't but that's another story for another time. As I mentioned he's DOMINATE in the run, but he can be a little sketchy in the pass and that's why most scouts say he'll most likely transfer to being a guard which is still very good. Having Ikem, Becton, and AVT is a great start to a future dominant front to the Jets and drafting and signing weapons won't turn our future around; it'll be the guys in the trenches.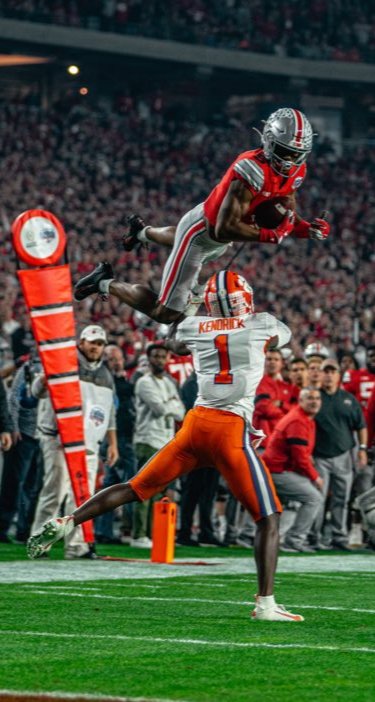 4. Garrett Wilson ( WR, Ohio State, 6'0, 192 lbs unofficial)
 Garrett Wilson is one of the most complete WR's you'll see. It's no surprise to anyone that the Jets need another playmaker with the underwhelming season from Corey Davis, and the future departure of Jameson Crowder. Elijah Moore stepped up into a bigger role later into the season and showed he had real potential to be a great WR in this league with his ability to play make. So the Jets need a playmaker that can be the deep threat or any type of threat? Well here's Garrett Wilson. Wilson can do a little bit of everything, projected at a 4.5 40 yard, can make contested grabs with the best of them, can run crispy routes, and with solid football IQ. When you watch this kid on film you see that most of his offense comes from quick passes in a RPO type of offense. And what do the Jets like to run? An RPO type of offense so this will be a perfect fit in Mike LeFleur's offense. I can already see the chemistry between Zach Wilson and Garrett Wilson and they'll put in the work to become one of the new dynamic duos that'll take over the league. 
5. Treylon Burks ( WR, Arkansas, 6'3, 225 lbs unofficial)
 Treylon Burks is someone who has risen a bit in recent weeks because people started watching films on him and realized that this kid is a direct AJ Brown clone. Now will he be AJ Brown? I don't know. Does he play exactly like AJ Brown? Basically yeah. Just watching highlights of this kid will amaze you because he'll go up for a ball and you'll have no chance to stop him because he'll catch that no matter what. His YAC ability is probably the best in this draft for the sole reason that it's unheard of for his size. His YAC ability has drawn comparisons to Deebo Samuel and you can see why, he's not a speedster but he just sees the field so well and is able to create space with his YAC. Separation isn't a positive in his game but with his ability to jump up and grab it makes up for that. I'm telling you just go watch some film on him and you'll be surprised what you see, a special talent waiting to be unlocked.