Risers:
1. Jabari Smith (Auburn): Jabari was a consensus top 10 pick in the 2022 Draft but so far in the same sample size of a season, he's risen to be in contention for a top 3 pick. Jabari is averaging 16 PPG on 46% from the field and 43% from deep. He's also snagging 7 RPG, along with a sneaky 1.5 SPG. The biggest question coming into his freshman year was could he grow into that 6'10 frame? And clearly he has which can be very scary for anyone in the range to draft this beast. 
2. Keegan Murray (Iowa): Wow talking about coming out of nowhere, Keegan Murray was a guy who wasn't getting 1st round looks coming into this season only averaging 7 PPG in 18 minutes last season. But boy has he improved his game to the point of him getting top 10 looks. Murray is another tall, lengthy do it all player, Murray is one of the most efficient scorers in the nation shooting 62% from the field and a solid 36% from 3. Averaging 25/9 Murray will foreshore have eyes on him the rest of the way but can he keep this up against good competition? Can he figure out a way to become more of an NBA ready prospect with him being only 6'8 with a Center mindset?
3. Tyty Washington Jr. (Kentucky): With this draft being very PF/C heavy, it's gonna be hard to find good guards to put in the fold. Tyty came into this season has the #15 ranked prospect and 4th PG prospect and so far hasn't disappointed. Kentucky has been notorious at building great NBA ready guards like John Wall, Devin Booker, Immanuel Quickley, De'Aaron Fox, and plenty more and Washington might be the next. Averaging 15 PPG on the #10 ranked Kentucky is very impressive along with shooting 46%. There's a big gap between Jaden Hardy and the next guard off the board but Tyty is slowly closing that gap while Hardy is struggling in the G-League.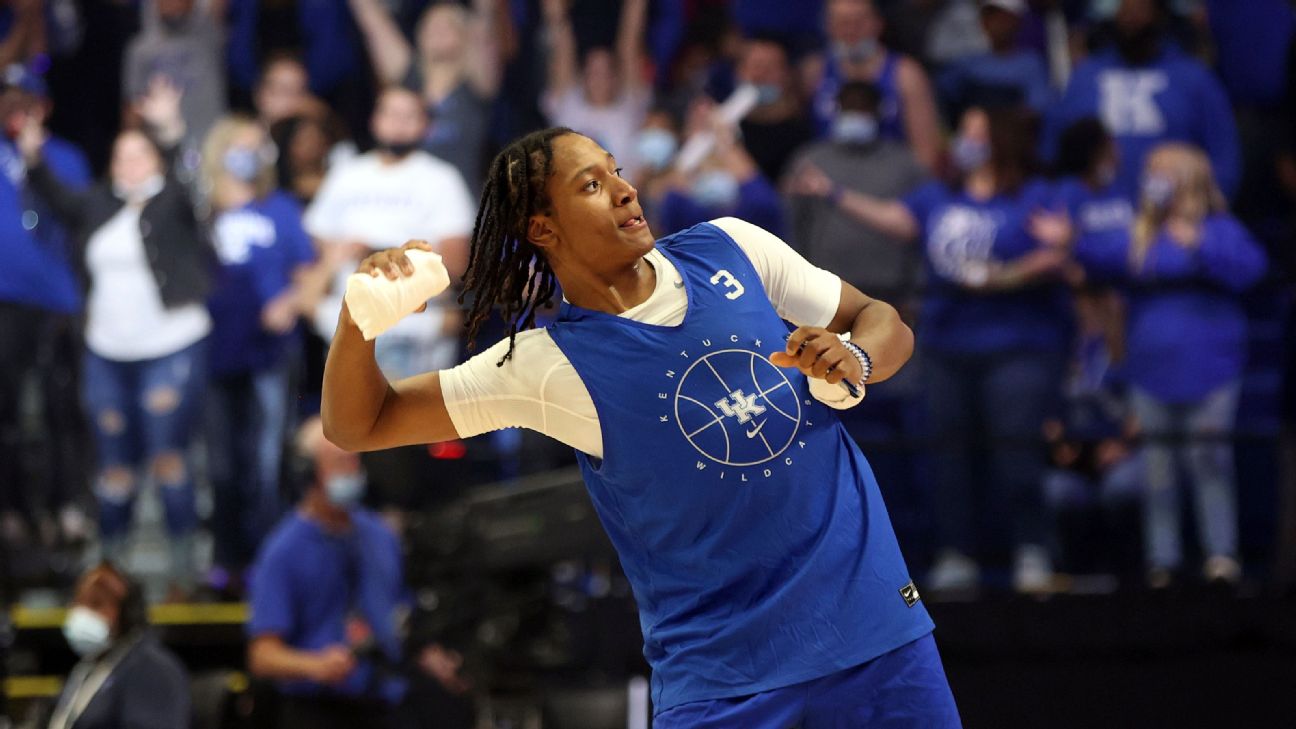 4. Jaden Ivey (Purdue): Ivey had a lot of hype coming into his sophomore year with the Boilermakers and so far he's lived up to expectations. Ivey has taken the leader role of this team and is taking the necessary steps to make Purdue a real threat. Ivey is 6'4 but plays bigger than his size averaging nearly 7 RPG. Jaden is a 3-Level Scorer and is becoming lethal at all 3, defensively he's very solid and has a good base to become an ELITE defender. His stock is only gonna go up and you'll see this unfold right in front of our faces.
5. Julian Champagnie (St.John's): My comparison for Julian is Lite Cade Cunningham, he just does everything correct. Offensively Champagnie is averaging 21 PPG on 45% from the field, defensively Champagnie in Mike Anderson's defense is showing flashes of greatness, averaging 2.2 SPG and 1.1 BPG. Standing 6'8 but can easily be your 2nd guard or SF, like I said before it's gonna be hard to find solid all around guards in this draft and Champagnie can be a guy who can be molded into a great NBA player one day. 
Fallers:
1. Jaden Hardy (G-League): Now this doesn't mean he's dropping far but he personally went from 2nd on my big board to now 6th, and why has he dropped you asked? Well it's because Hardy looks very immature for being such a high prospect. Hardy has been chucking up shots at a very abysmal percentage and is not helping his team whatsoever. Now Hardy still has the tools to be one of the best players in this draft with his shooting and straight up ability to score but he has to learn when and where to take his shots. 
2. AJ Griffin (Duke): Another case of a guy with all the talent in the world but will drop. AJ has not gotten minutes on this Duke team and that's just because his play style doesn't fit with Banchero. Griffin looks like a grown ass man in college and he's not being utilized. AJ if he played would be a top 10 pick but as the season goes on the more likely he comes back for his sophomore year. Right now I would put Griffin on the late side of the lottery but his stock relies on one thing and one thing only… minutes.
3. Caleb Houstan (Michigan): Caleb has been one of the most disappointed prospects so far in this young season. One of the many disappointments with this Michigan squad, Caleb had a lot of hype coming in to help Michigan go over the top. In 33 minutes per game, Houstan is averaging nearly 9 PPG on an atrocious 34% and 25% from 3 which was supposed to be his specialty. Houstan has no more intriguing aspects if he keeps this up, Houstan coming into this season was supposed to be this lengthy dude who can spot up for you and be a consistent knock down shooter. Now he's a mid player on a mid team.
4. Yannick Nzosa (International): Yannick is one of the most intriguing prospects because he has Giannis in him. He goes 110% all the time, and has an unlimited motor. Nzosa does everything that Giannis does but not at that level obviously. But the reason why he's a faller is because he's not playing particularly well in the Pros and looks outmatched. If he can polish his skills over time he'll foreshore be a top lottery pick but for now he's a faller.
5. JD Davidson (Alabama): Davidson is an athletic specimen but the last time I trusted an athletic PG from Alabama it didn't end up well. Davidson so far in the 2021 campaign is averaging 8/5/5 on 54%/27%, now these stats aren't that bad but for being a top 15 prospect those aren't gonna be fulfilling for an NBA team. Davidson is a slasher and he's very liable on the offensive side of the ball, defensively on the other hand is very ELITE, fast, agile, can get in lanes he can do it all on that side. I personally don't see the hype in him so that's why he's a faller.