By Peyton Samuel, April 23rd, 10:32 pm.
The Jets are the most well-positioned team in the draft in many ways. They have Cap space and they used it wisely and safely to get some good guys such as Wr Corey Davis from the Tennessee Titans, the 25-Year old edge rusher from the bengals, Carl Lawson, and Sheldon Rankings from the Saints who had a really dominant 2018 Season recording 8 sacks, 12 TFL and 15 Qb hits.
The Jets have 10 draft picks in this years class. This is a great amount of draft capital for the Jets, which will help the Jets get out of their rebuild. The jets just traded away their Young Qb in Sam darnold to the Carolina Panthers for a this year's 6th, next year's 2nd and 4th which is more than what they could've gotten. The only problem was that they gave up way more to select him in the 2018 NFL Draft. GM Douglas did not draft him, ex-gm Mike Maccagnan drafted him who was fired in the summer of 2018. Maccagnan did not have a good career here with us and had a "rift" with former HC, Adam Gase. Eventually both were fired. Douglas was hired when Maccagnan was fired and Douglas is doing everything he could. In 2020, Douglas selected Stud Left-tackle out of Louisville, Mekhi Becton, who comes in as a Giant at 6'7″ and 363 pounds. Jets also selected some other guys like stud Wr out of Baylor Denzel Mims and La'mical Perrine the running back from Florida. Douglas also drafted the most hidden gem in the draft in my opinion. His name is Bryce Hall, he's a young corner from Virginia who suffered an injury which made him fall to the 5th round.
Well, We all know the jets played horrible this year. Worst Jets football I've ever seen. They also lost out on Trevor Lawrence by beating the Rams and the Browns. Jets former Qb Sam Darnold played horrible too, though it wasn't his fault entirely by him having no help to having the worst plays called by Adam Gase. Jets would hire a great Head coach in Robert Saleh. He was the Defensive Coordinator for the Niners and was a big reason of that super bowl run. He's also well-respected around the league from guys like Russell Wilson and Richard Sherman. Coach Saleh also brought in guys like, Offensive Coordinator Mike Lafleur, Defensive Coordinator Jeff Ulbrich. These guy's have the best chance of turning the Jets around in my opinion. They also had to make a decision on Sam Darnold, wether to keep him or trade him. And they ended up trading him to the Panthers
Now it's time for the fun stuff. We will be doing a small mock draft, from the 2nd pick in the NFL draft to our 2nd third-round pick from the Jamal Adams trade. Who do we draft? With the 2nd pick it's most likely a Qb. And the Qb options go from, Zach Wilson out of BYU, Justin Fields from OSU, Trey lance from North Dakota and Mac Jones from Alabama. The most likely pick would probably be towards Zach Wilson or Justin Fields.
The pick, Zach Wilson. Why? Zach could not be a better fit for us. You could argue Fields is a better prospect and I'd agree with you. But Wilson is a perfect scheme fit, who's shown progression over the years and had some amazing stats. Having a 73.5% CMP percentage to having 33 touchdowns to 3 picks(and one of those ints was a Hail marry). Wilson comes in at 6'3″ 210 which isn't bad for a Qb. And as of right now, it looks like all signs are pointing towards him being the future Qb. But the one thing the jets cannot do is do the same thing they did to Darnold. The jets need to give Wilson tools to work with, good weapons and Line. He has Corey Davis, Denzel Mims, Jamison Crowder and Keelan Cole. But what about that line? Well he has Becton and Fant at tackle, so I think they're fine at tackle for now. The main issue is the interior. Connor McGovern did not play well last year, he could also play guard so we could end up moving him to g if we draft a center. Which is exactly what I want to do.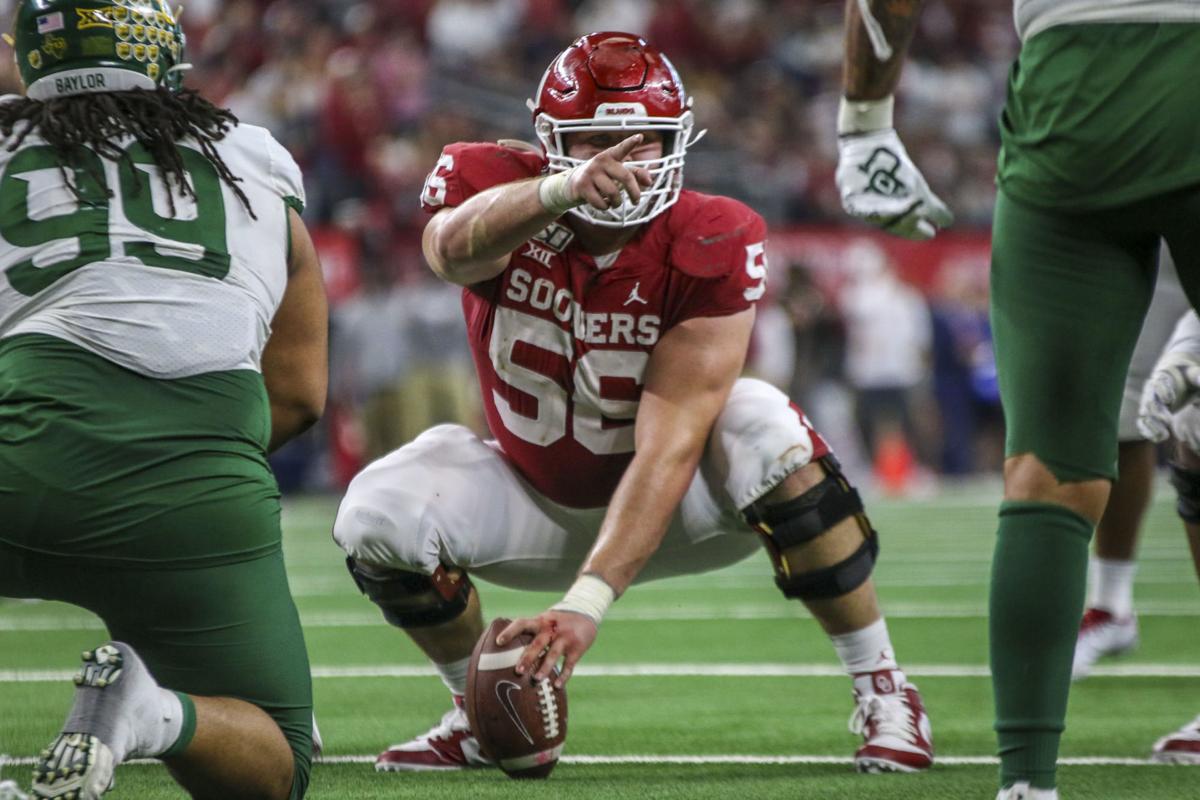 Creed Humphrey comes in at 6'4″ and 302 pounds from the college Oklahoma. I love this prospect so much, he would be perfect for us. And what's not better than providing your rookie Qb a center for his career, they'll be together for decades. People saying picking Creed in the first round is a reach but in my opinion he's being overlooked. What also points in the direction of the jets drafting him is the fact we didn't sign any linemen, well good linemen. All of the good ones like Joe Thuney and Corey Lindsey signed with the Chiefs and Chargers. What also backs up the point of the jets drafting Creed Humphrey is the fact that Joe Douglas was a former linemen. He values the line more than anyone else. I also see Nick Mangold a lot in Creed, if he turns out better than Nick Mangold, it could be an amazing Career for him. I just can't imagine the potential.
Javonte Williams the Running Back from UNC would be an interesting pick with our 34 selection. Usually, I'm not high on drafting Hb's that high, but Williams is just too good for me, him having 157 carries for 1,140 yards as-well has 22 total touchdowns. It be hard to pick between him, Clemson running back Travis Etienne and Alabama's Najee Harris, but most likely they would be picked in the late 20's in the NFL draft. As going back to why Darnold never succeeded in NY was the lack of running game. Yes, we did sign Le'Veon Bell to that massive contract, I loved bringing him in, not a fan of the contract, but we couldn't get anything out of him due to poor play calling, no line and just the fact we didn't build the offense around him, we basically just signed guys not scheme fits, which is another reason why Mike Maccagnan is a horrible Gm. But that's the past, nothing we could do about it now, but all we can do is learn from it and that's exactly what we're doing. Bringing Williams in would help out this team a lot, especially our Qb Zach Wilson. Him having a good Hb will lift some of that pressure off his chest. He'd also be a good pairing with running backs Tevin Coleman from the Niners, La'Mical Perrine and Ty Johnson.
Besides the offensive line, the Jets weakest position on their team is for sure corner. We don't have good players. We have corner backs Bless Austin, Corey Ballentine, Javelin Guidry, Zane Lewis, Bryce Hall, Justin Hardee(big fan of him and Bryce), Kyron Brown and Lamar Jackson(not the raven 😂). This Corner back room is not good. Especially with injuries, which is expected.I wouldn't say there's a lack of talent there but there kinda is. Besides hall and Austin that corner back room isn't good. But bringing in a guy Like Eric Strokes will make this DB room 10x better. He comes in at 6'1″ 185 Pounds. He's also had 4 career touchdowns all coming in 2020 and scoring 2 touchdowns. Douglas and Saleh didn't sign any corners, which is fine, they'll probably add some more guys in the draft. But they signed top defensive-linemen, so who cares who our starting corners are, doesn't matter when the Qb has 2 seconds to throw 😂. But I expect Saleh to get the most out of these guys.
I also have the jets drafting another corner with that 2nd third-round pick from the Jamal Adams trade, Kelvin Joseph, he comes in at 6'1″ and 192 pounds. The Jets would most likely draft 2 corners in this draft. And we could always sign some corners in free agency after this draft, which Is what I'm expecting. We could bring in guys like Richard Sherman from the Niners, Sherman said he wants to sign with a contender after the draft, the Jets are not contenders, but, Sherman did play for Saleh, so I wouldn't be surprised if he came and signed here. Sherman also talks Highly of Saleh so that could be another reason. Jets could also sign Corner Steve Nelson, I'm a big fan of him, love to see him play for us but i'm not sure if he's actually trying to sign with the New York Jets, he has been liking a lot of jets related tweets and tweets of him playing here or he's just trying to use the Jets to get a better contract but he's an interesting free agent.
Jets do have more picks but i'm not going to go directly into them. I do have them taking, Kendrick Green, Guard, Illinois, Dax Milne, WR, BYU, Jamin Davis, LB, Kentucky, Milton Williams, DI, Louisiana Tech and Shawn Davis, Safety, Florida. So where do we stand after these picks? I say the jets have a good young roster that was cheap to get and has high potential, we have ballers on our team and they're ready to max out their potential with Coach Saleh. Prediction for this season record wise? I could see the Jets going 6-11 being their floor, 7-10 being my prediction and 8-9 being their high. I only see the Jets going 8-9 if Wilson has a Herbert like season. Jets have the tools and players to make it out of this rebuild. Let's take Flight and tune in for the NFL draft this Thursday.