Kyrie Irving is one of the brightest stars in the league since his magical 2016 Finals run but a lot has been put into the world about Kyrie since then and now we're gonna be looking at "The Kyrie Narrative" from both sides because I don't want to slander this man nor babying him for his actions. But 1st off we're praying for you Kyrie if this is something bigger than basketball and we hope whatever it is gets better.
Cavaliers
Let's start off with the beginning and the roots for his later spinout. Kyrie Irving was selected 1st overall in the 2011 NBA Draft out of Duke University and he reeked of top 5 PG potential as soon as he stepped into the league. His playmaking ability was ELITE, his scoring was ELITE, and what he's most noticeable for is his all time great ball handling which could be debated as the greatest of all time. But let's skip to 2014 where I think it started when the Cavs brought back LeBron James and officially Kyrie's reign as "the guy" has ended. In 2016, down 3-1 in the NBA Finals to the 73-9 Golden State Warriors Kyrie Irving went ballistic averaging 27.7 PPG with a 41 point game in Game 5. But the moment people realized Kyrie would be a star is when he hit the game winning 3 pointer over Stephen Curry in Game 7 to bring Cleveland it's 1st championship and ever since that point it's all been downhill. In 2017 Kyrie during the offseason was nowhere to be found by any of his teammates and coaches he ghosted the whole Cavs organization. And when he did come out of his rabbit hole he requested a trade, and most people believe he requested a trade because he didn't want to be the 2nd option anymore and wanted to take over a team by himself (1st player ever to say he didn't want to play with LeBron James). And that's how Kyrie's time in Cleveland ended… in a mess.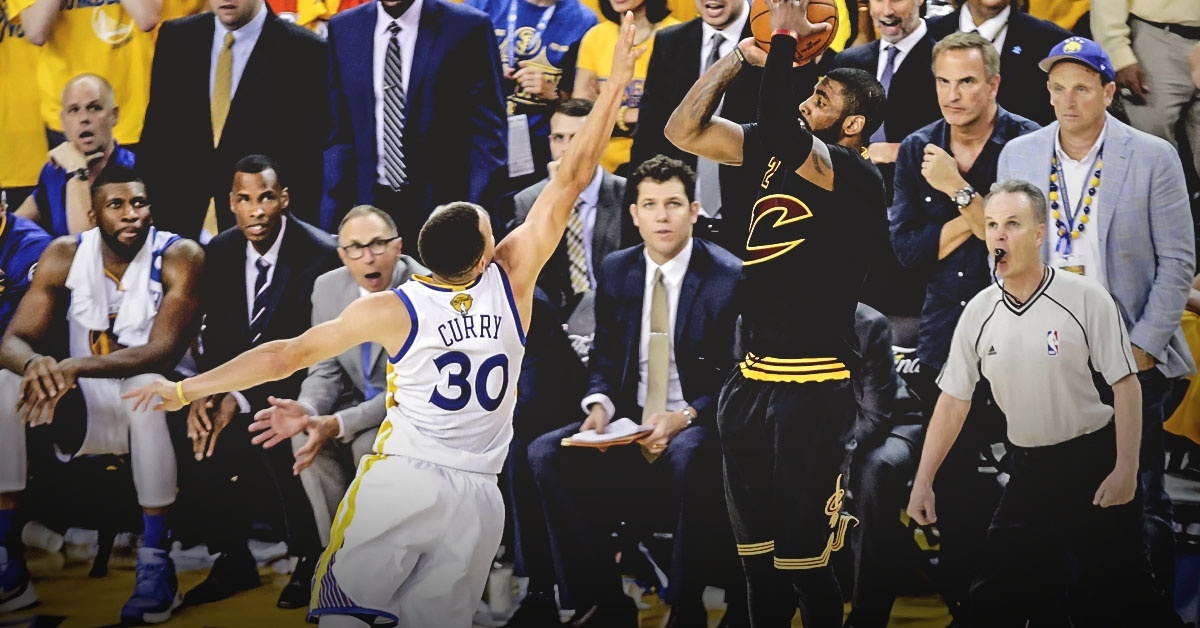 Celtics
Kyrie finally has his own team in Boston alongside rookie Jayson Tatum, Jaylen Brown, Terry Rozier, and the newly acquired Gordan Hayward. This is Kyrie's chance to show the league that he got what it takes to lead a team to the promised land. One of the media narratives for Kyrie is that his teams play better without him and it's kinda true but let's take that with a grain of salt. In the games he didn't play including the playoffs in his 1st season, the Celtics had a better record and gave guys like Jayson Tatum, Brown and Rozier a spotlight that showed that Kyrie might be the problem. Like they were 1 game away from the NBA Finals good without Kyrie but yet again that wasn't Kyrie's fault and shouldn't be criticized for that because it's not his fault the Celtics are one of the best run teams in the league and built a really good team around Kyrie during the offseason. Let's move onto the narrative that I personally wrote this article for which is "Kyrie Irving is an absolute maniac off the court". Shall we start with some of the crazy stuff he has said,
"This is not a conspiracy," Irving said. "The Earth is flat."
"You tell me who filmed, I'm asking you like this. Do you know they filmed the actual spacecraft leaving from the moon, right? Who the hell is filming that? You tell me."
"The hoopla on Christmas, I don't really get into that. I don't really necessarily think of Christmas as a holiday."
"Spiritual alchemy is something that I'm huge in. People are taught and controlled to be afraid of that (all seeing- eye). Like not knowing what the all-seeing eye actually means and where it comes from historically. But yet, it's given from people to be scared of. I don't want to dive deep into it. But it's part of my life. I've been seeing the all-seeing eye for about six months now. Like all the time."
There are a lot more of where this came from but I wouldn't be able to fit it in this article. As you saw from those quotes we don't know what goes through the mind of Kyrie Irving but we can get a general gist. But let's move onto the 2019 playoffs where everything came down in Boston. In the 2nd round the #4 seed Boston Celtics went up against the 1st seed Milwaukee Bucks and to say Kyrie Irving single handedly lost this series is an understatement because ruined everything Boston worked for that season and he ruined his own reputation as a NBA player. Kyrie averaged 20.4 PPG on 36% from the field and 21% from 3, yeah that's pretty awful for the "#1 option" And this series made the Celtics' decision easier when Kyrie hit the market in Free Agency to let him go elsewhere. And yet again, Kyrie left another team… in a mess.
Nets
Surly Kyrie can't mess this one up, right? So now Kyrie finally has a team where he wants to be, his hometown team and the team where he didn't see himself never being on since he got into basketball. The season started off hot with Kyrie dropping 50 points in the opening game which really gave Brooklyn some hope. But Kyrie's season ended after 15 games with a shoulder injury that kept him on the shelf until the start of the 2020 season but during that time period Kyrie got named to be one of the voices for the NBA's players which got a lot of the media heated. Max Kellerman of ESPN basically called Kyrie a "dumbass" on live television without saying it. He said Kyrie hasn't shown anyone that he's intelligent enough for this job nor the leadership for this. Then when the NBA tried to start up the bubble for the NBA Playoffs, Kyrie tried to stop that from happening because of the lack of BLM movement in the NBA. People understood where he was coming from but it just came off selfish because most of the league didn't support him and what he was trying to do. 2021 has been a rough year already for Kyrie Irving and could possibly be the end, Kyrie has taken the last couple of games off due to "personal reasons" and people have figured out what those "personal reasons" are. He was filmed at a club for his sisters and dads birthday while his team was playing. Not even that but he wasn't wearing a mask in a public setting like c'mon man you're a public figure that has millions of kids looking up to you. The Nets have reportedly been very mad at Kyrie for the lack of communication with the organization and his teammates. A lot of people have been saying this could be Kyrie's breaking point and might be the time he seeks help because if it's his mental health again this could lead him down the dark road nobody wants to see. But I think he's just being an immature kid that's taking his job and talent for granted and being a privileged child right now.